Now celebrating 40 years in Amateur Radio!
Licensed as WB7NXH on 9/29/1976.  Worked all states and over 200 counties on CW.  Redid all that on 6m SSB in the 80's. Almost all of those QSL cards disappeared in the 90's including my prize JY1 trifold card.  I should have applied for WAS, WAC and DXCC back then.  Other things got in the way of that.  See more bio down below.
Now after a eight year stint as a ARRL Section Manager, I am on the air again.  So since October 2013 I have worked 50 states, and over 190 countries.  I completed WAC on March 4, 2014, WPX400 April 11, 2014, WAS on April 14, 2014 and DXCC on August 1, 2014.  DXCC phone September 28, 2014, WAS 20m and WAS Digital September 29th, 2014. ARRL Centennial points challenge Award.
Really close to 5 band WAS and over 200 countries worked.
2013 QSL Card (Photo by Tom Fagan, Sedona AZ) card by K4JSG Mr. QSL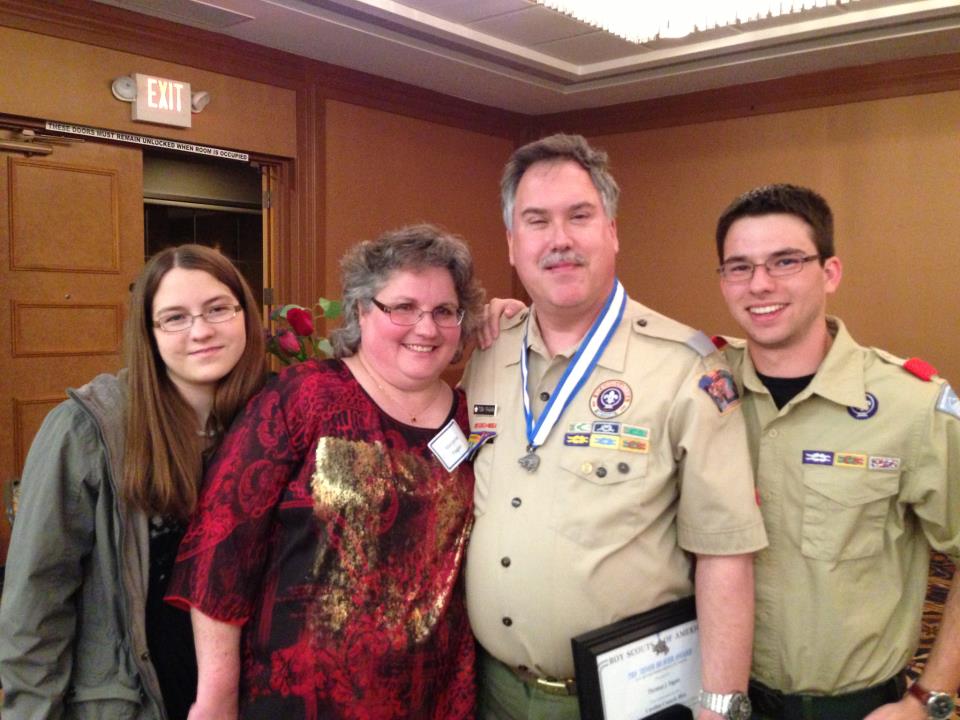 Feb 2013 Boy Scout Silver Beaver Award for Youth and Scouting
(l-r Elizabeth KE7ZPI, Margie KE7LHY, Tom K7DF, Jim KE7IDC)
2012 Me and my son Jim KE7IDC running the ARRL booth Showlow AZ
Tucson Hamfest 2005 running the ARRL booth Tucson AZ
2005 Running the ARRL Booth at the 10-10 Convention Mesa AZ
2005 Dayton Hamvention with Carl and Kathy
Licensed as WB7NXH in September 1976. K7DF since December 2007.
My son Jim is KE7IDC, my wife Margie is KE7LHY and my daughter Beth is KE7ZPI
ARRL Life Member since 1993.
ARRL Assistant Director Southwestern Division (July 2000 - Present)
ARRL Arizona Assistant Section Manager (April 2013 - Present)
ARRL Arizona Section Manager (April 2005-March 2013)
ARRL Emergency Coordinator Pima County (Jan 1997-Sep 2000)
ARRL District Emergency Coordinator Pima County (Oct 2000-Nov 2002)
ARRL Section Emergency Coordinator Arizona Section (Dec 2002-Dec 2004)
ARRL Assistant Technical Coordinator (Jan 1985-Mar 1993)
ARRL Technical Specialist (April 1993-Nov 2001, March 2013- Present)
ARRL Technical Coordinator Arizona Section (Dec 2001-Mar 2005)
Six Meter International Radio Klub (SMIRK) #4472 since 1982.
Member of the 10-10 international club #70452 since 1999.
FISTS CW Club #9510 since 2002.
Quarter Century Wireless Association (QCWA) (25 years) member #31356 since March 2002.
SKCC #12177 since 2014.
070 club #1850
Member of the Southern and Central Arizona DX Clubs
Old Old Timers Club (OOTC) #4685 since 2016 (40 years)
ARCA Arizona Ham of the Year 2009
QCWA Meritorious Award on Feb 16, 2013
Arizona Repeater Association Life Member
Tucson Repeater Association Vice Chair
University of Arizona Radio Club (1983-1985, 2010-present)
Arizona State University Radio Club W7TJV 1979-1983 (President 1982-1983)
Catalina Radio Club W7SA 1985- present (President 1992, 1998, 2014)
Catalina Radio Club Emergency Communication Team Chairman (1993-2002)
Tucson Amateur Packet Radio TAPR (1983-1990)
Radio Society of Tucson Charter life member
Explorer Post 599 Phoenix Arizona (1976-1983)
Scottsdale Amateur Radio Club (1976-1983)
Oro Valley Amateur Radio Club Charter life member
Boy Scouts of America, Spanish Trails District, Catalina Council District
Finance Chair (2010)
FOS co-chair (2009)
Program Chair (Oct 2007-Jan 2009)
Assistant District Commissioner (2006-Oct 2007)
Committee member Troop 157 (2006-2013)
Committee Chairman Cub Scouts Tucson AZ (2006)
Cubmaster Cub Scouts Pack 773 (2005-2006)
Wolf Den leader Cub Scouts Pack 773 (2004)
District Award Merit (Feb 2006)
Silver Beaver Award (Feb 2013)
IEEE EMC Society: student 1979-1985, member 1985-2000, senior member 2000-present.
iNARTE Certified ESD Engineer ESD-00130-NE (1996- present)
iNARTE Certified Master EMC Design Engineer EMCD-00014-ME, 2011
Hughes Aircraft Company 1985 - bought by Raytheon 1998
Raytheon Electromagnetic Environmental Effects (E3) Engineer 1988-present
Raytheon Spectrum Manager 1987-present
MRFAC Director 2004-Present/Honorary Lifetime Member 2014/Past President 2008-2014 www.mrfac.com 
AFTRCC Director 2014-Present/Honorary Lifetime Member 2012/Past Vice Chair 2004-2008/Past executive committee member 2004-2014 www.aftrcc.org