YV5PM

Venezuela




alias for: YV5EPM




Login is required for additional detail.

QSL: Direct, Buro, LoTW, eQSL(AG) and OQRS

Email: Login required to view

Ham Member Lookups: 106743
EX YV5EPM
ALL cards received will be answered sure!!!!(100%) Direct or Buro
QSL INFORMATION:
For

Direct please enclose SAE + 2 Green Stamps or 1 IRC. You can use OQRS (2 USD) 
Buro

=

Buro,

or you can use OQRS 
I upload my log to

LoTW

and

eQSL

each 2 weeks
PREFERRED method OQRS (Online QSL Request System) by ClubLog. (Direct or Buro). ClubLog uploaded daily after CQing
LOG for YV5PM OQRS                                                                         
LOG for YV5EPM OQRS
I have yet many QSLs Cards from my old call YV5EPM, so, you can request it via Buro, Direct or OQRS

only cards received via Buro, Direct or requested by OQRS will be answered.

All SWL cards will be answered sure.
My QSL cards from my new call YV5PM are on printer, so, be patiente, I hope answer all cards after June 2015
Good News (June 02 / 2015). I have got my first batch of QSL cards (2000 QSLs of 4000), so, I am ready for answer all QSLs requested via Buro Direct or OQRS
Updated (July 01/ 2015): Received second batch (2000 QSLs) for a total of 4000 QSL cards
​
ANTENNAS:
Yagi 2 elements full size (19,6 mts each element) monoband for 40 mts (made in Venezuela by 

YV5APF

)

Yagi 7 elements (8,9 mts boom) for 10, 15 and 20 mts (

made in Venezuela by

YV5APF

)

Antron 99, vertical antenna for 10, 12 and 17 mts.
TRANSCEIVERS:
Icom IC-718

Yaesu FT-747

Microphone Icom SM-8

2 amplifiers DRAKE L-4B

1 amplifier COLLINS 30L-1
@yv5pm Now you can follow me on Twitter where I will inform when I will CQing (day, hour and band), When I will upload on LoTW and eQSL (day), when I receive Buro (date and countries), etc, etc.
Hope to meet you on the air.
GD Luck, and best DX
73 de YV5PM
COUNTER SINCE MARCH 2013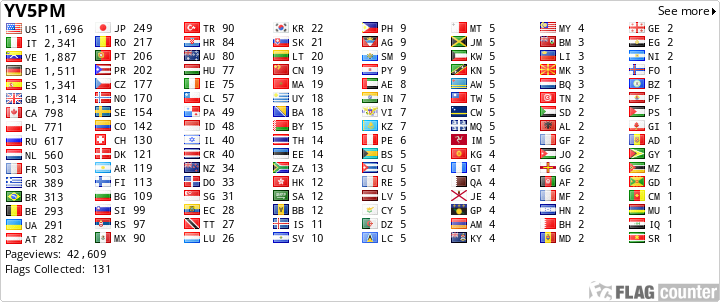 6244870 Last modified: 2015-10-31 05:50:36, 14935 bytes
Login Required

Login is required for additional detail.
You must be logged in to file a report on this page
| | |
| --- | --- |
| | Latest Contacts for YV5PM at QRZ.com |
| de | date | band | mode | grid | | Country | op | |
| --- | --- | --- | --- | --- | --- | --- | --- | --- |
| WA0VLC | 2015-11-21 | 40M | SSB | EN42fb | | United States | ROBERT D SEELY | |
| LZ1QI | 2015-11-21 | 40M | SSB | KN12pr | | Bulgaria | PETKO PETKOV | |
| EA4RW | 2015-11-21 | 40M | SSB | | | Spain | | |
| VE3AO | 2015-11-21 | 40M | SSB | FN03is | | Canada | Michael Ennis | |
| F8HJU | 2015-11-21 | 40M | SSB | | | France | | |
| IZ8WQZ | 2015-11-21 | 40M | SSB | JM89ad | | Italy | Rodolfo Bonanno | |
| DF7VQ | 2015-11-21 | 40M | SSB | JO32mf | | Germany | Hermann Wagner | |
| W9LW | 2015-11-21 | 40M | SSB | EN71lc | | United States | JAY M FARLOW | |
| KU4YW | 2015-11-21 | 40M | SSB | FM16ts | | United States | DAVID J PARKS | |
| UR7QR | 2015-11-21 | 40M | SSB | KN77hl | | Ukraine | Alexander N. Ustymenko | |
| DH9JK | 2015-11-21 | 40M | SSB | JO44wr | | Germany | Joachim Kledtke | |
| G6BDV | 2015-11-21 | 40M | SSB | IO91su | | England | Rob Stratford | |
| LZ1VVD | 2015-11-21 | 40M | SSB | KN12pq | | Bulgaria | Vladimir Dinkov | |
| EW1KP | 2015-11-21 | 40M | SSB | KO33tw | | Belarus | Pavel Kasatkin | |
| IK1EVN | 2015-11-21 | 40M | SSB | JN44hp | | Italy | Attilio Dotto | |
Book Totals: 5913 qso's 1520 confirmed
Get a free logbook at QRZ.COM
United States Award

#1027


Granted: 2015-04-07 18:04:02 (YV5PM)



Endorsements:

20 Meters Mixed

Mixed Phone

World Continents Award

#8038


Granted: 2015-04-07 18:03:55 (YV5PM)



Endorsements:

40 Meters Mixed

20 Meters Mixed

17 Meters Mixed

15 Meters Mixed

40 Meters Phone

20 Meters Phone

17 Meters Phone

15 Meters Phone

Grid Squared Award

#6732


Granted: 2015-04-07 18:03:40 (YV5PM)



Endorsements:

40 Meters Mixed

20 Meters Mixed

15 Meters Mixed

40 Meters Phone

20 Meters Phone

15 Meters Phone

20 Meters Digital

DX World Award

#1684


Granted: 2015-04-07 18:03:28 (YV5PM)



Endorsements: