Thanks for stopping by!
I fell in love with this crazy hobby as an SWL and a club station operator back in 1981, in USSR, at the age of 13. You can NOT imagine how exciting it was, especially from behind the Iron Curtain!
At the age of 14 I received my first call: EZ7PAW. It was for a very short period of time that this "EZ" series was issued in the USSR (after 1990 it belongs to a separate country). This series was dedicated only to young operators 14~16 years of age, with permission to operate only 160M with output power up to 5W! As I know just few tens of these "EZ" calls were issued; till now I wonder how I managed to get one of these just a few of weeks after applying while NONE of my several friends of the same age did. Probably KGB was expecting me to communicate with my relatives abroad. With 5W. On 160M.
Then it became RL7PAW... then it were stationary and mobile HF and VHF stations in the Soviet Army...
In 1991 it became 4X6UF. As soon as it became possible I passed the Extra exams and since 1994 I hold my 4Z1UF.
There is a Russian saying: "If Vodka interferes with your job-get rid of this job!!!". Some HAMs say something similar about radio and wives. My beloved present wife claims that she is a great fan of HAM radio...
Anyhow: with all ups and downs, getting rid of  ...  different  ...  QRMarry I'm already 34 years on the air. Hopefuly, there will be no pauses anymore. You will find me in everyday DX-ing, more and more frequently in contests, top band etc.
CWops club member, #636
10-band DXCC is completed via LoTW only. Recently finished 160M WAS, 160M WAZ (40 zones), 5BWAZ (200zones) and WPX Award of Excellence.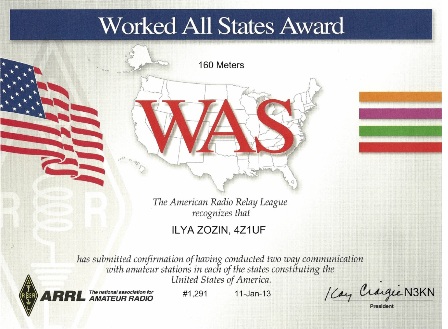 Current setup: Yaesu FTDX-5000, Emtron DX2-SP power amplifier, C3S antenna (6 el for upper bands), EF-240S antenna (2 el for 40M), both by Force12, both on same tower, 12/15m high, on top of a 35m high building; 5 el on 6m boom for 6M (by M2inc), IV for 30M; 1/4L "inverted GP's" for 160M and 80M +small loops for RX and all kind of bells and whistles.
Important notice for those who planning to send a direct QSL: please drop me an e-mail checking whether your call is in my log in order to avoid embarrassing situations, time to time I receivе QSL's for contacts that I do not have in log, so I don't want you to waste your green stamps...
Since Feb 1, 2015 the postal rates increased almost 2 times hence I request 3 USD if you need a direct QSL.
73! ILYA
You are welcome to try nice HAM-dedicated search engine: No spam, no trash, only usefull ham radio websites with quality content in DXPORTAL search engine!