Hi! My name is Rich, AA6VX. Grew up in Southern California. Got my Novice license in 1976 as WN6KWU just as I was entering High School. I had a Heathkit HW-16 and a gas filled regulator tube VFO that drifted up the band while I sent CW! Painted my folks house for a used Kenwood TS-520. Still have it.
I was FD chairman for K6AA (URAC) in San Pedro, CA for 12 years in a row through my HS & College years. Great years, great friends (N6HE, WA6MZV [SK], WA6TIU & W6HB).
Earned my Extra class license in 1990. I have been not quite continuously active for 36 years, but I just can't keep away from it. Ham Radio is the best hobby in the world!
I currently live in the central coast town of Orcutt, CA.
My primary rig is now a Ten Tec Omni VII for HF. My current antennas are a roof mounted 2 element 6 band kit quad (Qtenna), 2 vertical 40M loops at 35 ft, a short windam for 80M and a 170 ft end fed wire. I'm creative with making 37 ft wooden antenna supports for my loops. A current project is to develop a 432 EME/weak signal station. It's taking some time to do it. Working on the elevation system right now.
I am a member of the W6AB Radio Club. Also Routinely check into the Gold Coast Net (www.goldcoastnet.com).

I work 80 through 2 meters CW/SSB and a bit of FM on 144 MHz. Enjoy CW on 40, 20, 15, & 10 the most. RTTY too!
I QSL via LOTW. DX QSLs go via the bureau unless inbound is accompanied by SAE.
I have a wonderful and very understanding XYL. My son is in 10th grade. We have a dog & 2 cats. See you on the bands!
Above: 2012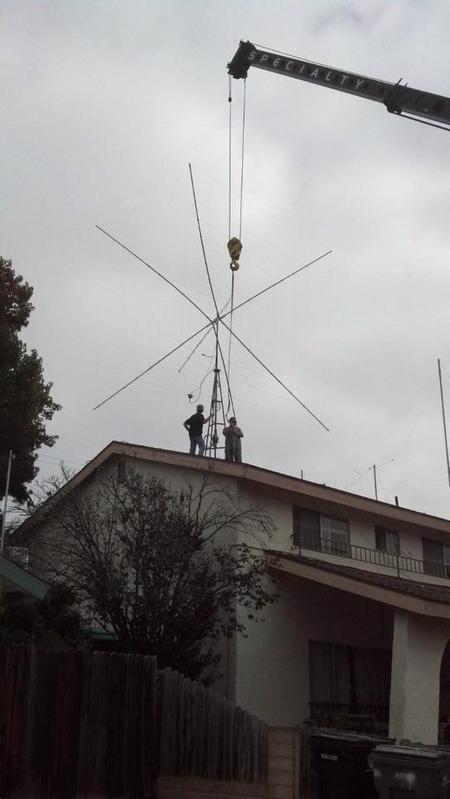 Above: 2014 Quad Installation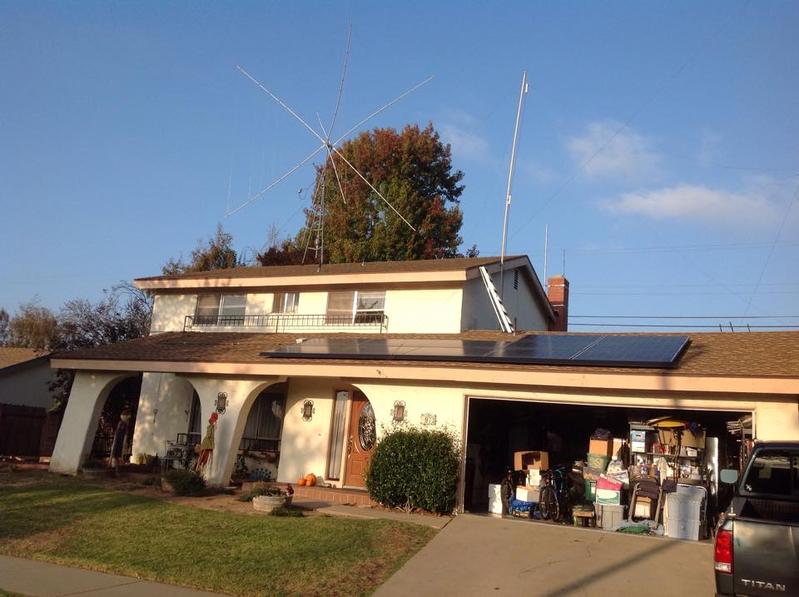 2 Element 6 band Quad on a refurbished tripod at 35 feet (www.qtenna.com).
Tweeking the rig.
Above: 40 M Full wave vertical loop (ARRL Antenna Book). Notice the 37 foot wooden supports.
My T-Hunting machine.