QSL only via LoTW - sorry, but I don't have or send cards.
Hello from Silver Spring, Maryland. I originally received a General class license as KB3EVB in 2000. I upgraded to Extra and received AB3QR in 2012. My daughter, Kristen (KB3ZBA) also received her Tech class license around the same time I upgraded so we now have two hams in the family.
The antenna shown in the photos is a 40m loop mounted horizontally and raised about 25' (6.7m) above ground. The antenna works around the world on 40, 20, 15, & 10 and will make it to the west coast and western Europe on 80 (too low to the ground). This is a very good general purpose antenna as it works on all HF bands - to some extent. It is also relatively inexpensive, as the trees serve as sky hooks. I continue to be surprised how well this antenna works, considering its relatively low height. In the spring of 2013, I plan to increase the height another 10', if possible, after trimming trees. Here's a generic image found on the web.
I'd like to install a wire antenna with directivity, and am considering several collinear designs. This will, hopefully, be a 2013 springtime project as well. As you can see in the photos, I have lots of trees that need to be exploited.
I get questions on the antenna from time to time, so added some photos. Sorry for the crooked line drawing, it is difficult to see the wires in the photos so the line positions are approximate.
The feedline runs from the tree to the ouside wall of the house, where it connects with a W9INN 4:1 BALUN. A short length of low loss coax is then used to get to the operating position located just inside. I plan to make some measurements sometime soon to determine whether a 1:1 BALUN would be better. Ultimately, I'd like to buy or build a differential tuner and bring the ladder line straight to the operating position.
The antenna is currently tuned with an AT-600 Pro II from LDG, and I typically opearate with ~500W from a Heathkit SB-200. I've been refurbishing 30L-1 linear amplifiers for my club station (WA3NAN) and my friend Marco (N5ACR), and just finished refurbishing the HVPS in a Drake L-4B. The SB-200 is new to me and I plan to refurbish the HV and make a few other updates. Seems like I'm doing a lot of HV work these days...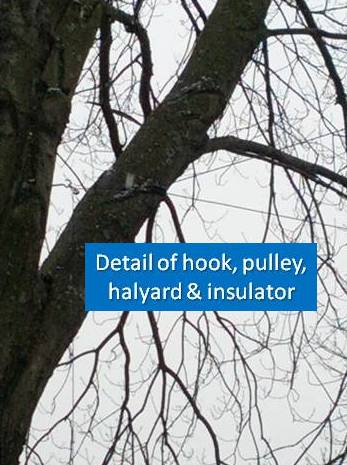 Jan 27, 2013 Upadate : 40m Loop Measurement data.
I made some SWR measurements today using a VNA 2180 network analyzer from Array Solutions. The figure below shows an overall scan of the HF amateur bands, which are indicated by the shaded regions of the plot. It is clear from the plot that the antenna resonates below each usable band, indicating the antenna is too long. The excess length on 40m is calculated to be 5.2%, or approximately 7'. The pulley system will now make it easy to lower the antenna, adjust length, haul up, and measure - in an itterative fashion. I'll provide updated measurement data when this happens.
I also made measurements on 6m and SWR is roughly 6:1 across the band indicating the antenna would work, though a tuner would be required.