Hello All
I live here in amongst the beautiful mountains of North East Tennessee
I live in the TN Valley Elevation around 1750ft and 200 ft Above Average Terrain. My previous call sign was KF4HOU. I got my licenses in 1996 when I was in the Army at Ft. Campbell , KY a Green Beret and couple of other SGT's talked me into getting my licenses. I served in the Army as a Single Channel Radio Operator 31C and 31U. I got trained on RTTY and the most advanced rig I operated while in the Army was a Rockwell International Rig , 4 ISB, 1KW PA, 2 Half Rhombic Antennas(250ft and 500ft legs) with remote tuner at antenna, Full Duplex, ASCII & ALE modes.
Some Things I enjoy
I enjoy Digital modes the most on MF,HF and some on VHF , I usually only run digital modes on HF and I use some phone on 2m Repeaters. I got involved in digital modes back in 2000, Sense I was already exposed to digital modes from my service. I thought that would be right up my alley , also it was cheap to get into. No expensive modems needed. I have used most sound card modes out there at least once. BPSK31 is probably my default mode sense it is very easy to find a QSO. Chances for a long haul DX contact are pretty high on this mode. My other favorite DX mode is RTTY just because so many hams through out the world use this mode. DXepiditions and contesters use this mode a lot. I also like the other modes as well and lots of them work a whole lot better than RTTY and BPSK31 in tough conditions. but, not as many people use them.
I made this
widget
at
MyFlashFetish.com
.
CQ CONTEST
There are many contest out there to get involved in I enjoy the digital contest the most, I can be at my computer working a pile up and jamming to some music at the same time or hold a conversation with some in the room while contesting. It sure is a fun sport lots of chances to find rare dx and find some unusual call signs not to even mention filling up the log book with many states and many countries in one sitting. On RTTY I never really compete in that mode because there are a lot of stations out there running much more power than I am and also have bigger guns than I have here. It makes it harder for my weak signals to be heard due to QRM
. I do enjoy the PSK contests a whole lot, they give me a better chances of my signals being heard to far off DX contacts. I do fairly well with my station which is only modest at best. I feel BPSK31 are closer to my peers in equipment and power. PSK31 might not have as many people involved in the contests like they would be in RTTY but each year it seems like the total operators are increasing some. I have been involved in a lot of different contests. Some of the ones I have been involved in are the PODXS 070, TARA, MDXA They host some exciting contest for PSK. Some contest I have won is TARA-Grid Dip-2010 1st Place AC4M. TARA-Grid Dip-2005 1st Place under my old call of KF4HOU. TARA-The Rumble-2010 1st Place AC4M. TARA-Grid Dip-2006 1st Place under my old call of KF4HOU, MDXA-PSK Death Match-2008 1st Place under my old call KF4HOU, MDXA-PSK Death Match-2010 1st Place. TARA-The Rumble-2008 1st Place under my old callsign of KF4HOU. PODXS-PSK Fest-2006 1st Place under my old call KF4HOU, PODXS 070 -PSK Fest-2008 1st place under my old call sign KF4HOU. I also came in 2nd and 3rd place in various contests as well.
Clubs
Some Clubs I belong to is PODXS 070 Club my member number is #177 (the one I am the most proud of prestiges, I guess you can say) www.podxs070.com all you need to do is log 50 contacts, which is not very hard to do at all!
They host a some contests during the year and also offer lots of endorsements for PSK achievements.
I also belong the Feld Hell Club my member number is #341 http://sites.google.com/site/feldhellclub/ This is a easy club to get into and they offer many Feld Hell Sprints one every month.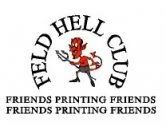 For people do not know what Hellschreiber is it was a mode invented back in the 1930's by Rudolf Hell. Feld Hellschreiber means Field Hell Writer , It creates a serials of one and off key downs forming letters. This mode does not require any type of decoding it is human decoded , and this mode is the fore father to the modern Fax machine.
30Meter Digital Group (30MDG) is another club I belong to my membership number is #3377 This club is promoting use of the 30 Meter band with digital modes. They also offer awards for 30m digital achievements.
. www.30mdg.net/index.html
The next club I belong too is the DMC or Digital Mode Club. My membership number is #2876 , is for all licensed HAM operators and SWL's who like digital modes. It has free lifetime membership If you are active or just would like to start on the DIGITAL MODES like: RTTY, PSK31, MFSK16, MT63, TOR, AMTOR, PACTOR, PACTOR II, PACTOR III, G-TOR, CLOVER,HF PACKET, HELLSCHREIBER, THROB etc. you made the Right Choice!
Contest Awards
Equipment I use.
I have a FT-847 , FT-2900 for 2m FM, Yaesu FC-301 Tuner, Heil Gold Line with a sound board, 160m Fullwave sky wire loop 550ft, 160m Inverted L , 6m Cushcraft ARX-6 (type they do not make anymore high gain vertical) , 2m Diamond Vertical, 6m Homebrewed Hentenna one element.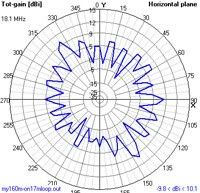 . The 160m loop antenna I have homebrewed about 6 years ago or so, I think it is overall an wonderful antenna if you have the room for it, The only draw backs I have seen of this type of antenna is when you get into the upper bands you produce many lobes and nulls in the pattern, Which is GREAT in some directions and BAD in other directions, In the directions of the PEAKS you can have gain that would rival a beam antenna, in other direction you could have minus gain, which would make it even harder to contact that far oft stations, especially the stations that are around 6,000 miles + away from you. Another good thing about this type of antenna is it is a great receiving antenna, The noise on the antenna is lower than a dipole or an vertical. In the picture above is a picture of the 160m loop on 17m horizontal plot above average ground.