AMATEUR RADIO STATION AD6W
Since 1967 - ex WN6YMO, ex WB6YMO
Trustee for W6HKV, Strand Memorial Amateur Radio Club Station
In this picture I'm operating station W6RO in the radio room aboard the ship HMS Queen Mary, permanently berthed in Long Beach. I like to talk to Amateur operators aboard museum ships all over the world, and it is a special treat to operate from an old ship's radio room. This radio room has a variety of new Amateur gear and old commercial gear.
Here I'm trying to squeeze into the radio room aboard the World War II submarine USS Pampanito, at the Maritime Museum in San Francisco. The other gentlemen are Amateur operators that volunteer their time to serve as docents on the boat. Hardly enough space for two of us in there, these subs are small inside. I visit museum ships and naval museums wherever I go. Last year I was able to fulfill a long held dream of visiting the old naval workshops on the Potomac River at the Washington Navy Yard in Washington DC. These workshops produced the big guns for the US Navy battleships.
This picture was taken in 1968 at the Strand Memorial Club Station W6HKV at Kingsburg High School. That's me WB6YMO in front at age 16 tuning the kilowatt, operating with buddies Robert WB6PPT (middle) and Rick WB6WKR (back). I was privileged to be elected president of the club that year. We had a great time operating this station and watching girls walk by the window in the background. 20 years later t
he school junked this equipment. I rescued it from a dumpster and have it in my shack today along with other old gear. This equipment has sentimental value to me because the homebrew kilowatt, Gonset GSB-100 and Hammarlund HQ-180AC belonged to my first Amateur mentor, Harold Strand W6HKV, and were polished and glowing in his shack one cold October night in 1965 when he invited me to his home. Harold designed and built the kilowatt in the basement of his home a few blocks from the school. His widow generously donated this equipment to the school after Harold's death in 1967. Harold began giving me my Novice tests, but died suddenly during the process. Bob Henry WB6DAZ helped me finish the Novice test procedure and get my first license. In 1975 my wife and I bought Harold's old Victorian house from his widow and we lived there until 1987. It was amazing operating from Harold's shack in his old house where he had entertained many Amateur operators between 1935 and his death in 1967. His shack was in the parlor right off the main entry, and he called it "the conversary." What a great name for a radio shack.
Today I live in a newer house with a small yard, and my modest 1-tower antenna farm covers all 14 bands between 1.8 - 432 Mc, with 13 bands rotatable. The system is a self-supporting 54-foot Triex tower with a 6 meter beam on top, stacked 144, 222, and 432 beams in the middle, and HF beam on the bottom. Those
shunt feeders going up the sides of the tower feed the whole structure as a vertical antenna on 80 and 160 meters. The HF beam is a 7-band Mosley PRO-67C-3 multiband Yagi I modified to also cover 80 and 60 meters. This one rotary antenna now covers all nine HF bands 80-10 meters on one boom. This compact 14-band system
occupies only 
a 46-foot diameter circle. Antenna experts say these old coil-trap beams are no good, but this one has worked more than 900 IOTA island groups, 339
 current DXCC entities, and more than 2,500 DXCC Challenge band-
countries from my small city lot.
The 80 and 160 meter shunt feeds allow the whole structure to radiate as a vertical antenna for lowband DX. This is a picture of the separate feeds at the 8-foot level on the tower. Those large vacuum-variable capacitors have a history - they are pulls from the VOA-Delano transmitter site 70 miles south of my QTH. Elevated radials of various lengths are attached to the tower at the same level. California weather permits the capacitors to sit in the open with no ill effects, even during rain storms, since they are at a low voltage point. Because of all the metal antennas up top acting as a very large capacity hat, the tower plus antennas appears electrically long on both bands, so simple series capacitors tune each band to resonance with resulting resistive impedances of some value. I measured those impedances and used the series-section matching technique of two coaxial cables of different impedances to make a simple feed system for each band that appears as 50 ohms resistive at the transmitter. The vacuum-variable capacitors can be adjusted to move resonance up or down in each band. This technique has been good for 126 countries on 160 meters and 172 countries on 80 meters from my tiny backyard. With 80 meters horizontally polarized on the HF beam and vertically polarized on the shunt-fed tower, I enjoy diversity reception on 80 meters.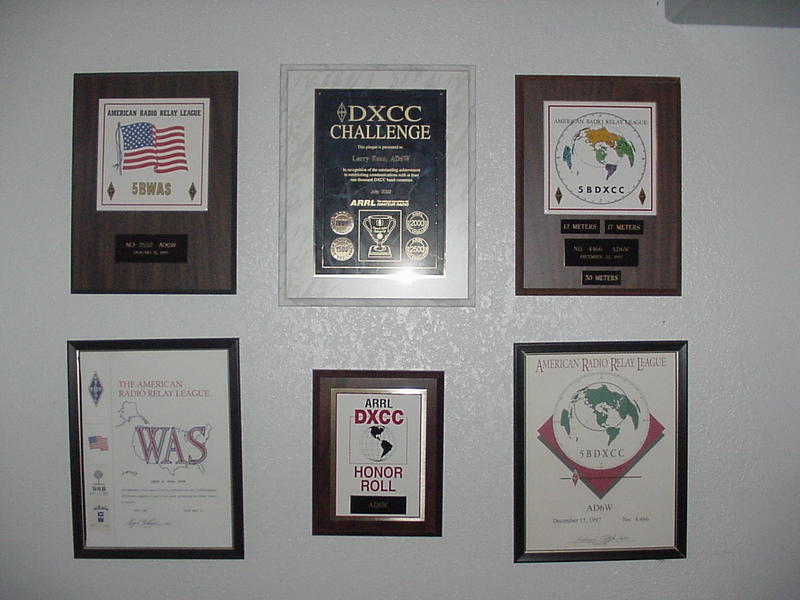 I'm a member of the A1 Operators Club, American Radio Relay League, Central California DX Club, the San Joaquin Net 3918 Kc, and I'm Vice-President and Trustee of the Strand Memorial Amateur Radio Club, W6HKV. My operating awards are based only on contacts made from my home in Kingsburg California USA. I practice traditional DXing and don't use travel or internet remotes to increase my scores. I'm active on all bands 1.8 - 432 Mc. CW is my favorite mode. I enjoy chasing grids, states and countries on VHF/UHF, band-countries in the DXCC Challenge program, island groups in the RSGB IOTA program, Antarctic research stations, lighthouse stations, and museum ship stations. I now find IOTA more challenging than DXCC since many IOTA DXpeditions are one operator, short duration, and low power.
ALL-TIME DXCC - 350 CONFIRMED
DXCC MIXED #32,484 - HONOR ROLL - 339 CONFIRMED
DXCC CW #6,205 - HONOR ROLL - 336 CONFIRMED
DXCC PHONE #20,574 - HONOR ROLL - 333 CONFIRMED
5-BAND DXCC #4,466 - ENDORSED FOR 30, 17, 12 METERS
160-METER DXCC #2,275 - 126 CONFIRMED
DXCC CHALLENGE - 2517 CONFIRMED
WORKED ALL ZONES #7,797
IOTA ISLAND GROUPS - 896 CONFIRMED
5-BAND WORKED ALL STATES #2,552
VUCC #1,330
ANTARCTICA RESEARCH STATIONS - 32 CONFIRMED
AMATEUR RADIO LIGHTHOUSE SOCIETY LIGHTHOUSES - 103 CONFIRMED
In 1961 I was 10 years of age and salvaging parts from old radios and televisions I found in a local dump. At 11 I was a shortwave listener using a Knight-Kit Star Roamer and logging Amateur stations heard on 160 meter AM. My brother and I constructed a landline telegraph between the main and guest houses on our family farm and began learning Morse Code as we sent messages using the code chart in the Boy Scout Handbook. In high school I became Novice Amateur operator WN6YMO, enjoyed 6 semesters of vocational electronics education, and operated from the school's club station. I worked my way through college fixing radios and TV's in a local repair shop. These experiences led to a college education and lifelong employment as an electronics technician and engineer with several large corporations, two technology startups, and California's third-largest public school district.
I was 15 years of age in August 1967 when I became Novice Amateur WN6YMO. I was strongly influenced by my friend Rick WN6WKR who got his license a few months before. Rick and I had many adventures together. We soon met Charlie WB6GJG, an older neighbor man that became a second father to us. Charlie taught us lots of stuff about electronics and life. His wife Mabel made great cookies. Charlie could not give me the Novice test because his Conditional class license did not allow it, but he introduced me to our town mayor, Harold Strand W6HKV who began giving me the Novice tests. But Harold died suddenly, so Bob WB6DAZ finished giving me the tests and I finally got a license. At that time there were many young Amateurs on the Novice bands operating CW with 75 watts or less, crystal-controlled (no VFO for a Novice - too easy to be out of band with the poor dial calibration of basic receivers back then). Each of us found an older Amateur in our community willing to give us the Novice code and theory tests, because that was the way you became an Amateur operator then. It's a shame the Amateur Radio Service is not like that for beginners today, because I learned a lot from these men that was not in any study guide. Their Radio experiences extended back to 1921 with crystal-set receivers and spark transmitters. All of them were World War II veterans. Harold was an accountant and the Mayor of our small town, Charlie was a retired radio/TV repairman, and Bob was a telegrapher with the Santa Fe Railroad. One of the things they taught me is that Real Amateur Operators are a fraternity of people that treat each other with respect. Having a license doesn't make one an Amateur operator, something you can plainly hear on the Amateur Radio bands today. It takes more than that.
My 1967 Novice station was a 1944 US Navy straight key, 1950 Johnson Viking I transmitter, Texas Instruments 7134 Kc crystal, 1965 Knight R100-A receiver, and a 40-meter dipole. I often stayed up all night searching for new states, and my code speed increased rapidly. In a few months I worked my first DX, KG6AAY on Guam.
In the summer of 1968 I passed the General 13wpm code sending and receiving tests and the written test in front of an FCC engineer at the federal building in Fresno and became WB6YMO. I upgraded my station with a Vibroplex Lightning bug, Heathkit HW-101 Transceiver kit, homebrew amp with four 811A tubes, and a homebrew 4-element 15m Yagi on a 40-foot tower. I used that setup to work lots of rare DX. The band conditions on 15 meters in the spring of 1968 that year were the best I've heard in my Amateur career - the band often stayed open into the Indian Ocean until midnight. 
In 1977 I passed the Amateur Extra 20wpm code and theory tests in front of an FCC engineer at the federal building in Fresno, and became AD6W. My station by that time was the Drake R4A/T4X into an 80/40 dipole or a Wilson 10/15m Yagi on an 80-foot tower. In 1984 I added a Collins KWM-380 and Henry 2K Classic.
Today my primary rig is an Elecraft K3 into a Mosley PRO-67C-3 all-band Yagi or shunt-fed tower. I use the K3 with a mix of transverters to cover the 144, 220 and 432 Mhz bands. I also operate a host of restored boatanchor rigs.
I also enjoy restoring and operating old boatanchor radios. The look, smell and feel of old vacuum-tube equipment in operation gives a romance to radio that newer equipment lacks. It never ceases to amaze me that Amateurs my age built kilowatt tube rigs when we were kids. It's hard to imagine kids today building kilowatt amplifiers with 3,000 volt power supplies in our safety-conscious society. But we did in the 1960's, and the sheer danger of working on those rigs was something that drew us to Amateur Radio! On my left wrist I have a reminder of my first transmitter, a scar from a deep RF burn. It marks me as an Amateur, and I only had to learn that lesson once.
I've rescued several large commercial AM broadcast transmitters for conversion to Amateur use, like the Collins 20V-2 in the picture, and a General Electric XT1A. The smaller of these two transmitters weighed 1,100 pounds, and the stories behind my acquisition of them makes great reading. My sons and I participated in many "Amateur Radio Adventures" to rescue these old transmitters. Recently I began downsizing, and my largest transmitter now weighs a measly 500 pounds. My favorite rigs for vintage CW are the Harvey Wells TBS-50D Bandmaster / Drake 2B and Johnson Viking Ranger / Drake 2B. My favorite rig for vintage AM is the Johnson Viking I / Hammarlund HQ140X. My favorite rigs for vintage SSB are the Collins KWM-2A and 75A4 / KWS-1. I also have a love for simple Novice transmitters and have restored several including a Viking Challenger, Heathkit DX60B, and Micamold XTR-1. I periodically rotate my collection of old radios through the shack.
When I'm not on the air I'm often in the garage restoring antique cars or building hotrods. I'm a certified welder and know how to use machine tools. My projects include a restored 1917 Ford Model T Depot Hack, a customized 1951 Ford F1 Pickup, and a 1931 Ford Model A highboy coupe powered by a dual-quad 392 Chrysler Hemi through a 4-speed and Halibrand Champ quickchange. Body work is finally done on the Pickup, and it will receive a shiny black paint job. The hemi-powered Model A is an ongoing project.
I'm very active as a volunteer in my community, working to make it a better place to live. I'm chairman of the leadership team at the Orchard Bible Fellowship Church, I've served two terms on the Kingsburg City Council, and four terms as president of my Kiwanis community service club.
I'm also the founder and current President-CEO of Friends of the Historic Kingsburg Depot, a 501c3 non-profit educational foundation that has restored the 1875 Kingsburg Southern Pacific Railroad Depot, and now operates it as a regional education center for the benefit of 240,000 school-age children living in my area. The Friends of the Depot currently number about 120. This picture shows the 1917 Ford Model T Depot Hack I restored, parked in front of the Depot. The Depot is furnished to the 1920's time period. Kids visiting the Kingsburg Depot encounter costumed docents and reenactors recreating a specific day in history at a small town railroad depot. You can find more information about this project at www.kingsburgdepot.org.
Best regards and hope to meet you sometime on the air,
Larry AD6W