Formerly I was into DXing, but my quad antenna was destroyed in a hurricane. Have not had the finances to replace it, so I am using a couple of homebrew wire antennas and find they do not work well for DX. For example, I cannot hear the E41 or XX9 or 9N or VU4 or VU7 stations from my location. If anyone has any suggestions, especially something I can build on a limited budget, please email me. Thanks.
Although my given name is Martin, I have gone by Marty most of my life. I am a native Houstonian, born 1959, member of Beautiful Savior Lutheran church in Houston, married and have two children. My other hobbies include photographing abandoned highways and bridges, true stereo recordings, playing guitar and watching tv shows about UFOs and the paranormal. Some favorite TV shows are Resturant Impossible and Hotel Impossible, also How the States Got Their Shapes.
I got my start in radio when my parents bought me a shortwave radio in around 1972. I then had police scanner radios and CBs.
I was first lic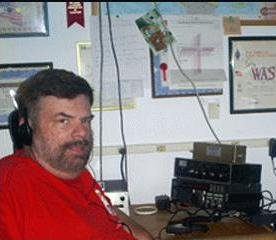 ensed in 1989. Previous calls KB5IQO, N5OHN and AB5NN. I changed to AG5T in the vanity program. Some of my other ham radio activities are:
President of the Houston ECHO Society Amateur Radio Club for14 years and have organized many field day events for that group
Fifth Call Area Director of the 3905 Century Club a great place to make contacts and meet friends. They have ssb, cw and digital nets and a ton of awards you can earn! Visit their website for more information. It is basically a worked all states net, but actually goes way beyond that including an annual get together at a different location in the U.S. every year.
​

If you are in Houston, I hang out on the 146.940 and 147.000 repeaters. Give me a call!

Below is a photo of me operating mobile HF at the Texas/Arkansas/Louisiana border - three states at once. The white stone by the tree is the official marker.