感謝您的查詢,並期待下一次的通聯。如需交換卡片,請逕自寄到上列住址即可,收到卡片百分之百給您回卡。謝謝 73!
御覧いただき有難う御座います
若しカートをご交換したらダイレクトお願い致します
又二回目のQSOを楽しみに待っています 73! IF YOU SEND CARD TO ME , DIRECT ONLY , PLEASE.
2013 summer 6M 10ele Quad antenna 2 Array installation.
2013 New Antenna: 50Mhz 10elements 15.0mtr Boom Quad antenna @10M Tower
OldAntennas: 14Mhz & 21Mhz 8elements 10.0mtr BoomYagi antenna,50Mhz 10elements 15.0mtr BoomYagi antenna.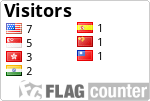 102996 Last modified: 2014-01-09 03:39:38, 2532 bytes
Login Required

Login is required for additional detail.
You must be logged in to file a report on this page
Currently updating logbook display.