Hi there ,thanks for the look up,or better still if I had the pleasure of a QSO with you. Please no paper QSL cards, only by Eqsl.cc or QRZ Logbook.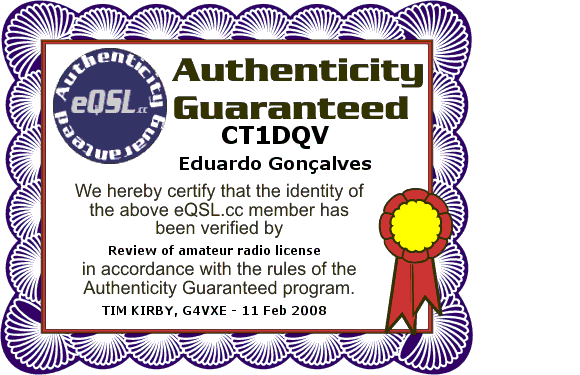 . Thank you. 
- TS 870 , IC 7700 , TS 990, FT 1000 MP Mark V
-Audio by EQplus( W2IHY)  and  RODE Microphones (to  ESSB Hi-Fi Audio) / HEIL Pro-Set Plus ( to DX)
-  RF Power by :ACOM 2000 , AL-1500 ...... ( Life is too short to work QRP )
-
- Antenna : SteppIR 3 elements
- Dipole inverted Vee for 7 Mhz
- DStar - CQ0DCH B or C local repeater
- Local Radio Club www.arat.org
- Locator IN 61 GR
My favorite Band 14 MHZ , every Saturday/Sunday morning 14.184 Mhz to 14.205 Mhz depends QRM.
- Sometimes, not many, in the 18 Mhz.
A.R.A.T. Member and Founder -http://www.arat.org/
Station operator - CS5RAT
REP Member nº   No more  Member
Thank You all for our QSO and for looking me up on qrz.com
Hope we can work again as soon possible
See you on HF bands Good DX"ing
Wish you all the best with my warm regards
NOT  MEMBER  QSL  BUREAU
" QSL: ONLY  EQSL  or  QRZ LOGBOOK  -   NOT IARU QSL OFFICIAL BUREAU - TKS "
 PLEASE CONFIRM CONTACT VIA QRZ LOG BOOK THANKYOU.
73 ED