Hello friends WELCOME Grid: IM67CB
QSL via bureau or direct my adress.
No coupons IRC, not dolars please. THANK YOU.
Proverbio árabe
"No hay nada más importante para los ojos de Dios que el hombre que aprende una ciencia y la enseña a los demás".
( AFTER USE OF THE PC IN PERMANENCY. ) hi hi
My CALLSIGN IN SUISSE IS HB9IJB / Filipe
HOTEL BRAVO NINE INDIA JULIETT BRAVO
I LIKE THAT ABOUT YOU ? BUT DO NOT STOP WITH THE CROOKED EYES.
SILENCE DO NOT DISTURB SLEEP. TANKS

My STATION
RECEIVER KENWOOD R-2000 HF.
TRANSCEIVER ICOM-706 / HF/50Mhz/144Mhz,
TRANSCEIVER HF KENWOOD TS-870,
TRANSCEIVER HF KENWOOD TS-2000
TRANSCEIVER TR7,
TRANSCEIVER YAESU 757GXII,
TRANSCEIVER HF ICOM 706 /50Mhz/144MHZ
TRANSCEIVER IC-275H/VHF /100Watts ALL MODE.
TRANSCEIVER IC- 475E/UHF / 25WATTS ALL MODE.
-- USING POWER OF ONLY 100 Watts MAX. ( L' IMPORTANT C'EST L'ANTENNE, NON LES KW ) ( TANT VAUT L'ANTENNE, TANT VAUT LA STATION )
MIEUX VAUT UNE BONNE ANTENNE QU'UN MAUVAIS AMPLI.
ALL KINDS OF ANTENNAS AND ACCESSORY ARE THE SUJECT OF GREATER IMPORTANCE IN COMMUNICATIONS . Type antenna is a priority.
FOR YOU WHO LIKES TO DX IS ADVISABLE THAT THE MOST EFFECTIVE INVESTIMENT YOU CAN MAKE IS THAT YOU USE THE ANTENNA, THE ANGLES OF LESS THAN 5/10/15 DEGREES ARE DESIRABLE FOR DX. THE SMALLER THE ANGLE OF RADIATION, THE GREATER THE DISTANCE THE SPRING.,
ANTENNES HF
ANTENNE TOP BAND 160/80Metres - Ant. WIRE dipole PKW
DIPOLO E.D.Z. 5/8 ( 2x 0.64 lambda ) (Extended Duplo Zepp FOR BAND 40 METRES ) Line 450Ohms.
ANTENNE HALF-SQUARE project d'antenne à essayer . ( home made )
MY AMPLIFIER
V ANTENNA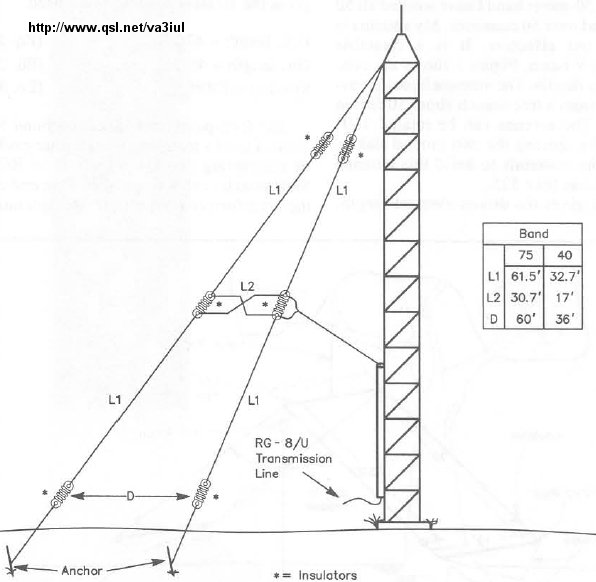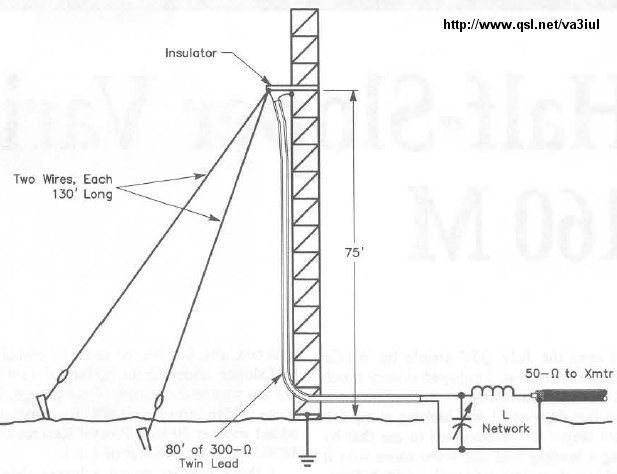 A DELTA LOOP é excelente para DX e teremos uma melhor relação sinal-ruído! Portanto, mais confortável.É uma antena monobanda, possui excelente relação sinal x ruído e ganho sobre a DIPOLO. Pode-se operar em várias faixas com o uso de um acoplador de antenas. Mas, ao usá-la desta maneira como se fosse uma antena multibanda, não espere o mesmo desempenho que é obtido na faixa da frequência de corte.
Para a radiação máxima polarizado verticalmente, o feedpoint deve ser 1/4 de comprimento de onda a partir do vértice (quer apontada para cima ou para baixo).
Antenne Vertical Delta loop monobande pour 40 mètres ( home made ).
Antenne Vertical Delta Loop multi-bande pour 80 - 10 mètres (home made). It is has 84 meters of perimeter. The Delta Loop Antenna is Sloper 45º the vertex and 15 meters in height being fed on od the the vertices below and wire height is 1 meter from the ground.
Polarización horizontal figuras 1, 2. y 3, proporcionan ángulos altos de irradiación y son útiles para trabajo local o regional, son la configuración punta arriba/alimentación en punta, punta arriba/alimentación central, y punta abajo/alimentaci´n en punta. Estos proporcionan una polarización horizontal, lo cual puede ser útil para remover ruidos eléctricos de la recepción.
Polarización vertical alimentación como la figura 4, Esto le proporciona al loop una polarización vertical y un ángulo de irradiación bajo. Para colocar un loop en una torre, puede resultar útil la configuración de triángulo rectángulo, la cual es una distorsión de la configuración primera, y es alimentada también en una esquina.

YAGI 3 elements A3WS 12-17 M / Cushcraft.
ANTENNES VHF/UHF
Vertical X-50
YAGI 5 elements 50Mhz/VHF de chez TONA.
Mon QTH .
Située en LATITUDE 37º N / LONGITUDE -7º W .
My Grid Square / QTH Locator: IM67cb
GOOD Dx 73, Filipe.
ANTENNE BOBTAIL ET L'ANTENNE LAZY - H, deux antennes à experimenter prochainement. (home made ).
ANTENNAS FOR DX, FOR LOW ANGLE.
ANTENNES HOME MADE POUR 10/15 et 20 Mètres
3 x Antennes YAGI ( home made ) mono bandes for 14 Mhz / 21 Mhz / 28 Mhz :
YAGI 4 elements 14MHZ / Gain 8.87dBi. Boom 9.828 mtres
L' antenne pour les 15Metres est une optimisation faite par ct1ffu avec EZNEC 4,
YAGI 5 elements 21MHZ / Gain 10.08 dBi / F/B 23.48 dB. Boom 10.80 mtres
YAGI 6 elements 28 MHZ / Gain 11.55 dBi. Boom 10.623 mtres.
Si vous ne savez plus quoi faire de vos cartes QSL, une solution existe.
A découvrir ici: http://www.youtube.com/watch?v=B09B0kdj_j8&feature=player_embedded#!
LATITUDE: 37º 03´ 38'' N / LONGITUDE: 07º 46' 33'' W
THIS IS MY SPACE TO PARK ANTENNAS. TOTAL 6000 M2
THANKS FOR YOUR VISIT, IF YOU PASS BY ONE CHI DO NOT FORGET TO PUSH THE GATE OK, 73.
http://www.megacurioso.com.br/humor/39751-abalando-ouvidos-e-olhos-dancarina-interpreta-beethoven-com-a-bunda.htm?utm_source=artigo_bottom_
Telegrafista Bacterista - http://www.youtube.com/watch?v=6XHwygN9CKM&feature=share
http://www.youtube.com/watch?feature=player_detailpage&v=6XHwygN9CKM