Gracias por visitar mi biografia en QRZ.
Me llamo martin propietario de CX5RN desde hace un año, es mi primer licencia, por lo tanto radioaficionado nuevo, pero muy entusiasmado con el hobby.
73 y buenos dx!!!
Thanks for visiting my biography on QRZ.
My name is martin CX5RN owner a year ago, is my first license, amateur so new, but very excited about the hobby.
73 and good dx!
ISS PASADA - AQUI
Video of my station
Pictures of my station - Fotos de mi estacion
Intentando QSO en Satelitte SO50 AQUI
Info de donde vivo
Maldonadoes una ciudad deUruguay, capital deldepartamento homónimo.Es además sede delmunicipio homónimo. Denominada en un principioSan Fernando de Maldonado, esta denominación ha dado a sus habitantes elgentiliciodefernandinos. Actualmente se encuentra conurbada con la ciudad dePunta del Estey de forma parcial está vinculada a la ciudad deSan Carlos. Entre estas tres ciudades, y nuevas urbanizaciones como La Capuera y balneario Buenos Aires, conforman el área metropolitana, de 135.236 habitantes
La ciudad de Maldonado se encuentra localizada en la zona sur deldepartamento homónimo, en las costas delarroyo Maldonado, próximo a la desembocadura de este arroyo en elocéano Atlántico.
------------------------------------------------------------------------------------------------------------------------------------------------------------------------------------
Escucha en vivo las transmisiones del aereopuerto internacional de Carrasco en Montevideo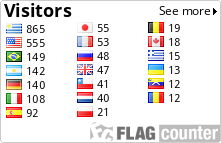 Más información sobre el tiempo en Maldonado