District Location Code DOK S49
Loc JO60qp
Olbernhau is situated in the centre of the Erzgebirge (the Ore mountains) in romantic mountain country, rising from the valley floor to over 250 metres.
WWFF Residents in DLFF 056 Nature Park Erzgebirge/Vogtland
http://www.naturpark-erzgebirge-vogtland.de
___________________________________________________________________________________________________________________
First licensed in 1972 as DM2DHN
1972 - 1980
1980 - 1990
Previous callsign Y24HN
1990 -
Our Ant 5-El-Beam for 40-30-20-17-15-12-10 m, Hummel tower 12,5 m high
Member
EPC # 12704
DL2JIL counts for the DL-YL-33 award, edition Saxonia
DXCC
Award
New LoTW QSLs
LoTW QSLs in Process
DXCC Credits Awarded
Total
(All)
Total
(Current)
Mixed
20
0
196
216
214
CW
7
0
170
177
176
Phone
16
0
125
141
140
Digital
94
0
0
94

93
WAS
Award
New LoTW QSLs
LoTW QSLs in Process
WAS Credits Awarded
Total

Basic

36
0
0
36
Missing: AK, AZ, CA, ID, IN, IA, LA, MT, NV, ND, OR, SD, UT, WY
updated 05 apr 2014
---
QSL INFORMATION for direct posting
Please note that direct requests require 1 IRC (new) or 1 $ outside of Europe, and for Europe 1 IRC (new), 1 $ or 0,75 € to cover the postage costs for mail

SAE (self adressed envelope) not necessary
QSL cards received directly without returned postage will be answered via the bureau.
---
I prefer paper qsl via bureau!
DL2JIL is the cooperator of DL0WFF
Rig ICOM 706 MKII G
DLFF 030 Nature Reserve Spreewald activity 2010
DL0WFF is a club callsign for activities from DL FF /German
National Parks, Nature Reserves and Nature Parks
that counts for the WWFF-Award.
My activity DL0WFF
IOTA & LIGHTHOUSE ACTIVITY
YEAR 2004
Date 2 March - 5 March 2005
IOTA EU 057 RUEGEN ISLAND

Calls DL2JIL/p + DL2JIM/p
YEAR 2005
Date 12 March - 18 March 2005
1. Lighthouse TIMMENDORF
GLH 47
ARLHS FED - 236
2. Lighthouse GOLLWITZ WEST
GLH 72
ARLHS FED - 093
3. Lighthouse GOLLWITZ NORD
GLH 74
ARLHS FED - 092
IOTA ex EU-098 Isle of Poel, Baltic Sea, DID O - 02
Calls DL2JIL/p + DL2JIM/p
YEAR 2012
Date 6 April - 8 April 2012
IOTA EU-021
CQ 40
ITU 17
Loc HP94GT
Calls TF/DL2JIM op Sig + TF/DL2JIL op Eve + TF/DL2JRM op René
All QSO also in LotW (TF/DL2JIL) !
YEAR 2013
Expedition to Morokulien LG5LG/SJ9WL
Date 12 - 13 October (SAC Contest 2013, SSB part, our Call LG5LG)
QTH Clubstation Morokulien LG5LG & SJ9WL

op DL2JIL, Eve + DL2JRM, Rene + DL2JIM, Sig
Thank you very much for the possibility to be active here
The QSL manager for this action is LA4EKA
Svenn-Erik Spigseth
Ullern
2100 SKARNES
Norway
We have not any qsl cards !
I n f o r m a t i o n e n
1. Diplom "YL-WM 2011
I

n den Monaten Juni und Juli 2011 zählten QSO's mit YL-Stn und YL-Sonderstationen aus DL für das Diplom "YL-WM 2011".
In June and July 2011 qso's with YL stn and YL special stn from DL are valid for award "YL-WM 2011".
Activity
Ich arbeitete in erster Linie unter DL0YLS, der YL - Klubstation meines Distriktes Sachsen (S). Kurzfristig auch unter DL0YLL und DL0YLT.
Alle Skedwünsche, die mit mir vereinbart wurden, sind erfüllt worden.
In meinem Log stehen mehr als 5000 QSO´s. Wenn es nicht immer klappte, sorry. Ich bedanke mich bei allen meinen QSO-Partnern. Es hat Spaß gemacht.
Alle QSO unter DL0YLS, DL0YLL und DL0YLT wurden auch in mein Log DL2JIL übernommen und weiterhin an das LotW (DL2JIL) gesandt.
You can find all contacts also in LotW (Call DL2JIL).
Date Special Call Band Mode
1 - 2 June DL0YLS 80 - 10 m SSB, CW, RTTY, BPSK
12 - 19 June DL0YLS 80 - 10 m SSB, CW, RTTY, BPSK
21 June DL0YLL 80 - 10 m, 2 m, 70 cm SSB, FM, CW, RTTY, BPSK
21 - 22 June DL0YLS 80 - 10 m, 2 m, 70 cm, SSB, FM, CW, RTTY, BPSK
1 July DL0YLS 80 -10 m, 2 m, 70 cm, SSB, FM, CW, RTTY, BPSK
2 July DL0YLT 80 - 10 m, 2 m, 70 cm, SSB, FM, CW, RTTY, BPSK, QPSK
3 July DL0YLS 80 - 10 m, SSB, CW, RTTY, BPSK
5 July DL0YLS 80 - 10 m, SSB, CW, RTTY, BPSK
9 -10 July DL0YLS IARU HF World Championship
11 - 18 July DL0YLS 80 - 10 m, SSB, CW, RTTY, BPSK
21 - 24 July DL0YLS 80 - 10 m, SSB, CW, RTTY, BPSK
Rig YAESU FT 1000MP Mark-V Field + Linear Amplifier FL-7000 (500 W)
end of activity, sk.
2. DL-YL-33-award-edition and trophy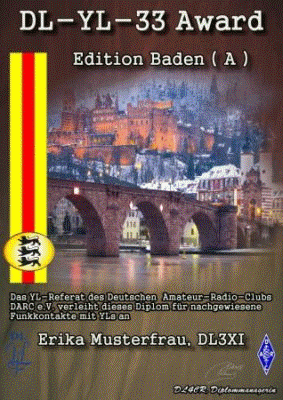 Das YL-Referat des DARC e. V. gibt das DL-YL-33-Award als Serie heraus in 25 verschiedenen Editionen. Für jeden Distrikt des DARC e. V. gibt es eine eigene Version/Edition sowie für die YLs des VFDB, so dass für die gesamte Serie 25 verschiedene Diplome (Editionen) zu arbeiten sind.
The YL Committee of the DARC e.V. is issuing the DL-YL-33 Award as a series of 25 different versions (editions).
Each district within the DARC e.V., as well as the VFDB, will issue its own version, with a total of 25 different awards (editions) that can be worked.
La YL-Referat del DARC e.V. ha preparato il DL-YL-33- Diploma come serie in 25 diverse edizioni.

Per ogni Distretto del DARC e V. ci sarà una propria versione/ edizione, così anche per le YLs del VFDB; in questo modo, per tutta la serie c'è da lavorare 25 diversi Diplomi. Da contattare ci sono diverse YLs tedesche e /o YL-SWL tedesche e/o YL-Club stazioni tedesche.
Le comité des YL du DARC a édité le diplôme DL-YL-33 en 25 versions différentes.
Chaque district (région) édite son propre diplôme. Chacun des 25 diplômes peut être validé et requis séparément.
Il s'agit de contacter une YL , SWL-YL ou une station radio-club YL.
Chaque indicatif compte une fois par bande et par mode.
Infos
http://www.darc.de/referate/yl/yl-diplome/dl-yl-33-award/
Aktivierung: DL0YLS
3 november - 31 december 2013
16 february - 3 march 2014
1 march 2014 -
Alle Verbindungen unter DL0YLS werden auch in mein persönliches Log übernommen
und später an das LotW (DL2JIL) gesandt.
Es werden alle Verbindungen für mein persönliches Call in DCL übernommen, um die Diplombeantragung für DL-Stn zu erleichtern, sofern die Diplome in DCL erscheinen.
Falls DL0YLS gewünscht wird, dann eine E-Mail an mich.