Thanks for looking !
COTA:DL-03540KAB-024 BURG STOLBERG
Note for QSL :
All QSO are uploaded to QRZ.com. Paper QSL are sent via bureau to all yet unconfirmed DXCC an US States unless otherwise notice in ur QRZ.com record. If u need or want my card, please let me know. I will also send direct on request, but only with self adressed envelope an 2 green stamp inside! Just give me a note. I will reply all incoming card's 100% via bureau, also SWL reports are welcome. Incoming QRZ.com QSL's will be checked and confirmed that is priority for my US State Award on QRZ.COM !
Innerdeutsche QSL bestätige ich vorzugsweise via DARC Büro oder auch gerne Direkt dann aber mit einem selbst adressierten Umschlag mit Briefmarke....QSL von SWL beantworte ich gerne.
member of DARC , OV Stolberg , DOK G56
holder of call: DL Ø LEO ,  DN2KA
======================================================================================
My Antennasystem
for  6m  3 Element homebrowed antenna designed with 12,5 Ohm (DK7ZB)
for  2m  9 Element Tonna 14m over ground
for 144 mhz portable two times 4 element Tonna on 6m Army pole 
** NEW  for 10-12-15-17-20 m Optibeam OBW10-5  12m over ground NEW **
....BIG TNX to Jürgen DL3JH
The  " DL6KA "   9 Band   Short Wave Vertical Antenna
10-12-15-17-20-30-40-80 160 m
I changed the form from treangle to a square see picture
The entire wire length of the antenna is 73m,the vertical component is 10m plus 9.50 (total 19.50.m)
The counterweights are buried in the ground in a deep about 30cm.
multiple lengths of 3 mm² to 6 mm² isolated copperwire from 10 to 30m. the antenna is
feeded from MFJ 998 RT through a 1:4 current balun twice transformed FT240 43 of 200 ohms to 50 ohms.
The 2 Ft's are good for 750W or up to about 2 KW. look at the picture above....from the thick red Line
the first part of the vertical antenna, it is up
to 10m high.from cuttherein the red part 19,50 m long and back again 19.50 m in the
green part,the 16.50 to the pole the upper vertical component is 9.50 m.
Between the two Verticals is a distance of 10 cm (no connection).

The Antenna is like a long wire antenna that operates as a Deltaloop and vertical antenna.
I can work 8 Band's with the automatic tuner on the feedingpoint.
More info and pictures u will find on this LINK !
Look my Contact's.....arround the world...
Statistics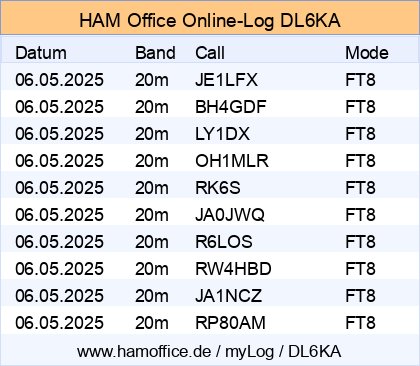 Flag Counter new since 20.07.2009
W.A.S Counter new since 19.06.2011
28.09.2014 Portabel on 2m Band on 556m a.s.l. NorthEifel / Hürtgenwald (Kalltrail WWII)
best ODX 753 Km to JO80LJ with Tropo
03.07.2015 update same place with 2 x 4 element for 2m 100W best ODX 623 km to IO93FQ
Outdoor Activity 01.11.2015 New Setup with IC 7400 (100 Watt)  ODX: 936 km
Old Lighthouse Activity for 3 Day 2008 Borkum EU-047
45m Longwire from the tower to a tree into the house with IC-7000 100W into the world.
My Activity runs over 3 Weeks.  a beautiful charming isle with realy cleen air.
My special thanks to the Heimatverein Borkum !
behind the dunes you find a long long sand beach....
Aktiv from isle of  Römö EU-125  Denmark 2010
6m pole inverted 2 x 20m Dipol 100 Watt IC-7000 on 40 and 80m Band
Beautiful landscape in the midle of the nature our 8 corner round house.
from the highes point of the isle near an old wwII airfield 
 Check the Oldtimer's..... all sold in time i make some Video for memory's
ICOM   IC 260E   
YAESU FT-290R    
YAESU FT-817   
IC 7100  Intro