PSE SIGN MY GUESTBOOK - MNI TNX!
http://www.guestbook-free.com/books3/dl7cx/
http://logbook.qrz.com/logbook?op=list&listtype=confirmed&ordertype=qslack
iframe align="top" frameborder="0" height="500" scrolling="yes" src="http://logbook.qrz.com/lbstat/DL7CX/" width="640"></iframe>
NEWS 2014:
SOTA from Southtyrol I/DL7CX (august 2014)
... the traditional fieldday in HB0 ...27th june 2014 (HB0/DL7CX)
may 2014: WPX CW at OL7C with good friends...
-------------------------------------------------------------------------------------------------------------
www.qsl.net/dm7c our new Webpage for DM7C - pse visit
pse sign in: http://www.qsl.net/dm7c/Gaestebuch.html
www.qsl.net/dl7cx see for more info about DL7CX
2013 NEWS:
CQ WW CW 80m SOA:  3rd place world
OZ/DL7CX:
OZ/DL7CX: QRV in IOTA-Contest from EU171 : 2nd place world
I was qrv from EU171 from 21st july until 1st august from JO47PD - EU171 Vendyssel-Thy.
I made more than 1300 QSOs (820 in the IOTA-TEST, 400 in PSK).
Results: http://www.iotacontest.com/contest/iota/2013/finalScore.php?c1=if&c2=su&c3=c&c4=1&c5=l
HB0/DL7CX: 26th june 2013 with HB0/DL6CX and HB0/DL8CX
We only worked in PSK and DL7CX was on 30m, DL6CX on 20m and DL8CX on 17m.
(What is wrong on the picture???? ... the fellow with the red face is drinking a nonalkoholic beverage...!)
NEWS 2012:
CQWW CW 2012 is history:
I worked under DM7C and it was a sucess.
More than 1900 qsos and 129 DXCC on 80m are better than 2012.
1st place world with german record in 80m SOA.
2012 22nd june: HB0/DL7CX
My friends (DL6CX,DL8CX) and I were on air for some hours from om HB0 with a simple portable rig and all works fantastic.
DL7CX : Olaf Brunner www.qsl.net/dl7cx
DOK S62
first licensed in 1986-1992 as Y65IN-after wall came down I changed callsign into DL1JBQ 1992-1999; since april 1999 my callsign is DL7CX
I worked from other countries:
1994 and 1998: ZL/DL1JBQ
2000: TI7/DL7CX
2001 and 2009: OZ/DL7CX (EU171)
2003/2004/2005/2008: EA8/DL7CX
2012: IN3/DL7CX HB0/DL7CX
2013: HB0/DL7CX, OZ/DL7CX (EU171), OK8CX (since 1st august 2013)
2014: HB0/DL7CX
Since 2012 I'm working on PSK31 and other digi-modes: so let me thank you vy much to my hamfriends Pavel, OK1AW and Mirek, OK1HPD
(Primary systems) for giving me great support and install Hamradiocontroler 3.0.... works fantastic! PSE VISIT: http://ok1aw.pksprava.cz/Controler3.htm.
EPC # 17649 #
Mni tnx dr Con df4sa from spiderbeam for support our conteststation DM7C with his great products and ufb support every time... pse visit www.spiderbeam.com and see on my www.qsl.net/dl7cx how the18m fiberglas telescopic poleworks on 80m!
NEWS: 80m 4 sqr array set up at DM7C in november 2012 again
CQ WW CW Operation with dm7c in 2013/2012/2011/2010/2009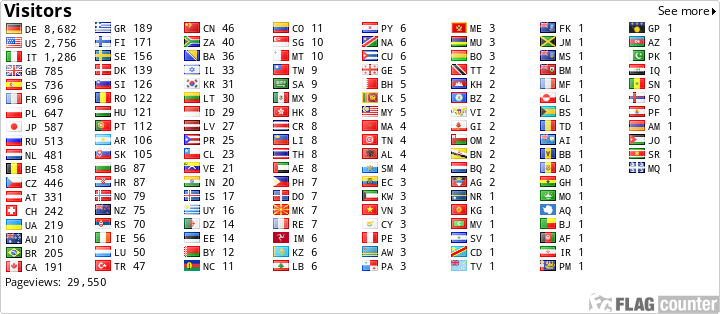 "
counter since 20th dec 2010
counter since 19th july 2014
Remember! I'm a dentist :