Hello everyone, thank you for visiting my website.
MY5T antenna 5 Band 10 el. Beam (by E73M  http://myantennas.com/wp//multiband/my5t-5-band-antenna/  )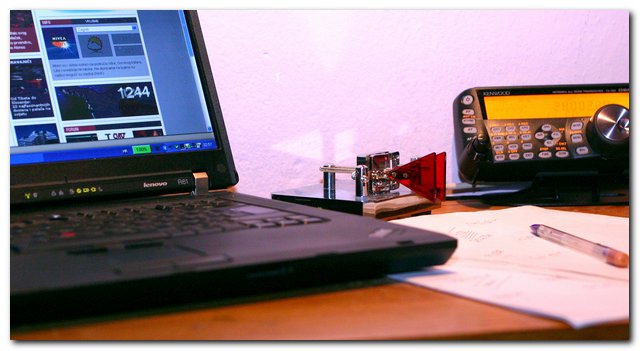 I am a radio amateur since 1988 with a break where I was not active from 1998 to early 2010. The beginnings of my related to the local radio club in Siroki Brijeg YU4ELS (now E73ELS), where I was very active until the end of university education and the beginning of my professional life as B.Sc.Eng in a telecommunications company.
In Early 2010th, I decided to get back into HAM World. 2008 I was given a personal call E77AW which I currrently use. I am active on HF bands 10-160 ,CW, SSB, PSK, JT65, RTTY and others.
I am collecting paper cards, but also confirming QSO-s trough eQSL, LOTW, Clublog.com, QRZ.com  and other digital systems.
 

Please DO NOT SEND  DIRECT TO MY ADRESS (have problems with postal delivery), PSE if Direct send it to my Manager E73Y!!!
,

The current equipment that I am using is following:

HF rig: Kenwood TS 480HX (upgraded with: CW, SSB filters, Voice Guide Unit, TX stabilsation SO-3);
VHF/UHF rig: TYT UVF-9 (VHF/UHF), Pofung BF-F9-TP (VHF/UHF)
Antennas:
     - MY5T (by E73M) 10 el. Beam (for 20,17,15,12,10m);
     - Hy Gain AV14-AVQ (for 10, 15, 20, 40,80 band),;
     - MFJ-6230 (30m);
     - MFJ-6417 (17m);
     - Alpha Delta LB-DX (80,160m);
     - Hy Gain AV-12AV (for portable work 20,15,10m);
     - MFJ-1778 (G5RV);
     - Hoxin MV-2000 (6m, 2m, 70cm),;
     - MEF-110-1K (160,80,40m);
     - PA50-3-1,5 (6m 3el. by YU1CF).

Antenna tuners:
     - MFJ-941E; 
     - MFJ-962D;
     - MFJ-903.
Modems and interfaces:
     - Signalink USB;
     - Nano Keyer for CW (https://nanokeyer.wordpress.com/nanokeyer-info/);
     - W3YY interface fo FSK (w3yy.com/fsk.htm).
Key padlles:
     - MFJ-564;
     - KM-F (FZP) Soviet military school type;
     - TM-1 Rudi Čajevec - Former Yugoslav army copy of Vibrokeyer by Vibroplex
Current antenna setup, MEF-110-1K (Multiband EFHW Antenna Transformer, Covers 4 Bands / 160-30m - I am using it for 80m)  and  MY5T  10 el 5 band beam (all by E73M  >>>  http://myantennas.com/wp/). 40m Quad Vertical feed with 450Ohm open wire.
Activities on HF bands: from date 28.05.2010, I participated in activating the Nature park Blidinje in the WFF program ( reference number WFF E7FF 004), where I was with my colleagues and we made the first activation of a nature park in the WFF program in Bosnia and Herzegovina. I was active on 12.06.2010 with the call sign E77AW / p on the highest mountain peak in Bosnia and Herzegovina, Pločno alt. 2228 mtrs.(shown oh photos, down below me is snow on the top of the Čvrsnica Mt.) which is located within Natural Park Blidinje (Čvrsnica Mt.).

For QSO-s made with the call sign E77AW/p, E70WFF and E720ZRHB there are special commemorative card.
Between 14.05- 18.05 and 27.06 - 06.07 2012 I was active as 9A/E77AW and 9A/E77AW/p (9AFF-018), all QSLs sure via Buro.
05.08-09.09 2013 activity as 9A/E77AW from Mljet Isl. Croatia IOTA EU-016 (Croatian Islands award CI-068), via buro and eQSL.cc.
19.08-31.12 2013 was active with Special Call E720ZRHB for 20th Ann. of our HAM Ass.
01.07-31.12.2014 was active with special call E72NATO.
23.08 - 28.08 2016 will be active with special call E717MFF
See you on the bands, ...73!!!
Mljet Isl. IOTA EU-016 August 2013
Former Yugoslav Army CW paddle TM-1, made as direct copy of Viobrokeyer by Vibroplex.