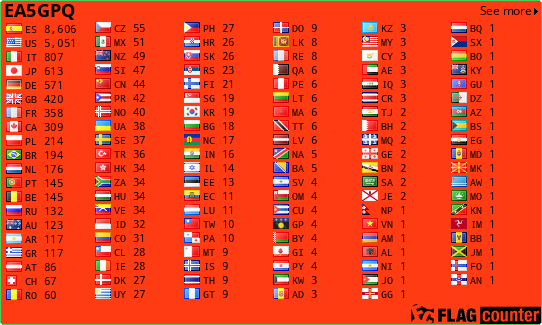 My QTH Grid Locator: IM98OJ
-------------------------------
My interest in radio began in 1985, as some of my friends were hams at that moment so I decided to join this magic hobbie.
In June 1986 I got my first callsignfrom the "B" classEB5HAD.
In 1989 I got the diploma of class "C" and in 1992I was finally assignedthecallsign EA5GPQ from class "A", but I didn't operate on HF till January 1997.
Since May 1997 I beganto be very active in radio, right after I rised up on my building terrace a 7 elements LOG Periodic for 5 bands as well as an inverted "V"dipole for 40 and 80 meters.
A few years later I decided to set upa rigid rotary carbon fibered dipole for 40m band, which up to day, works outright as the first day but regretfullyI am slightly older but still with strenght enoughto continue in radio.
I have taken part in competitions such as the CQ WORLD WIDE WPF PHONE CONTEST 2008 and also in the ARRL DX CONTEST as AM5A.
I've also participated in several EA contest. I am a member of the association of amateur radio "Costa Blanca" Alicante - EA5RKB. Also member of the union of amateur radio Spain - URE.
I am active in 10, 12, 15, 17, 20, 40, 80 and 6 meters when conditions allows so.
Sporadically I am also active in CW, but my main course is SSB.
Here beloware some of my achievements,
DXCC, DXCC HONOR ROLL, DXCC CHALLENGE, 5BDXCC +12 and 17, EADX100, 5BEADX100 +12 and 17, PLACA DE HONOR EADX100, 5BWAS +12 and 17,5BWAZ + 12and 17,and others that are displayed on my own web site,
-----------------------------------------
Mi interés por la radio comenzó en el año 1985. Tenía amigos en el mundo de la radio así que yo uno más que se unió a este hobby.
En junio del año 1986 obtuve el diploma de la clase "B" y me otorgaron el indicativo EB5HAD.
En 1989 obtuve el diploma de clase "C" y en 1992 obtuve la licencia clase "A" con el indicativo EA5GPQ pero no opere en HF hasta enero de 1997 estando muy activo en radio a partir de mayo de ese mismo año pues en esa fecha puse en mi terraza una antena de 7 elementos LOG PERIODICA para 5 bandas y dipolo para 40 y 80 metros en "V" invertida. Unos años mas tarde monte un dipolo rígido de carbono para la banda de 40 metros. A fecha de hoy funciona como el primer día pero yo soy un poco mas mayor pero con suficiente fuerza para seguir en radio.
He participado en concursos como el CQ WORLD WIDE WPF PHONE CONTEST 2008 y también en el DX CONTEST ARRL como AM5A.
Además he participado en varios concursos a nivel nacional. Soy socio de la asociación de radioaficionados costa blanca de alicante - EA5RKB. También de la unión de radioaficionados españoles – URE.
Estoy activo en 10, 12, 15, 17, 20, 40, 80 y 6 metros cuando las condiciones lo permiten.
Esporádicamente hago algún contacto en CW, pero mi plato fuerte es SSB Aquí adelanto algo de lo conseguido:
DXCC, DXCC HONOR ROLL, DXCC CHALLENGE, 5BDXCC +12 y 17, EADX100, 5BEADX100 + 12 y 17, PLACA DEHONOR EADX100,5BWAS +12y 17, 5BWAZ + 12y17 y otros más que se pueden ver en mi página Web: