Juan José Martínez García
RUNNING CROSS
E

A

5

H

T

U
    CELEBRO LA VISITA A MI PAGINA !!!! UN BRINDIS , SALUD POR MUCHOS AÑOS EN RADIO .
      I WELCOME YOUR VISIT TO MY SITE !!!! A TOAST , HEALTH MANY YEARS IN RADIO.
* Welcome my friend * EA5HTU * Bienvenido mi amigo *
Hello, welcome my friends !! you are doing a visit , I`m EA5HTU my name is John , I live in the village of
Santa Pola ( Alicante ) Spain .
I started in radio in 1986 as 27Mhz SWL and in 1990 I got the
EB5CRP indicative and in 2010 I got the EA5HTU, I like the world of dx , as you can see my contacts report SWL and QSL via
e.QSL.cc ,,,,
EuroBureauQsl .

Lotw .
Also I love the world of the sea, diving, rowing, swimming, windsurfing, etc.
And as main course the Mountain Bike Cross
My transmition team Yaesu 897 D as antenna to use brand the HUSTLER 6 BTV.
Thank you for visiting, we`re listening to ourselves 73 dx

                     QSL : PLEASSE CONFIRMED CONTAC IN MY LOGBOOK QRZ AND E.QSL.CC
THANK YOU
Hola , Bienvenidos mis amigos !! estais haciendo una visita , soy EA5HTU mi nombre es Juan Jose ,vivo en la encantadora y acojida ciudad bañada por el mar mediterraneo llamada Santa Pola
Nacido en 1960 ya puedes imaginar la edad que tengo !!! Empece en este mundillo de la radio gracias a mi cuñado Jesus " el Bujias " a comienzos de los años 1986 como SWL y 27Mhz, en el año 1990 obtuve el
indicativo de EB5CRP y en 2010 obtuve el EA5HTU, me gusta el mundo del dx , como puede observar mis contactos intercambio reporte SWL , QSL via e.QSL.cc . tambien confirmo 100 X % QSL directas,
tambien via ,EuroBureauQsl

Lotw
Tambien me apasiona el mundo de la mar , como el buceo libre apnea , remo , nadar , windsurf, etc.
Y como plato fuerte la bici de montaña , digase :
Mountain Bike Cross
Realizando rutas , caminos , senderos , pistas , trialeras en barrancos , subidas y bajadas por plena sierra y naturaleza , es un mundo apasionante , versatil , emocionanteetc
Mi radio Yaesu 897 D, como antena vertical ,
Hustler 6btv multibanda
.
Gracias por su visita , hasta pronto , nos escuchamos a trabes de las ondas 73 dx.
Frecuencias donde puedes localizarme SWL
6m
= 50.150
/
2m
= 145.525
/
10m
= 28.460
/
12m
= 24.950
/

15m

=

21.325

/

20m

=

14.250

/
40m
= 7.060
NUNCA SE TIENE LA MISMA EDAD " PERO SI EL MISMO ESPIRITU " ! ! ! EA5HTU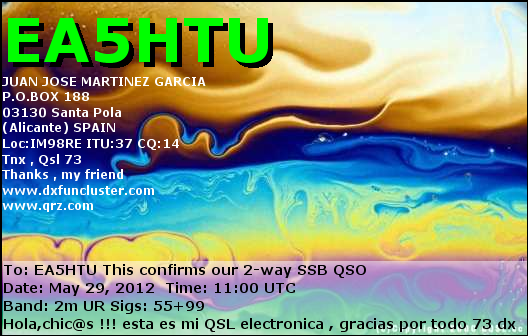 LOCATOR =
IM 98 RE

= ZONA =

CQ : 14

- ITU : 37
D.M.E: 03121
EL MUNDO , RADIOAFICION EN TUS MANOS : IN YOUR HANDS MATEUR RADIO WORLD

27 Mhz = 30 FD 114
Radioescucha SWL. EA5-0167-FD
HI, FRIENDS, MY TRANSMITION TEAM YAESU FT - 897 D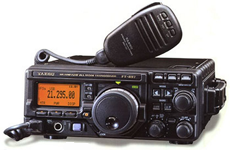 Hi ,this is my antenna radiating system to use brand HUSTLER HF 6BTV - V- and -U COMET dual band
Este es mi sistema radiante que tengo en mi QTH , instalado en la azotea de tejas con un mastil de 2´50m , en la puntera central , antena Hustler 6 btv para HF en los laterales en cruz , antena Comet bibanda V + U , y la Discono Full Band Diamond , según se puede apreciar en esta foto .
Mi cuarto de radio es modesto , me permite disfrutar de los buenos y pocos momentos en radio , con amigos , conocidos y colegas 73 dx !!!!! .
: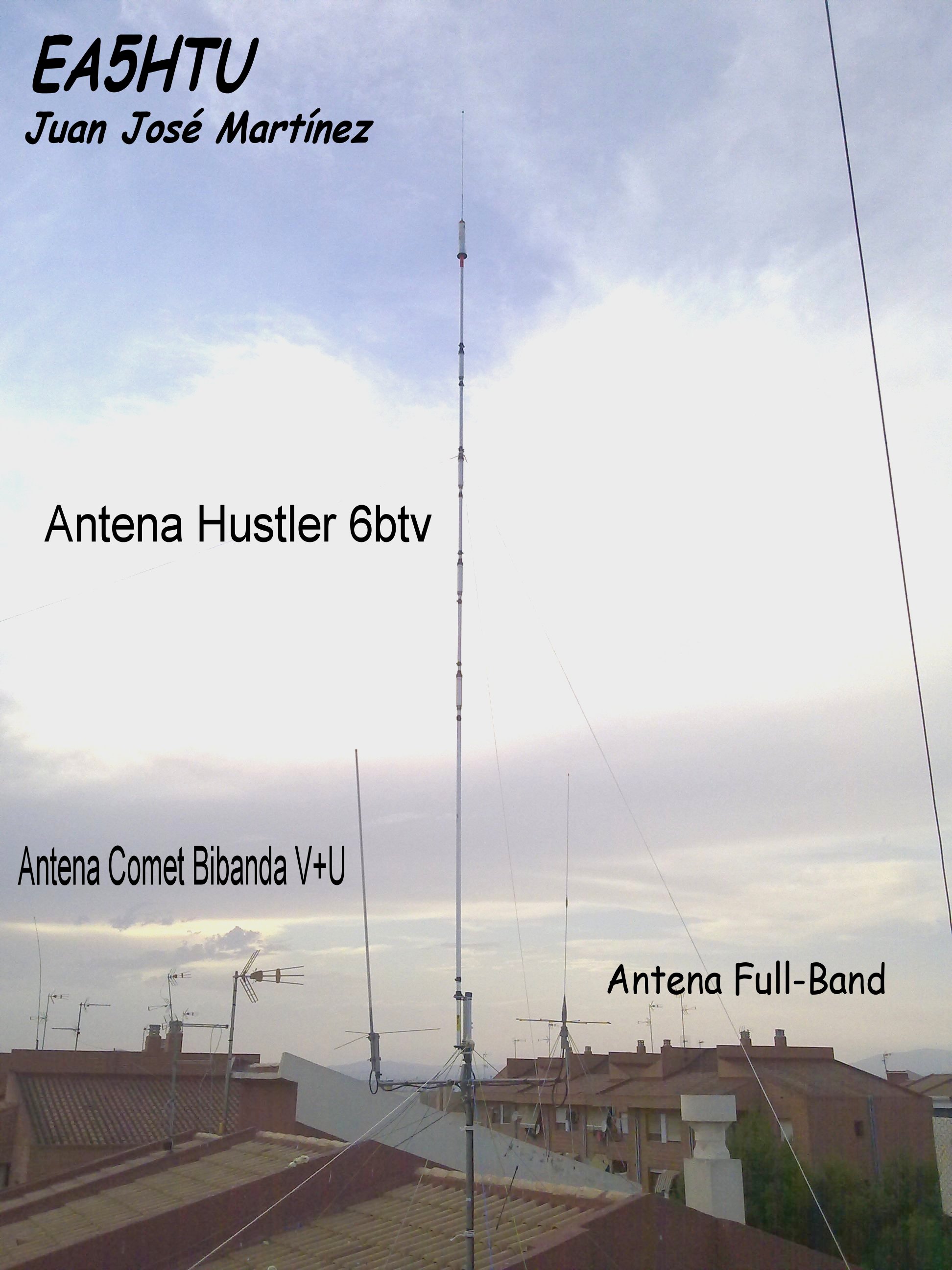 SOLO COMPITO , CONTRA MI MEJOR RIVAL !!! YO MISMO. MTB
Only compete with my better opponent !!! I my same. MTB
Unas de las salidas por el monte de mi ciudad " El salto del Diablo "
El super caballete donde realizo mis reglajes y puesta a punto de mi MTB !!!
En un lugar inolvidable , de los tantos sitios que he recorrido .
Realizando esfuerzo con la MTB a cuestas , subiendo barrancos !!!!
Casi !!!! Toda la Tropa o Peña de Bordilleros
NUESTRO GRUPO DE AFICIONADOS , ¡¡¡¡¡ TODOS POR EL DEPORTE !!!!!!
oOo - No PuGeM nI uN bOrDiLlO - oOo
" LoGoTiPo DeL cLuB "
Para mandar QSL directa
JUAN JOSE MARTINEZ GARCIA
PABLO IGLESIAS Nº 11-1º-A
(03130) SANTA POLA
ALICANTE ( SPAIN )

Email

:

ea5htu_juanjose@hotmail.es

SWL. REPORT COMFIRMED 100x%

TNX QSO ES PSE QSL VIA eQS  L,cc
Y :
STATIONS CONTACTED
"LOG. ESTACIONES CONTACTADAS" Click !!
http://www.dxfuncluster.com/search.php?authors2=spotter&s=EA5HTU&author=&pag=1
¡¡¡¡ ESTOS SON MIS RECUERDOS MILITARES !!!!
EL ORGULLO DE HABER  SERVIDO A MI PATRIA  EN LA ARMADA ESPAÑOLA
CUADRO DE NUDOS MARINEROS COLGADO EN EL COMEDOR DE CASA
MEDIDAS : LARGO 150 CM ANCHO 100 CM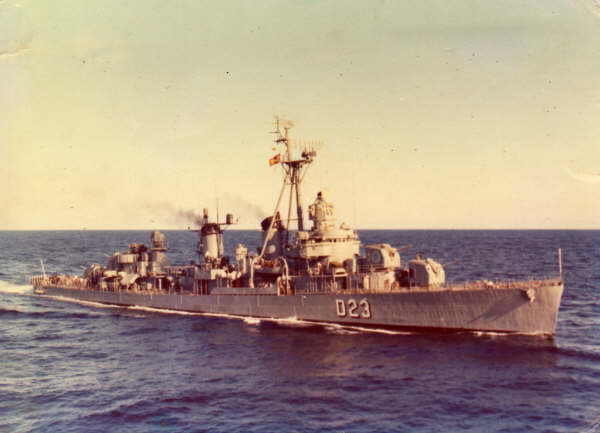 Almirante Valdes D-23 = Destructor fletcher , si conoces quien hizo la mili en esta fragata , estamos un grupo de amigos en : www.facebook.com , yo soy del 4º del 1980 estuve embarcado en el Valdes D-23 , de agosto del 1980 hasta octubre 1981 sección patrulla desembarco y maniobras del cuerpo especialistas de buceo y combate ,U.E.B.C al mando de la unidad operativa , Alferez de Navio D. José Ramón Alemany Marquez
Capitan de Corbeta D. Alfonso Garrote Esteban , Fallecio en acto de maniobras maritimas, prestando servicios militares , en el año 1986 en el mes de Abril , * Q.D.G.D.E *
Documento y diploma expedido por su Majestad el Rey , acreditativo militar de mi condecoración en la Armada Española por el Excmo. Sr. Almirante , Capitán General de la Zona Maritima del Mediterráneo .
U.E.B.C , Armada Española
Cruz Merito Naval 1982
ARMADA ESPAÑOLA CON HONOR AL REY !!!
http://fuerzasespecialeselviskenpo.blogspot.com.es/2010/10/uebc-buceadores-de-combate.html
" LAS ONDAS DE UN RADIOAFICIONADO NO TIENEN FRONTERAS "
" Gracias por su visita .!!! thanks you for visit, my friends 73 dx "