30 years ON THE AIR
        *1986<=>2016*
Lately interested in 60 meters band, in Spain, allocation is between 5.351,5 and 5.366,5 Khz in USB and CW modes and 15 Watts P.I.R.E
I usually call CQ in 5.365 Khz +/- QRM in CW mode with homemade Half-Slopper Antenna.
Skeds are wellcome via e-mail.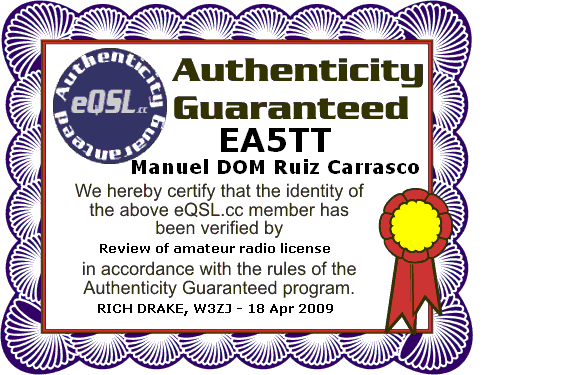 I like very much to work satellites, since 1995 I worked on RS-10, RS-12, RS-15,AO-7,AO-10, AO-27,AO-51, AO-73, SO-33, SO-50,SO-67, FO-20,FO-29, HO-68,VO-52 and ARISS in FM, SSB and CW modes
I was first licensed as EC5CFK in 1986.
I was EA5AAJ since 1993 until last 29-III-2007
My wife, Mari Carmen is EB5AN,

she is not active in DX, but

we enjoy qrp operation on mountains,
with

ICOM IC-703 and testing some homebrew antennas, like:
Short window carolina, half wave dipole, delta loop, and/or end feed antenna.
My antennas setup:

-HF..: ICOM IC-9100XD and 80 meters homemade delta loop antenna.
-50Mhz: ICOM IC-9100XD and yagi homemade 4 elem. 0.66 lambda.
-70 Mhz: ICOM 7100 and yagi homemade 4 elem. 0.5 lambda.
  -144 Mhz: ICOM IC-9100 and 11 elem. tonna PRO XL
   -432 Mhz: ICOM IC-9100 and 21 elem. tonna
   -1296 Mhz: ICOM IC-9100 end 35 elem M2
            Mobil and local V-UHF QSO:ICOM IC-7100 and Diamond X-200 antenna
Digi-clubs:
EPC#5828 (SN-39), 30MDG#1573
All the best,Dom