¡Hola! Gracias por visitar mi página Web.
Soy Radioaficionado desde 1978 y con licencia desde 1981. Otros indicativos EC8EY y EA8AHG.
HI!. Thanks for visit my Webpage.
I´m Radioamateur since 1978 and licensed since 1981. Other callsigns: EC8EY and EA8AHG.
QTH: Peligros (Granada) - SPAIN. Grid LOCATOR: IM87EF
Mi estación / My Satation
TX/RX
Mis antenas / My antennas

TS-830S

IC-706MKIIG

FT-7800

R-1000

Delta loop for 40m band

(homemade)
Dipole for 12, 17, 30 and 40m (homemade).

Moxon 3 elements for 10, 15 and 20m.

Diamond 4 elemnts for 50 MHz.

Yagi 17 elements for 144 MHz.

Yagi 18 elements for 432 Mhz

Vertical antenna for 144 and 432 MHz.

Long wire

X-Quad for 70cm and 2m bands for SAT contacts

(RHCP)
Desde marzo de 2013 estoy activo en los satélites VO-52 y FO-29
Since March 2013 I am active on VO-52 and FO-29 satellites
Website: http://sites.google.com/site/ea7ahg/
Visita mi Website. Estoy trabajando en él estoy introduciendo información constantemente.
Podrás encontrar información escrita, esquemas y gráficos, ejemplos y vídeos.
Por ahora, sólo en español.
If you wat to visit my Ham Website, please clic here!. I'm working on my Website and I´m adding new contents continuously. On it, you can find written information, drawings, samples, and videos ABT antenas, propagation, radios, CW, digital modes, sotfware, Ham utilities, etc. In Spanish for now.
If you want to tanslate one or more of my webpages into English you can use this free translator www.microsofttranslator.com/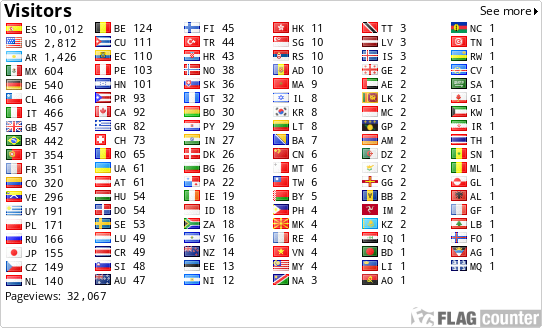 Si eres un manitas y te gusta experiemntar, te recomiendo que visites la sección de


Taller de mi página Web, donde podrás encontrar los siguientes contenidos:
En el Mapa de mi sitioweb podrás encontrar una amplia información sobre temas diversos relacionados con la radio como / On the map of my WebSite you will find extensive information on various topics related to:
· Sitemap