Hello everyone!
!!! DUE TO GLOBAL FINANCIAL CRISIS NOW YOU CAN SEND ME QSL WITH ONLY
!!! ONE $1USD OR ONE NEW IRC
!!! FOR ALL COUNTRIES AND CONTINENTS
You can send me QSL cards directly to the following address:
VLAD KISHLIAN, 86, 64/1, Gh.Asachi Str, KISHINEV, MOLDOVA, MD2028.
If you want to recieve reply promptly please send QSL to that address. I check it daily.
When you send me a QSL PLEASE don't print on envelope ANY callsigns! Nor My nor Your, just address and name!
If you wish to see list of DIRECT QSL accepted please go to following link:
My license:
Notes: Permission to work on 50.0 MHz, 70.0 MHz, 222.0 MHz, 1296.0 MHz and above is issued on special request of Ham Radio Commettee.
Official list of licensed radio amateurs is here: List of Radio Amateuers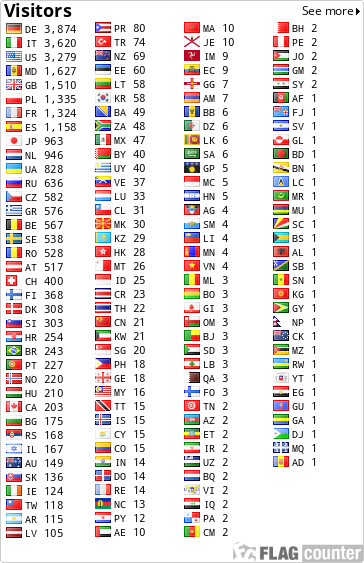 Get Your Own Visitor Globe!
Current HF propagation