All You Need Is Love...
The FlagCounter started in Dec. 18, 2010
Long Live Rock'n'Roll!
Good for POLONIA DX Award.
Good for ESTONIA award.
Member of: World Castles Activity Group WCAG # 32.
Bractwo Zamkowe # 68
Russian CW Club # 409
DON Cossac Association
Russian Robinson Club # 951
ex: UR2RRM (Rock'n'Roll Music), ES1RRM, SO5RRM, ES1RRM/UA3U, ES1TT, SO4TT, U3U/ES1TT, SP/ES2TT, YL/ES2TT, LY/ES2TT, LY2011USCARS, R3/ES2TT (RDA IV-06), YL2012USCARS, ES2012ABCS, LY2012USCARS, YL0WANTED, ES2TT/0 (Muhu/Saaremaa/Hiiumaa Islands, IOTA EU-034)
May 28 - 29 I will be active as OH0/ES2TT from ALAND Islands, IOTA EU-002, OHFF-037.
In plans activities: BOMARSUND FORTRESS WCA-00001, KASTELHOLM CASTLE WCA-00007.
Home equipment: Kenwood TS-480SAT, 100 watts. Antennas: Vertical GP7DX (6 to 40 meters, made in Poland)
and 9 Band Mobile Antenna.
CW, SSB, PSK, JT65, JT9 (5 watts), RTTY
PLEASE A CLASSIC QSL ! QSL is 100% via the bureau for all HAMs & SWLs (DIGI-mode and eQSL only CFM).
For Calls OH0/ES2TT, SP/ES2TT, LY/ES2TT, YL/ES2TT, RA/ES2TT, ES2TT/xx ONLY QSLL (Your QSL FIRST).
NB! If You want myQSL direct , please send Your QSL + 2 USD or 1 IRC to my address. Thank You!
IRC is PREFERED !!! Last envelopes was OPENED !!!
After Jan.1st 2016 Post office stamp price in Estonia 1,30 EUR to Europe (Including RA/UR/EW) and 1,40 EUR to Outside of Europe!
PayPal info: see my e-mail
Info for SWLs: Save Your time! You can send me Your SWL-raport to my E-mail. My QSL is 100%!
My NEXT Car is Plymouth Grand Voyager 1996, Engine 3.3 V6.
Made by St.Louis Assembly South (Fenton, MISSOURI), USA
SP/ES2TT, Polish Castle Tour 2014, Castle TYKOCIN, WCA SP-00856/ZWP OBA03
 Car is Pontiac Trans Sport 1992, 3.1, V6 (Blue). Made in NJ, USA.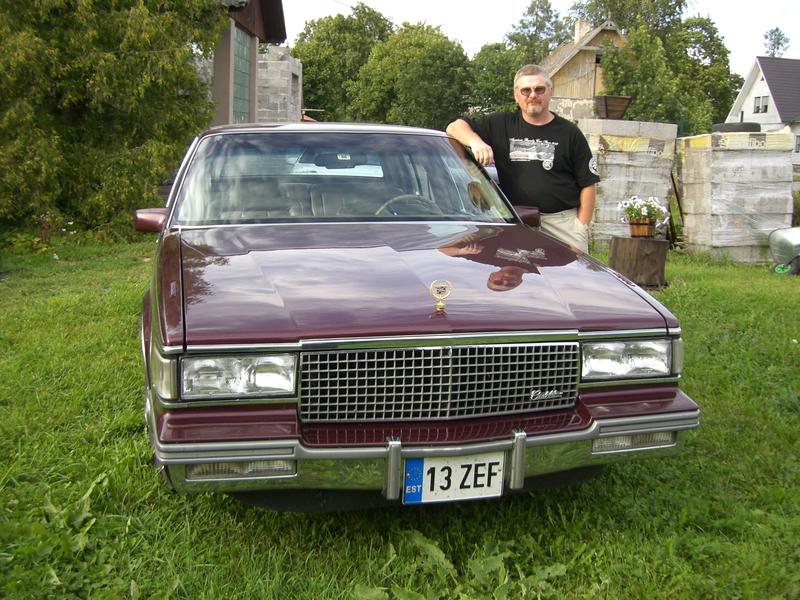 My car is Cadillac Sedan DeVille, 1988. Engine 4.5 Liter V8. Made in Orion, MICHIGAN, USA.
My excars: Ford Taurus, 1992 & 1993. Engine 3.0 Liter V6., (R.I.P.), Made in Atlanta, GA, USA.
My Expedition Car: Chrysler Voyager, 1992. Engine 3.3 Liter V6. Made in Windsor, ONTARIO, Canada. (Good for BEER drinking)
American Car Meeting, Jurmala Beach, Latvia, May 2009. Dog's name is JEEPy.
Baby you can drive my car
Yes I'm gonna be a star
Baby you can drive my car
And baby I love you
Beep beep'm beep beep yeah
Beep beep'm beep beep yeah
Beep beep'm beep beep yeah
Beep beep'm beep beep yeah... The Beatles