I LL BE 6V7T FROM 8 TILL 17 OCTOBER IN LA SOMONE
FOLLOW ME ON FACE BOOK OR TWITTER AS 6V7T
i was 9A/F5RAV/P FROM 12 TILL 17 OF AUGUST , 2013 CARE OF S56B !
I ll be HB0/F5RAV/p august 3 TILL 4, 2013 in Trisenberg Lichtenstein from hotel martha OBERLAND ( GOOD PLACE FOR RADIOAMATEUR ACTIVATION , only ask room 27 )
I was 6V7T from 6W7RV radio place in Somone from april 25 till may 6 , 2013 .
i was 6V7T/p on N'gor ISLAND , IOTA AF 045 april 29 and 30 , 2013 , DON T SEND QSL IN AFRICA !!!
I was LZ/F5RAV april 20 , 2013 from my friend Koshio LZ1OI in Plovdiv .
I was transmitting from andrey ' s UX1UF wonderful station on 4th of january , 2013 as UT/F5RAV and 2 nd from antenna farm of UT7UV Sasha
I was C5LT in Kololi , the Gambia in february and march 2012, QSL only direct with two green stamps or IRC with sae please .
For 6V7T activation in 2010 , 2011 and 2012 in Somone Senegal qsl DIRECT ONLY with two green stamps or IRC and sae .
i was active from UX1UF my friend ANDREY in KIEV Ukraine using call sign UT/F5RAV january 3, 2012
I activated as guest operator TP50CE, march 12 , 2011 from the Conseil de l ' Europe in Strasbourg . .
I was TA1/F5RAV april 2, 2011 in Istanbul , on 40m care of my friend TA1CZ radio shack : 3 qso hi !
I was IC8/F5RAV/P from Capri island in january 2010.
Also YO3/F5RAV/P from 18 till 21 of august 2009 in bucharesti and was guest operator at YO3KPA care of YO3ND august 19, 2009from the children palace radio club.
I was F5RAV/6W from feb 15 to feb 22 , 2009 in Somone, Senegal (1500 qso), care of my friend Jan Francois 6W7RV station same qsl policy that 6V7T activation .
I was HI7/F5RAV in oct 2008 and May 2009 in Bavaro (punta cana ) , dominican republic care of my friends joanne and william
I was HB0/F5RAV/P from sept 14 till 17, 2009 in Triesenberg and HB0/F5RAV/M august 4, 2007 and august 3, 2008and HB0:F5RAV/m in psk 31 in 2010 .
I was F5RAV/BY1RX dec 29 ,2007 as guest operator in Beijing radio club .
My best souvenir was a qso with JY1, King Hussein of Jordan , oct 9 , 1992 with the callsign F1COM , official French Callsign for Icom France at the Auxerre Ham meeting (picture),
I also was guest operator at NJ6VT , from the USS Pampanito in san francisco in august 1997 during a trip to california care of K6DF who let me operate from the US submarine .
I also use F6KOC callsign sometimes at my local radio club in GISORS NORMANDY
I meet you on the air very soon.See my blog and the pictures of the friends and places thru out the world. Blog is F5RAV, visit all my ham journeys opening all the 4 pages & each parts by following "lire la suite" on the site and getting back and forward with F5RAV-6V7T on the top of the site . Thanks for qso and looking at my site , visit all the pages and leave comments . Luc, 73' to all of you !! Find me and follow my qsy and qsoonTWEETER : F5RAV
A LITTLE BIT OF HISTORY : GISORS IS A CITY AT 64 KM NORTH WEST OF PARIS IN THE UPPER NORMANDY PART OF FRANCE , ABOUT 100 KM SOUTH OF BRITISH CHANNEL
. IT' S BEEN THE HEAD TOWN OF THE NORMANDY VEXIN FROM THE MIDDLE AGES AND THE SEPARATION BEETWEN THE PLANTAGENETS AND CAPETIANS (English vs French we would say nowadays ) , ON BOTH SIDE OF THE EPTE RIVER !!!
IT WAS FOR A WHILE A PLACE TO HIDE AND STRIKES BACK FOR THE HISTORICAL ANS LEGENDARY TEMPLAR KNIGHTS AND GISORS IS KNOWN ALSO FOR ITS CASTLE (build in 1097under the reign of William II the red head ) AND PROBABLY WHERE THE TREASURE OF THE KNIGHTS COULD BE HIDDEN FOREVER !!
Discover the place with my location on aprs and google earth and come visit the town and my place if you're around , i'm located 1km from the castle ( my hf antennas are not high due to the restricted historical area but i may be the only active station in HF in town )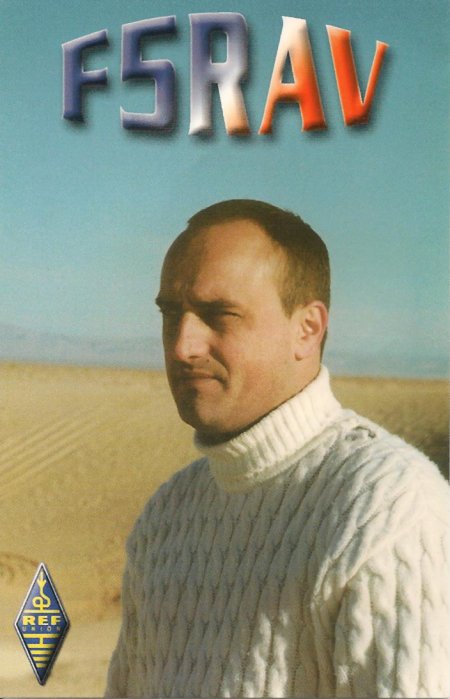 Photo taken in february 2002 by my friend Viviane Beigbeder in the south Tunisian desert frontier with Algeria (montains on the picture ) .