I send OQRS  requests to the buro  twice a year. My last posting was 1st May 2016. If you QSL direct please $2  NO IRCs.
DXCC #1 Honor Roll 339/339 (350).
Compact 160-40 "array" in 50ft x 200ft.
I enjoy CW (although I am not very good at it), but can resort to SSB if  required.  I am 49 years old, licensed since 16.
I used simple low (no) cost wire dipoles & a vertical antenna 40-10m to reach DXCC #1 Honor Roll while in my 30's, from a 10m x10m yard.
In 2007 I decided to try 160 & 80 for the 1st time. For this I transmit from farm land close to my home.
I have limited free time to operate due to a busy work schedule but try and get on for a few minutes each week, along with prioritising new "band slots" for the ARRL DXCC Challenge. This is mainly DXpedition's only now. I am at 3104 points.
Just 18 yrs until retirement now when I hope to be a little more active.
If we have QSO'd, it was my pleasure. I upload to LOTW.
I have included a log search and some pictures below. You can request your buro QSL card here if you wish.
Member of RSGB ( 35 yrs), ARRL, GMDX, ARRL A1- Operator Club, UKSMG.
10 Band DXCC • 10 Band WAZ (35 on 6m no EME)
DXCC Challenge 3104(current not inc deleted)
IOTA = 600+ ...but no QSLs cards. Awaiting LOTW type system, far too expensive to start collecting cards again.
6m 7 ele - with SteppIR dipole 10-20m (summer setup)
2 ele SteppIR (Winter setup)
30m 1/4 vertical - 64 1/2 wave radials
40m – Quad loop @ 60ft,fed in vertical section with 1/4 wave 75ohm stub
(its around 20m behind the vertical)
80m – 66ft wire Vertical up fibreglass pole - 64 ¼ wavelength radials
Some awards.....
DXCC #1 Honor Roll 340/340 (349)
Honoured to be the recipient of the prestigious RSGB Royal Order of Transatlantic Brass Pounders trophy for 2010. It is awarded for "outstanding and consistent DX work. "
The trophy was first awarded in 1924 and original Members of the Order were from those who operated transatlantic tests in 1921 to 1924.
Harold Rose Trophy 1995
To the person making an outstanding contribution to 50MHz
160m setup
Winter views of Beverages
A nicer summer view showing SE Bev (650ft)crossing E/W Bev (1000ft)
in the distance.
How best to run a section of Beverage wire under a path?
(1) buy some tennis balls & 2.5" drain pipe
(2) suspend Beverage wire through centre of balls
(3) fit through pipe
Thanks to KV4FZ for the idea and W3LPL for the technical explaination below as why you would do this. "A buried wire is a transmission line. When a transmission line is very short compared to a quarter wavelength, its usually considered to have practically no transmission line properties of its own except for a small amount of resistance.
Three primary factors are at play when using a very short transmission line (a buried insulated wire or coaxial cable) to connect two sections of a Beverage antenna:
Dielectric loss - a directly buried insulated wire will have more dielectric loss than a coaxial cable or a wire enclosed in a plastic conduit. A very short directly buried insulated wire might have insignificant dielectric loss (it wouldn't be difficult to measure this).
Mismatch loss - a very short transmission line (a buried wire in a conduit or a coaxial cable) has negligible mismatch loss. When a transmission line is very short (compared to a quarter wavelength), its characteristic impedance has little consequence to the circuit in which it is operating.
Velocity factor - minimizing the length of a coaxial cable, using high velocity factor coaxial cable (such as cable TV hardline), or using a very short buriedwire in a conduit will minimize the phase delay between the two interconnected segments of a Beverage antenna.
Using tennis balls to center the wire in the plastic conduit as recommended by KV4FZ will further reduce the phase delay of a buried wire."
Here are some pictures.
I use both wires of WD1A, so the cows have to eat through lots of strands before I lose a Beverage. I often find them hanging on by one or two strands! The picture below shows the tennis ball support for the wire. There is a ball every 3 feet. There are two pipes as there are two Beverages (completely separate installs). The yellow pipe in for the Coax.
Below shows before and after...........
and the final results of 2 X 700ft Bev with 16ft under ground. The over the top route was ruled out due to high horse box access requirements.
These are not reversible Beverages. I find no issues running 2 within 1ft of each other using completely separate feeds, earth rods (inc separate radials x 4) and matching boxes.
After 5 years experimenting with Reversible Beverages using WD1A along with both commercial and homemade reflection transformers I have come to the conclusion there is no "free lunch".
I have now replaced all "2-way" with dedicated one ways. Each Bev. has its own earth system and feed, the ends are staggered by around 30ft, the 2 wires however are close together, with just a foot separation in some places and up to 3 feet in others. F/B over 25dB+ (lucky to get 10dB on reversible) and both directions perform equally well. The big drawback of course is the work to lay coax. For that we used a number of surplus 600m drums of flooded compound low loss coax, which works out around 1dB loss per 100m on 160m.
There is now 1500m of coax running 8 RX antenna, covering 360 deg.
These Rolls of cable below were a good find, smaller drum 300m, larger drum 600m. Purchased 6 in total.
Flooded Commscope, small drum 1dB loss per 100m at 160m, larger drum 0.8dB
Some Beverage pictures below.
I have had up to 6 Bev's installed (the 2 shown above are 1000ft) covering N, S, E, W, NW & SE. But have now removed the NW/SE as  a nest of 4 EWE's seem to work just as well and much easier to maintain in the winter.
The shack is kept tidy by all Beverages/EWEs & Pre-amp terminating at a remote 8 way switching network in the garage (picture below) this is controlled by a PC USB switch. Beverage switching is a "mouse click" on the screen.
LF Receiver antenna's as well as the Bev's include
(low noise preamp in line with all RX antenna's when required)
4 x EWE N/S/E/W - 12.5m x 5m
DHDL
Mass production of 9:1 Beverage feed transformers for 6 Bev system.


Transmit antennas
160m – Inverted L - 60ft vertical, 75ft top – 120 ¼ radials, picture of layout here (top wire drawn in)
It took 2-3 winters to install the radial mat, dont try this in summer when the ground is bone dry. Notice the spike on the end of the digger arm which digs the radial trenches.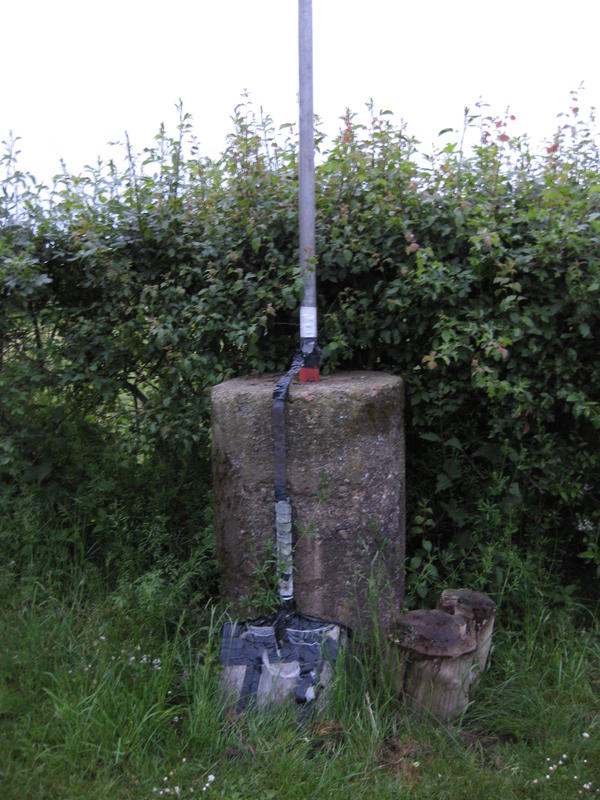 QSL Policy
My preferred QSL route is via Log Book Of The World (LOTW) and all QSOs are uploaded there every week or two. I am happy to QSL direct. $2(no IRCs). You can also request a buro card via my online log and OQRS. Buro cards are fine too!
I have operated in recent years as JY8JH, C56/G0JHC, 3A/G0JHC, VU2DPG, XE1/G0JHC and usually air my US call W2JHC once a year.
73 Neil G0JHC