6m DXCC (2015) from IO90wx = 78____Continents = 5____Best DX = PY2XB in GG66 @ 9466 Km & ZS4TX/6 in KG47 @ 8650 Km
Best all time 6m DX = VK8ZLX @ 15,056 Km:_______EME = W7GJ @ 800,000 Km
"Never for me the lowered banner, never the last endeavour"  Sir Ernest Shackleton
G1CWP/G0LFF QRV on 6m with ICOM IC-756 & homebrew 5 element short boom LFA.
Click here to download a PDF of Kit for sale & not wanted on voyage
I chose to do 6m (50Mhz) not because it is easy, but because it is hard.
QSL LoTW. No Bureau
g0lff@qsl.net: Web: www.mwadui.com
Author "Escape from Hong Kong"
A selection of 6m QSL confirmations
Worked 6th July 2011
Worked SSB 15th May 2012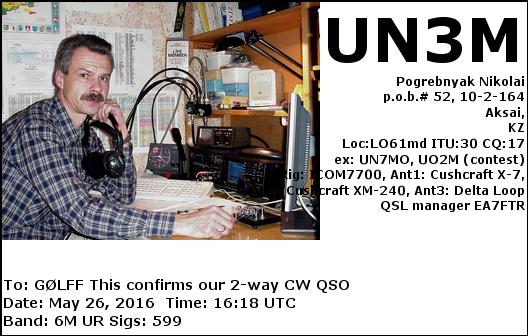 Worked all Continents from IO90wx on 6m. 1989 (Single short boom F9FT 5el)
Now QRV with WSJT modes.
I recommend Logbook of The World (LoTW) a free service by the ARRL for fast DXCC confirmations.
6m Worked all Continents 1990
1st 6m EME qso 22nd Oct 2011 G0LFF-W7GJ with 90w into short boom 5el LFA, no elevation
Ham Radio Kit for for Sale
Click here to download items for sale
3 element 28Mhz Yagi (OP-DES Yagi 2.1m boom manufactured by Innovantennas [G0KSC] A 3 element wide band 28-28.7MHz OP-DES (Opposing Phase Driven Element System) Gain = 7.47dBi F/B = 13.44.                                                Pile-Up Buster bargain at £99.99
50Mhz five element LFA Antenna N Type (Best DX on this single antenna = 800,000 Km EME qso with just 95 watts.         Pile Up Buster bargain at £74.99
50Mhz 2 port 1/4 wave 50 ohms power divider for stacking/baying 50Mhz antenna's N type as new. Can be used with any 2 equal lengths of coax for stacking or baying & phasing antennas. £49,99
Kenwood (Trio) TR-7800 2m FM rig 5/25w with service manuel, Ideal for Base as well as mobile, a very good solid 1980s rig £45.99
Standard C528 2m & 70cms hand held,with base charger & 12v cigar lighter lead,( needs new battery) £24.99
Furuno FM-55 Marine hand held (Needs new battery) £24.99
6 inch (diameter) celestial telescope with motor drive, instruction manuel, & original packaging/boxing. £199.99
1 No AEA Packrat PK 232 MBX with leads and manuel & software. Original packaging £49.99
2No used brass N type connectors for Andrews LDF4-50 co-ax £9.99
Contact: G0LFF@mwadui.com or G1CWP@mwadui.com