First licensed as G8AZO in 1965, the amateur radio candle being lit by my science master G3AES (SK), the class B licence at that time restricted operation to 433 MHz and above, and having always enjoyed constructing anything to do with radio I found UHF fun and technically very interesting. After a couple of years as a G8 and being pressured by Len G3AGX and Tom G3RDM now both (SK) to get my morse test I obtained my present call G3YQA. I then spent a few years on the key working the world with a piece of wet string using a Eico 60W TX and an Eddystone S640 reciever, "great fun". Moving house, three times and planning restrictions with the current home, plus working abroad meant I did not return to amateur radio till 2009, after about a 15 year period of inactivity,I can run all bands up to 70cms but I tend to work the HF bands, I like CW and digital modes and resort to the microphone if I have to.
I QSL 100%, LOTW and E-QSL (automatic) and I do a run of OQRS-requested QSL cards to the Bureau about 3 times per year so if you need a bureau card from me just e-mail me with details or request it via Clublog OQRS please the service is free.
All my G3YQA/MM contacts have been uploaded to LOTW and Clublog so please use the OQRS system if you need a card.
All OQRS REQUESTED CARDS UP TO 19/06/2014 SENT TO BUREAU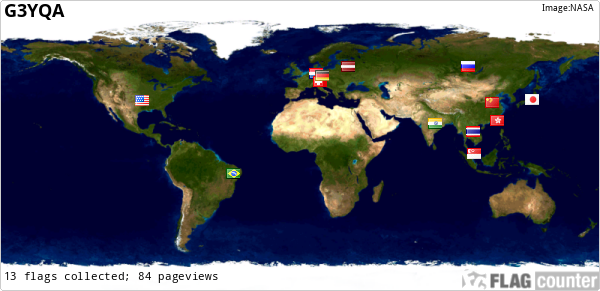 �
�
�
�
�
�
�
�
�