My name is Seamus (Jim)
EPC NO: 12198 RAOTA NO: 2627
aka

EI4KE

usually portable or mobile
I operate my main station from Bessbrook near Newry in Co Armagh
I was first licenced in1982 as GI6JSL and received my full ticket in 1983.
I am a member of RSGB, RAOTA, IRTS, DARS, MUARC, and EPC no 12198
Location: IO64TE abt 130m asl. Grid:J038 286
WAB J02- Armagh WAI J03 - Armagh
Latitude =54°11'46"(north)

Longitude =6°24'31"(west)
My main station consists of a Yaesu FT-2000, FL7000 400watts
Antennas include, a 10-40 Windom Dipole, an 80m Doublet Dipole fed with 450 ohm to a Palstar tuner, a H-422 Rotatable Dipole 10-40,
6m Vertical, and a Sirio10/12m Vertical.
On HF Mobile I use a Yaesu FT857d into mono band whips,
VHF / UHF FT857 50 watts into a 5/8 Vertical fm/ 5 ele beam ssb.
Mobile vhf I use an FT1900 50w into a 5/8 whip.

Hope to hear or see you further down the log,
73's gd dx gl de Ireland Eu 115
Seamus
Honda Shadow dc750 and Grandson Tiernan
4m Rib on Carlingford Lough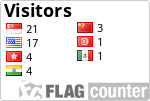 Last modified: 2013-05-09 08:54:14, 4239 bytes fetched
Login Required

Login is required for additional detail.
This user has no active logs