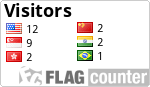 Playing KAPLA with my youngest daughter Charlotte
Inside the Shack
Outside the Shack
A dream radio spot : Mont-Fort ski station at 3333m ASL (10'000 ft).
Me and several OMs from local club HB9Y work VHF contests from there.
Excellent video of our Expedition for the HELVETIA H26 VHF contest 2013.
For audio freaks, here's my audio setup
Special thanks to
- My 3 daughters and my cat Uma. I love you gals.
- IT9XDJ Sergio for his amazing ear, his precision, patience and kindness enlightening me in the the impossible quest of finding THE well tempered audio
- HB9DES Stéphane for his practical sense and patience on my either freezing or oven-hot roof, helping me rising my doublet.
- You, for taking the precious time to visit my site :-)