The special call sign HZ1FOC commemorates the 75th anniversary of FOC and is valid only from May 1 to May 31, 2013. Callsign owner and operator is 7Z1HL.
---
QSL via LOTW, eQSL, direct to 7Z1HL
---
Founded in 1938, and with its roots, history and management in the UK, The First Class CW Operators' Club (FOC) promotes good CW (Morse code) operating, activity, friendship and socialising via its worldwide membership of approximately 500. Members are active on all HF bands and the character of the club is best expressed in its motto:
A man should keep his friendship in constant repair
---
To commemorate our 75thanniversary FOC is planning a month-long on-air event featuring many special "FOC" suffix calls. These will include G75FOC, (a special anniversary call for our club station), and others from the UK, the USA and from more exotic locations such as VQ9 and 5T.
Stations will gain points for contacting any FOC member and a beautiful certificate will be presented to stations who reach certain point levels.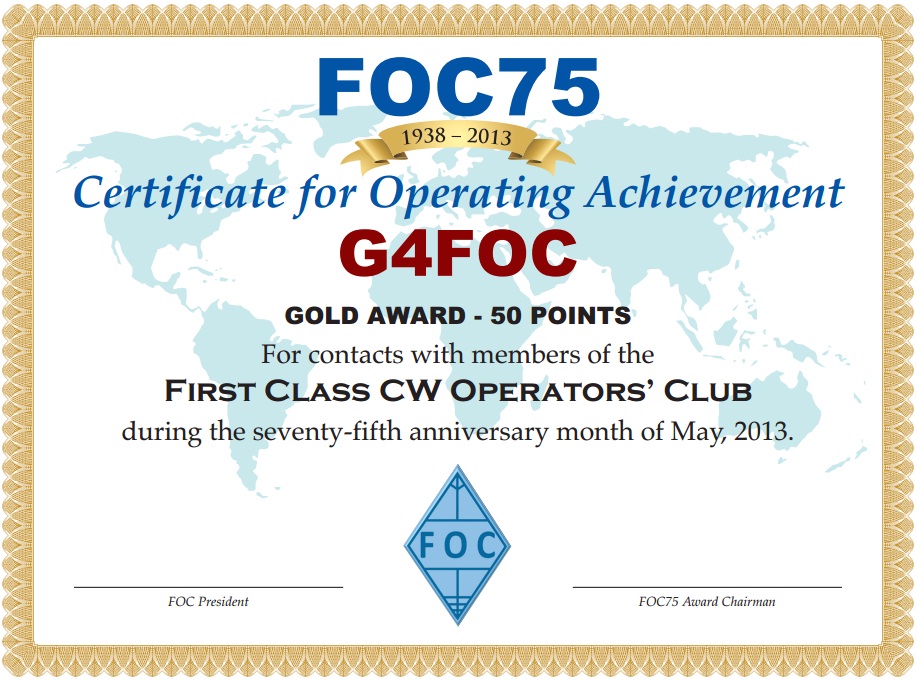 15 points = Bronze, 30 points = Silver, 50 points = Gold.
QSO with an FOC member = 1 point
QSO with an FOC member lasting 10 minutes or longer = 3 points
QSO with an FOC suffix station (or M0RSE) = 5 points
QSO with G75FOC = 10 points
One QSO is allowed per station per band. All bands are allowed but QSOs must be CW, of course.
Listen for FOC members calling "CQ FOC 75." A list of current members can also be found on our web site in the "About FOC" section.
Electronic logs for the FOC 75thAnniversary Award should be submitted to: foc.75years@gmail.com
QSLs for G75FOC should be sent to G3SWH: www.g3swh.org.uk
For more info visit the FOC web site: www.g4foc.org
---
We operate by the DX-Code of Conduct:
The FOC president Bob Whelan, G3PJT, has created the following simple DX Code of Conduct. If we all pull together to improve standards then we will all be able to work more DX and have more fun on-the-air
DX CODE OF CONDUCT
1. I will listen and listen and then listen some more
2. I will only call if I can copy the DX station properly
3. I will not trust the cluster and will be sure of the DX station's call sign before calling
4. I will not interfere with the DX station nor anyone calling him and will never tune up on the DX frequency or in the QSX slot
5. I will wait for the DX station to end a contact before calling him
6. I will always send my full call sign
7. I will call and then listen for a reasonable interval. I will not call continuously
8. I will not transmit when the DX operator calls another call sign, not mine
9. I will not transmit when the DX operator queries a call sign not like mine
10. I will not transmit when the DX station calls other geographic areas than mine
11. When the DX operator calls me I will not repeat my call sign unless I think he has copied it incorrectly
12. I will be thankful if and when I do make a contact
13. I will respect my fellow hams and conduct myself so as to earn their respect
More information is available at the FOC website http://www.g4foc.org/conduct, at http://www.g4ifb.com/html/dxing.html#PileupTips  and in more detail at http://www.on4ww.be/OperatingPracticeEnglish.html
---