Welcome to IK6GZM's Page
I was borned in a cold day of January 1964, thanks to my mom Franca and my dad Saverio, I lived and studied in a beautiful city called Ascoli Piceno, the province city in Marche's Region.
In my youth I've met radio-mania: in the '77-'83 years like a CB and after learned CW, got my first Special License in 1984 (old call IW6AOD), then in 1985 upgraded it in Ordinary License and got my actual call. Till now, after more than 18.000 QSOs, I'm DXCC Honour Roll with 344 countries confirmed. Not many countries needed to complete it! I'm an electronic technician and employed at Telecom Italia, like net technician. In the 1985, when I moved my first steps in Ham-world, I met Grazia falling in love immediatly and so we married in the '89; we have 2 daughters: Franca borned in the 1991 and Valentina borned in the 1998. We live in a quite town called Venarotta (abt. 2.200 inh) at 430mt asl
and not too far from Ascoli Piceno, only 9 Kms. My hobbies are computer and banknotes collecting. I've changed QTH recently (2008) and still without good antennas as in the past, only a 41 mt windom for 80-10 meters band. Hope in the near future, with help of my good friends and ham collegues, to build a new good setup! Greetings to all, 73 de Gianluca
Last update: after long tests, finally I'm active now on JT65 and JT9 modes, with 10W and Windom antenna. Really enjoy them! Call me if You hear my sigs on the air!
P.S. I'm still manager for EP2ASZ's old contacts (1987-1994), so if you have any questions don't hesitate to ask me.
---
NEWS UPDATE: 15 March 2015 activation for D.C.I. Award NEW REFERENCE AP110 CASTELLO DI VENAROTTA (AP) like RESIDENT, also valid for W.C.A. Award as I-13135.
AGGIORNAMENTO: il 15 Marzo 2015 attivazione per il diploma D.C.I. della NUOVA REFERENZA AP110 CASTELLO DI VENAROTTA (AP) come RESIDENTE, valida anche per il diploma W.C.A. come referenza I-13135.
NEWS UPDATE: Dal 1 Luglio al 31 Agosto 2016 attività per il 1° Diploma Ascoli Piceno Città della Quintana. Di seguito il regolamento:
Diploma "Ascoli Piceno Città della Quintana"
Regolamento
L'Associazione Radioamatori Italiani, sezione di Ascoli Piceno, presenta il Diploma "Ascoli Piceno Città della Quintana", in concomitanza con le 2 edizioni di Luglio ed Agosto 2016, che si svolgeranno quest'anno rispettivamente Sabato 9 Luglio in notturna e Domenica 7 Agosto nel pomeriggio. Scopo del Diploma è far conoscere al popolo radioamatoriale la storia, la bellezza e l'unicità della Città di Ascoli Piceno e della sua storica e famosa rievocazione, che coinvolge i sei Sestieri cittadini nella disfida dell'assalto a cavallo al Moro.
Periodo – Dalle ore 00:00 UTC del 01/07/2016 alle ore 24:00 UTC del 31/08/2016
Bande – 10-80m (no WARCS)
Modi – SSB, Digitale
Collegamenti – Sono validi i collegamenti effettuati con le stazioni della Sezione ARI di Ascoli Piceno che comunicheranno il Sestiere di appartenenza (Porta Romana, Porta Solestà, Porta Tufilla, Porta Maggiore, Piazzarola, Sant'Emidio) e con la stazione IQ6DH per il "Gruppo Comunale – Ente Quintana" e che chiameranno "CQ DIPLOMA ASCOLI PICENO CITTA' DELLA QUINTANA"
Modalità – La stessa stazione potrà essere collegata una sola volta per modo e per banda
Rapporto – Le stazioni attivatrici passeranno CALL, RST e Sestiere/Gruppo Comunale
Diploma – Sarà rilasciato su richiesta a tutti coloro che avranno collegato tutte e 7 le stazioni, indipendemente per banda o modo. Saranno rilasciati endorsement per Singola Banda, Singolo Modo e 5 Band.
Costo – Le richieste, comprensive di Call, nome ed estratto log, dovranno pervenire entro il 15 Settembre 2016 all'Award Manager IK6BSN Maurizio Bacilieri tramite posta elettronica all'indirizzo maurizioap@alice.it  oppure in forma cartacea all'indirizzo Via delle Ortensie, 2 – 63100 Ascoli Piceno. Per richieste in formato digitale PDF, il diploma è gratuito. Per il rilascio del Diploma cartaceo è richiesto un contributo di € 10,00 per l'Italia e € 15,00 per l'Estero. Utilizzare per il pagamento Paypal all'account ik6hln@inwind.it, ricordandosi che è obbligatorio inserire nelle note il Call ed il Nome.
English Version Rules:
The Italian Radio Amateur Association, Section of Ascoli Piceno, presents the Award "Ascoli Piceno city of Quintana", in conjunction with the 2 editions of July and August 2016, respectively, this year to be held Saturday, July 9 at night and on Sunday, August 7 in the afternoon. The aim of the Award is to introduce all HAM/YL to the history, the beauty and uniqueness of the city of Ascoli Piceno and its historical and famous re-enactment, which involves six citizen "Sestieri" in defiance of the assault on horseback to the Moor.
Period - from 00:00 UTC on 01/07/2016 at 24:00 UTC on 31/08/2016
Bands - 10-80m (no WARCS)
Modes - SSB, Digital
Contacts – They are valid all the QSOs made with the stations of the Ascoli Piceno's ARI Section that will communicate their "Sestiere" (Porta Romana, Porta Solestà, Tufilla Porta, Porta Maggiore, Piazzarola, Sant'Emidio) and the station IQ6DH for the "Gruppo Comunale - Ente Quintana"; they will call "CQ AWARD ASCOLI PICENO CITY OF THE QUINTANA"
Mode - The same station may be contacted only once per mode and per band
Report - The activator stations will give CALL, RST and Sestiere / Gruppo Comunale
Award - will be released on request to all those who have contacted all 7 stations, independently band or mode. Will be released endorsement for Single Band, Single Mode and 5 Bands.
Costs - The requests, including Call, name and extracted log, must be sent until September 15, 2016 to the Award Manager Maurizio Bacilieri IK6BSN at maurizioap@alice.it via email or in hard copy at the address Via delle Ortensie, 2-63100 Ascoli Piceno. For requests in PDF digital format, the award is free. For a paper award issue it needs a contribution of € 10,00 for Italy and € 15,00 for WorldWide. Use the paypal account ik6hln@inwind.it, remembering that it is mandatory to enter in notes the Call and Name.
All information are on QRZ.COM - ARI CLUB STATION IQ6DH.
Stazioni abbinate ai Sestieri / Stations-Sestieri pairing
Gruppo Comunale  IQ6DH op. IK6CLX Umberto
Sant' Emidio           IK6GZM Gianluca
Piazzarola              IW6CLO Pietro
                               IK6XEJ Rino
Porta Maggiore      IK6BSN Maurizio
Porta Romana        IZ6OYU Fabrizio
                               IK6FAW Bruno
                               IU6FUB Cesare
Porta Solestà         IZ6XOK Vittorio
                              IZ6ZCV Antonio
Porta Tufilla          IK6HLN Gianni
                              IZ6CLZ Antonio
Sant'Emidio, Patrono di Ascoli Piceno e protettore dai terremoti



St. Emidio , patron of Ascoli Piceno and protector against earthquakes



San Emidio , patrón de Ascoli Piceno y protector contra los terremotos



Saint Emidio , patron de Ascoli Piceno et protecteur contre les tremblements de terre



St. Emidio , Patron von Ascoli Piceno und Schutz gegen Erdbeben
---
Ascoli Piceno - City of Quintana's Tournament
Ascoli Piceno is a town and comune in the Marche region of Italy, capital of the province of the same name. Its population is around 55.000.
Ascoli was founded by an Italic population (Piceni) several centuries before Rome's founding on the important Via Salaria, the salt road that connected Latium with the salt production areas on the Adriatic coast. In 268 BC it became a civitas foederata, a "federated" city with nominal independence from Rome. In 91 BC, together with other cities in central Italy, it revolted against Rome, but in 89 BC was reconquered and destroyed by Pompeius Strabo. Its inhabitants acquired Roman citizenship, following the developments and the eventual fall of the Roman Empire.
During the Middle Ages Ascoli was ravaged by the Ostrogoths and then by the Lombards of King Faroald (578). After nearly two centuries as part of the Lombard Duchy of Spoleto (593–789), Ascoli was ruled by the Franks through their vicars, but ultimately it was the bishops that gained influence and power over the city.
In 1189 a free republican municipality was established but internal strife led dramatically to the demise of civic values and freedom and to unfortunate ventures against neighboring enemies. This unstable situation opened the way to foreign dictatorships, like those of Galeotto I Malatesta (14th century), initially recruited as a mercenary (condottiero) in the war against Fermo, and Francesco Sforza. Sforza was ousted in 1482, but Ascoli was again compelled to submit to the Papal suzerainty. In 1860 it was annexed, together with Marche and Umbria, into the newly unified Kingdom of Italy.
The central historical part of the city is built in marble called travertino, a grey-hued stone extracted from the surrounding mountains. Its central Renaissance square, Piazza del Popolo ("Square of the People") is considered one of the most beautiful in Italy. According to traditional accounts, Ascoli Piceno was home to more than two hundred towers in the Middle Ages: today some fifty can still be seen.
The jousting tournament of Quintana or carousel of Quintana is a historical medieval equestrian tournament held in Ascoli Piceno
It takes place the first Sunday of August on the feast of St. Emidio , the patron saint and first bishop of the city. Since 1997 it is also carried out a second edition of the Quintana , at night , in honor of Our Lady of Peace , on the second Saturday of July .
Each year has seen the addition of new costumes and new figures up to the current composition of over 1400 listed by dialing the imposing and magnificent parade that moves, with the measured steps of the ancient military art , accompanied , for all the parade route , by the sound of trumpets , the roll of the drummers and flag-wavers who perform almost continuously .
The game of the Tournament of the Quintana is in a dispute with knights on horseback who along with three consecutive rounds , the slope of the field must hit with a spear, the target placed on the left arm of the Saracen , also called brown. The race is divided into two lanes formed by the diagonal of the field and connected to each other on two opposing sides , creating a trail on the ground in the form of eight .
The rider who scores the most points to the target and with the shortest duration of the race , win the Tournament . The prize is the award winner of the tournament receives the knight of Quintana . It consists of a banner made ​​of refined fabric painting that , after delivery , is preserved in the district contractor . The six Sestieri are : Porta Romana ( red / blue ) , Porta Solestà ( yellow / blue ) , Sant'Emidio ( red / green ) , Porta Tufilla ( red / black ) , Porta Maggiore ( black / green ) and Piazzarola ( white / red ).
In this video you can see a glimpse of the city and its beauties and explains the meaning and history of Quintana same . Come and visit Ascoli Piceno and its history , on the second Saturday of July and the first Sunday in August!
---
Ascoli Piceno - Città della Quintana
Ascoli Piceno (55.000 abitanti circa), città pre-romanica (il famoso detto ascolano recita: "Quando Ascoli era Ascoli, Roma era pascoli..." per ribadire le origini antecedenti alla Capitale), porta ancora oggi segni tangibili ed indelebili della sua storia, della civiltà picena "Caput Gentis" e di quella romana, per arrivare poi a magnifiche testimonianze medioevali e rinascimentali con chiese, palazzi fortificati, torri che ancor oggi svettano alte nel cielo a ricordo di un passato glorioso, realizzate con la pietra dominante, il bianco travertino ascolano, ricavato dalle cave site sul Colle S.Marco, che domina a sud la città.
La rievocazione storica della Giostra della Quintana è un omaggio degli ascolani stessi al loro passato, quando, in epoca medioevale, attorno al 1377,  il giorno 5 Agosto, nella piazza monumentale dell'Arengo, in onore del Santo Patrono S.Emidio, si svolgeva una giostra cavalleresca dove impavidi cavalieri affrontavano la figura del Moro, un fantoccio raffigurante un invasore ottomano, per vincere e portare a casa, per i colori di appartenenza degli antichi quartieri, il Palio, un drappo di stoffa, anticamente non disegnata ma preziosa, sicuramente di broccato o seta. Oggi la rievocazione coinvolge ben 1400 partecipanti in costumi medioevali, con un lungo corteo denominato "corteggio storico" che, partendo da Piazza Ventidio Basso, a fianco della maestosa chiesa di S.Pietro Martire, si snoda per tutto il centro cittadino passando per Piazza del Popolo ove vengono accolte le Magistrature (i Consiglieri Comunali) con a capo il Magnifico Messere (il Sindaco in carica), percorrendo quindi Piazza Arringo ove si trova la Basilica cittadina dove sono sepolti i resti del patrono S.Emidio e quindi l'arrivo al"Campo de Iochi", il vecchio campo sportivo F. Squarcia, ove il terreno è stato preparato appositamente per la Quintana. Il classico circuito a "8" con al centro il Moro, dove ogni cavaliere deve portare l'assalto per 3 volte in ogni singola tornata e per un totale di 3 tornate. Vince il cavaliere che, al termine delle 3 tornate, avrà totalizzato il maggior punteggio tra tempo impiegato e punteggio al tabellone. I 6 sestieri della nuova rievocazione quintanara sono: S.Emidio dai colori rosso/verde, Porta Tufilla rosso/nero, Piazzarola bianco/rosso, Porta Maggiore nero/verde, Porta Romana rosso/blu e Porta Solestà giallo/blu. Nel link che segue potrete ammirare una descrizione della città e della sua storica rievocazione. Piccola chicca; al minuto 8;20 del video c'è anche il sottoscritto seduto al tavolo della giuria al controllo tabelloni!
Altre informazioni più approfondite sono reperibili a questo link: http://it.wikipedia.org/wiki/Quintana_di_Ascoli_Piceno
E' inoltre tradizione, per l'edizione agostana della Quintana, che i sestieranti dipingano i ponti rappresentativi del loro sestiere o tratti di strada importanti, con disegni stupendi, ricchi di colore e fascino, che questo video ben mette in risalto. Un'occasione da non perdere: visitate Ascoli Piceno, città della Quintana, il secondo sabato di Luglio e la prima domenica di Agosto!
La partecipazione alla Quintana dei radioamatori Ascolani
Insieme agli altri soci della locale Sezione ARI di Ascoli Piceno, durante le 2 rievocazioni, svolgiamo un servizio radio di assistenza lungo il corteo storico ed all'interno del campo giochi; durante lo svolgimento del corteo, il sottoscritto si trova all'inizio dello stesso in vicinanza del Camerlengo (il coreografo della Quintana), mentre gli altri OM si trovano dislocati all'inizio dei Sestieri in modo da comunicare eventuali inconvenienti, problemi o rallentamenti dovuti a cause disparate e, tramite radio, possono darmi in tempo reale tali notizie che comunico al Camerlengo disponendo un rallentamento o fermata strategica affinchè non ci siano sfilacciamenti. Dentro il campo giochi, invece, i colleghi OM si dispongono all'interno per comunicazioni di servizio e per l'ordine pubblico, un collega si posiziona nei pressi delle stalle per disporre l'uscita dei cavalli, colloquiando con il sottoscritto che si trova al tavolo della giuria a contatto con il  Provveditore di Campo (il giudice di campo) per gli ingressi dei cavalieri e per altre disposizioni del momento. Al termine della Giostra ripartiamo dal campo con le stesse disposizioni per evitare problemi al corteo di rientro e terminiamo il servizio con il passaggio dell'ultimo sestierante al capolinea di Piazza del Popolo. La modernità del nostro hobby al servizio di una rievocazione medioevale!
---
This is my Station's panorama...
Close view to my equipments:
Another interesting view...
---
Last countries I need for my DXCC:
---
I'm an avid enthusiast of digital modes, particularly in RTTY and these are my membership diplomas:
---
---
These are my main diplomas earned:
and many others...
---
Take a look at my online logbook, maybe you could be on it since 1985!!!
Now you can request your QSL via ClubLog application:
---
Last spots on WEB Cluster: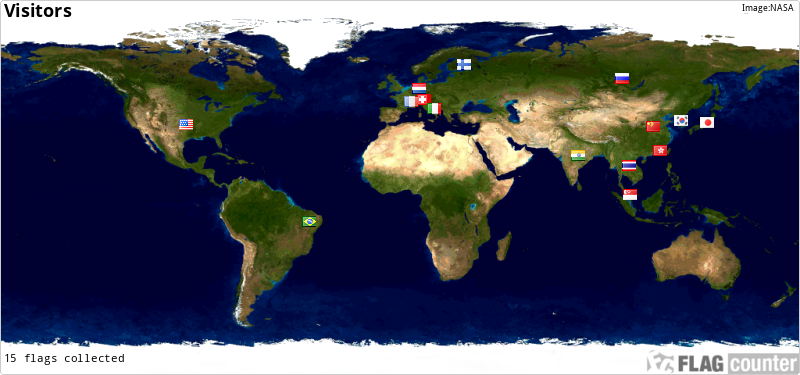 Large Visitor Globe