Hi. my name is IVAN and I am 43 years old and I have the license to transmit in September 2012, I have been swl for over 25 years. In this long time I have acquired a lot of experience both on the analogical and on the digital ways.
My activity is mainly that of the DX, I also like to make contest, but I like more the activity of the DX.
Lately I am also experimented the DRM in band HF.
I am active all the band , mean of the artificial sat (VO 52 FO29).
I have experimented that also with a normal vertical (diamond X-200) it is possible to connect to every passage these two listed satelitis.
You will surely find me in radio, my qsl and to 100% reciprocated, understood the LOTW.
I am tied up to the old and nostalgic papers QSL.
Talk to you soon to listen to us in radio
Direct: ( ONLY Direct + Sase)
Ircs,coupons are not accepted in my office
IF Direct, Please SASE or $ because I received many qsl paper !
BUREAU Via 9A8ARS
Attention: if you want to use the service Bureau it is necessary to insert
QSL
Via 9A8ARS
If not to insert such wording the QSL is not delivered me ! maximum attention!
Emergency radio mail is
IS0DCR@Winlink.org
CONTEST:
CQ WWW SSB (OCT 2013)
ROS Contest (MAR 2013)
2014
Arrl- Wpx RTTY (FEB 2014)
Cq Wpx ( MAR 2014)
Iaru HF ( JUL 2014)
Rsgb IOTA ( JUL 2014)
SARTG WWW RTTY (40MT) AUG 2014
CQ World-Wide DX RTTY OCT 2014
CQ WWW SSB (OCT 2014
2015
Cq WPX RTTY (FEB 2015)
Cq Wpx ( MAR 2015)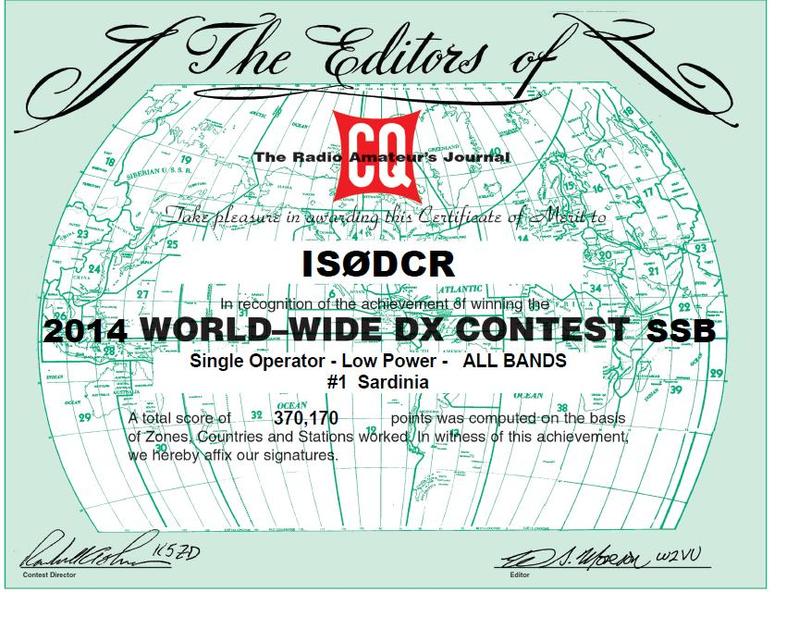 IOTA REF : EU024 Sardinia Island
EPC: 19492
CDG: 3743
DMC: 2451
ERC: 1229
BDM: 3150
***************************************************************************************************************************************************************
RADIO STATION HOME
MY STATION INFO:
TRX KENWOOD TS 2000X (for VHF,UHF,SHF and SAT LITE )
TRX ICOM IC756 PRO II (dedicate in HF and 6 MT )
*****************************************************************************************************************************************************************
MOBILE STATION:)
Keenwood V71 (VHF-UHF) Antenna Diamond Mobile
ICOM ICR-10
*****************************************************************************************************************************************************************
Dedicated antennas:
1) WINDOM for 80-10 meters home made
2) VERTICAL Monoband for 10 Meters
3) Vertical Monoband for 6 Meters ECO
4) Vertical for V/UHF, and directive Diamond X200
5) Dipole for Swl activity in receiver icom icr9000
MY RADIO:
MY CITY OLBIA: