Grazie per aver digitato il mio nominativo, mi chiamo Roberto Gaglioti, la mia passione per la radio e' iniziata nel 1974 quando mi fu regalato una radio portatile CB da 3ch e da allora la mia passione ando' crescendo fin quando nel 1983 presi la patente speciale per poi nel 1987 feci gli esami di CW e mi fu rilasciata la fatidica ed ambita patente da OM. Finalmente nel 1989 mi fu rilasciato il nominativo di IT9DVZ e da allora ho il mio appuntamento quotidiano con la radio, al momento ho in attivo 327 country collegati e spero un giorno di completarli tutti. Negli ultimi anni mi sono dedicato ad attivazioni in portatile ed ai contest scoprendo un'altro ed entusiasmante mondo della radio. Anche i modi digitali mi hanno preso in particolare ed ho raggiunto diversi traguardi che non pensavo mai che mi potessero interessare. Una mia piccola soddisfazione e' stata quella di prendere la patente Americana con il nominativo di KM4ACP.
Thank you for entering my callsing, my name is Roberto Gaglioti, my passion for radio and 'started in 1974 when I was given a portable CB radio 3ch and since then my passion went' growing until in 1983 I took the license special and then in 1987 I did the exams of CW and I was released the fateful and coveted license from OM. Finally in 1989, I was released the names of IT9DVZ and since then I have my daily appointment with the radio, I'm currently 327 active country connected and I hope one day to complete them all. In recent years I have dedicated myself to activations in the contest and portable another discovering exciting world of radio. Even digital modes have taken me in particular and I have reached several goals that I never thought that I could be of interest. One of my little satisfaction and 'was to take the license with the callsing of the American KM4ACP.
Nuove tariffe postali in Italia dal1 GENNAIO 2013
0.85EURper l'Europa
2.00EURfuori dell'Europa
2.50EURPacifico (VK-ZL)

. Questa è per le lettere  max 20 grammi
Se si desidera ricevere una qsl diretta Si prega di includere:2 USDs per l'Europa + SAE o 1 EURO 3 USDs VK/ZL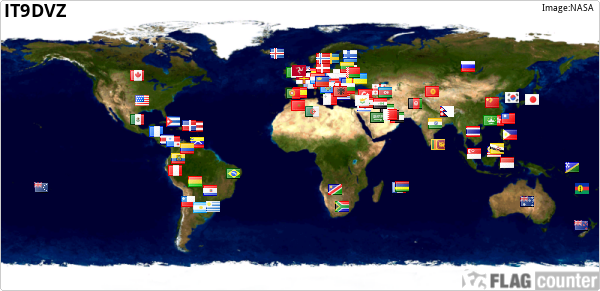 1204935 Last modified: 2014-08-22 12:55:06, 11564 bytes
Login Required

Login is required for additional detail.
You must be logged in to file a report on this page
Currently updating logbook display.