With my friends from left IU5AXT Federica and IZ5GST Steve in Aosta city
Ham dinner with my friends, from left IZ5IMD - IZ5OVP - IZ5DKJ - IX1BFL - IZ5IOQ 
---
I5/IX1BFL from 24.04.2013 to 28.04.2013 in Tuscany Region / Lucca City
I8/IX1BFL from 17.04.2014 to 22.04.2014 in Calabria Region / Reggio Prov.
Contest call IO1S
ContestActivity 2013 :
CQ Bande Basse Italia MDXC #561

CQ WW WPX RTTY

ARRL DX SSB

CQ WW WPX SSB

SAC SSB Scandinavian Activity Contest

CQ WW DX SSB
Hello, my name is Rino, i was born in 1980 in Aosta Valley, a small region of Northern Italy with special status, which borders France and Switzerland. I'm at about 43 km from the Mont Blanc tunnel (Courmayeur) and 35 km from the Gran San Bernardo Tunnel.
I live in a village near the historical center of Aosta 583 meters s.l.m. - JN35QR; In 2009, after ten years of activity on the radio I was able to get the license for amateur radio and i was assigned by the Ministry of Economic Development IX1BFL call
I work mostly in SSB mode and also in digital mode: sstv, rtty, psk31
MDXC member # 561 Aosta Province Coordinator
Station:
Yaesu FT 847

Proxel 6045

Daiwa CN 801 HP

LDG AT200 Pro Autotuner

Headset Heil Sound Pro-Set Elite HC6
Antenna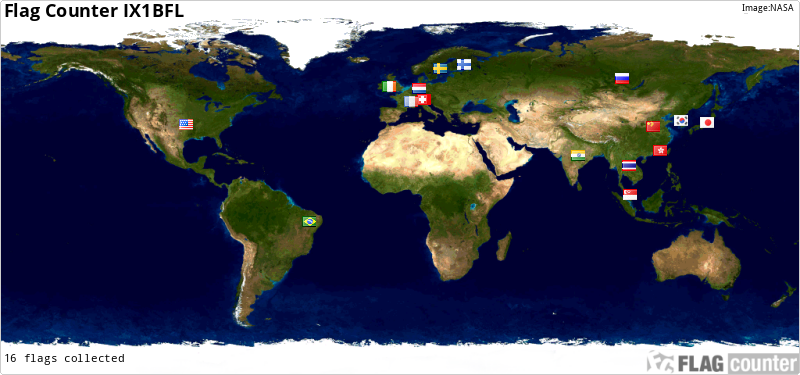 Get Your Own Visitor Map!