I'm arrived in Djibouti on end of july 2011. I must stay 2 years for job.
I'm QRV since 26-08-2011 on 10-12-15-20m.
QSL: EQsl, buro or direct via F5RQQ.
QSM:
M. VIGIER Jean-Marc (F5RQQ)
4 impasse des Lys
63800 COURNON D'AUVERGNE
FRANCE
Please IRC+SAE or ETSA for french HAM
Equipment used: Kenwood TS 480, 100 watts, vertical antenna Hy-gain 12AVQ 10-15-20m
I thank especially J28RO Freddy (F5IRO) for his technical help and F5RQQ my QSM.
Best 73,
J28UC John (F4FUC)
More informations on F5IRO website: http://j28ro.blogspot.com/
Vidéo QSO francophones: http://www.youtube.com/watch?feature=player_detailpage&v=wNv3ImNCy1k
Vidéo QSO with F1AEY: http://www.youtube.com/watch?v=s3ytFW963iM
Départements F contactés depuis Djibouti:
01 à 08, 10 à 14, 16 à 19, 2A (TK), 2B (TK), 21 à 42, 44 à 47, 49 à 54, 56 à 60, 62 à 95.
FG (Guadeloupe), FH (Mayotte), FK (Nouvelle Calédonie), FM (Martinique), FO (Polynésie française), FR (Ile de la Réunion) et FY (Guyane).
146 DXCC on 10,12,15 and 20m since august 2011: EU (52), AS (32), AF (32), SA (11), NA (10), and OC (9)
34 US States worked: AL, AR, AZ, CA, CO, CT, FL, GA, HI, IL, IN, LA, MA, MD, ME, MI, NC, NE, NH, NJ, NV, NY, OH, OR, PA, RI, SC, TN, TX, UT, VA, VT, WA and WV.
Many thanks to raphaël and his wife for their help.
Antenna: HY Gain 12AVQ for 10-15 and 20m
QSL printed by UX5UO.
J28UC (F4FUC) operator John (Jean-François).
TX-RX: Kenwood TS 480, 100 watts.
Mobile station for 10m band.
Meeting HAM 14-11-2011: J28AA, J28UC, J28JV, J28RO 20-02-2012: J28JV, F4DXW (J28VS), J28UC, J28RO
J28AA Darko, J28IRO Freddy, J28JV Vincent, J28UC Jean-François, F4DXW (J28VS from 2000 to 2002) Stéphane.
Djibouti: Horn of Africa between Red Sea and Aden Gulf.
08-12-2012: Demonstration radio day for the french community of Djibouti.
J28NC
J28UC/P: Kenwood TS-480 (100w) with dipole 10m
J28NC/P: Yaesu FT 2000D (100w) with dipole FB13 Fritzel
Sand on balcony: after a sand storm... Christmas 2012
Quarantine center near somalian border and a quiet tourist.
travel with a guide to lake Abhé. QTH "Grand Bara desert", june 2012.
The palm of Dikhil.
Lake Abhé: S-W of Djibouti near Ethiopian Border
73 from Djibouti !!!
Warthog: "Hakuna matata" !!!
Gazelles...
some monkeys walks.
Lunch on the beach of red sand. Accessible only by boat.
Lake Abhe camp (june 2012): I slept outside. At midnight the temperature was 38-40 inside, only 33°c outside.
time: 5 AM, Sunrise on Lake Abhé.
Maskali Island.
Aerial view of Musha Isl. and maskali Isl.: IOTA AF-053
Crabs prepared BBQ
Mangrove on Musha Island.
Follow me, visit to Djibouti...
All taxis are green.
Prawns and tuna.
Djibouti capital City.
Grand Bara desert
20 of december 2012: 15k in Grand Bara desert, more than 1200 runners...
A straight line for 15km
N° 930 1h18min and 38sec
Few pictures from Market Ryad...
Spices and flies...
"Kempiski" Palace Hotel
"Sheraton" Palace hotel
On the road to Somalia.
Eiffel bridge located Chabelley (10k from Djibouti). Train "DJIBOUTI-ETHIOPIA" is off..
Grand Bara desert
Cheetah and oryx in the reserve "DECAN"
On the road...
Crossing the gulf of Tadjoura with the shuttle.
Tadjoura
Lake "Assal". salt 350g / liter
Ras Bir Lighthouse near Obock.
N9: national road from Djibouti to Tadjourah.
The rift between "Africa" and "Asia"
Rift camp near Ghoubet
Khor Ambado Beach
Nice Djiboutian truck.
Sometimes, road is dangerous.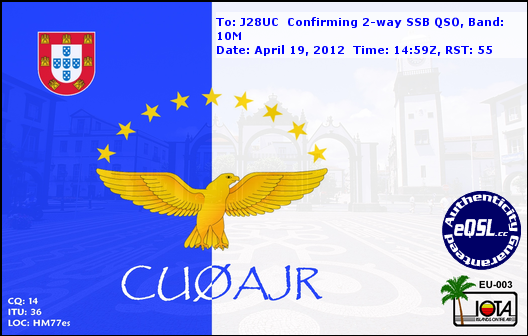 Few QSL received.
Tks to SWL reports
Thanks to visit this web page.
Best 73 from Djibouti.
J28UC, John.