News
Apr.07.
I want to say Thank you to the operators who leave the Marion
Island today.
You guys were willing to work very well for us. Thank you very much for every thing. Arigatou!! David,Carson and Nadia.
Have a good trip to Home.
A new operator Gerhard from ZS8 Marion Island arrived on the Island today. Hope to catch up you on the air soon.
Apr.06.
SV2ASP/A and ZD9M Pierre came up on 21.365 at the same time today. so, We had a nice DX net with many callers.
Pierre went to our DX frequency 28.555 and made a lot of QSOs.
Thank you very much for stayed with us.
CY0/VA1AXC Aaron will be active soon.
Apr.06.
SV2ASP/A Monk Apollo might come out on the radio today.
Good luck !!
Apr.04.
I would like to offer my heartfelt sympathy to the victims of the
Chile earthquake. We pray for the quick recovery from this disaster. GANBARE CHILE.
Mar.10.
The first YL op from Marion Island, Nadia ZS8A managed
a big pile up yesterday. Arigatoh !! Nadia.
Mar.09.
SV2ASP/A Thank you for coming up on 21.365 today.
The band condition is not very good , but many stations made good QSOs.
ZS8C worked DX on 28.630 CW.
Mar.08th.
What a wonderfulday today is !
Heard Carson ZS8C,Pierre ZD9M and Abubaker 5A1AL on 12m today. We will try low bands tomorrow morning.
Mar.2nd.
The first QSL card went out today.
QSL manager. Masa JE1LET
Feb.23rd.
Monk Apollo came up on 21.365 at 0900UTC.
Many station worked him.
Thank you, Apollo san.
Feb.15.
SV2ASP/A Monk Apollo will come up on the air soon.
Pierre ZD9M (EX ZS8M) will be active from Gough Island soon.
See you soon, Pierre.
Feb.10.
Aaron on Sable Island is using 100W and a simple DP ant. Tune your radio dial to 21.365 at 2200-2300UTC.
Feb.08.
CY0/VA1AXC Aaron made his wonderful debut in HF DX world today.
He is a new Ham from Sable Island.
He is very busy at work on the Island,he will have some spare time in Spring.
QSL route is JE1LET. Direct only.
Feb.3rd.
CQ ham radio Feb Just out.
ZS8C Carson on the magazine.
Special Thanks to Mr.Sakurada CQ Syuppansya
Feb.1st.
ZS8Z David was on Digi mode and worked a few contacts.
Look for him on Marion Island's RTTY,PSK and JT65.
It's very rare !
Jan.05th.
5A1AL will be on 10 or 15m CW at 0600-0630UTC today.
Last night, ZS8C worked some JA on 40 and 80m CW.
Carson was strong on 30m.
SV2ASP/A Monk Apollo on the video.
http://www.youtube.com/watch?v=skMllQjwtui&feature=em-share_video_in_list_user&list=PL_gSH-zrszd8gmTNCMtjVy2jVrde3t8-o
5A1AL will be active for Asia on Sunday.
Dec.07th.
Listen for Carson ZS8C on 21.365 at 0600Z on Sat.
He worked JAs on 30m and 40m CW at 1600Z as well.
Dec.05th.
ZS8C Carson came up on CW on 21.365
at 1030UTC ,his keying was better than mine.
he did work about 5 stations on the lists.
Listen for him on this weekend.
Keep your very slow speed keying.
Nov.24th.
My JE1LET@jarl.com email address is having some trouble .
Try this one JE1LET@hotmail.com
Nov.05th.
I talk to my long time friend Bill VK2XT yesterday.
He becomes 101 years old in this month.
He is active and manages radio on 21.290 every day at 0200UTC.
Oct.19th.
Apollo san came up at my sked time.
He was stronger today than last time. so,We QSYed many bands. He gave many people call. Arigato !! Apollo.
Special Thanks to your help JA1BK.JH1AJT and JA4FHE
A good news from Monk,Apollo SV2ASP/A.
Tune your radio dial to 14.245 at 0730Z on this weekend.
If you are lucky, you can hear him and myself.
We run a DX NET on 28.555 or 21.365 around 2130Z-2300Z everyday.
Looking forward to see manyHams.
Oct.14th.
I was in Fukushima again today 6 months after last visited.
I was deeply touched by their quick recover.
Thank you for sending us many support from all amateur radio operator in the world.
Oct.12th.
David on Marion Island takes some time for fixing his broken ant this weekend if the weather is okay.
Oct.10th.
I am planning have a special DX net with my friends Apollo SV2ASP/A ,Abubaker 5A1AL and David ZS8Z. Last time we had a try, it was a great net with many support. Listen for us on Sat or Sun.
David ZS8Z will be active his new modes CW !!! and digi soon.
He is setting up his PC.
Call him with your slow speed. Good Luck!!
Sep.28th from ZS8Z David.
David sent me some beautiful photos from Marion Is.
He says, he will give many station a chance to work with ZS8 in the next week. I hope you make your good manners in his big pile ups. Don't panic.
Sep.9th from ZS8.
One of their HF antennas has been damaged. The wx is also very bad so they have not been able to repair it yet.
ZS8 Hams have been quiet due to propagation problem. One more new YL Ham OP ZS8A Nadia will be active soon.
New operators on ZS8 Marion Island. ZS8Z David ,ZS8C Carson, two more future Ham and the support team. David is active on 28.443 around 0500UTC. My local friend had a test with David on 15m and 12m at 0900UTC few days ago. David was stronger on 12m than 15m from JA1 land.
New QSL card for VK0TH

VK0TH と VK0KEV のカードはオーストラリアへ
CY0/VE1AWW went to QRT today 08 Dec.
We plan to run the Friendly Caribbean JA DX NET on 28.555 (depend on the prop. 21.365)start by 2100Z every day.
The main net controller is Zorro JH1AJT and I do support his job. Bring your Caribbean radio friends to this net. Looking forward to see many Caribbean operators.
QSL route for VK0TH now goes to VK8TH in NT Aust.
VK0TH及びVK0KEVのQSLカードの受付は終了しました。今後はVK8TH,VK4KEVの
ホームアドレスにダイレクトに請求してください。 ご協力有難うございました。
In early morning on 17th of Apr,VK0TH went to QRT.
Trevor, "ARIGATO"
Thank you for all your efforts during the last year with amateur radio around the globe from the rare and hard to get to MacQuarie Island.
You have made many people happy with your contacts.
I am very pleased and happy to be your QSL manager during your tour of duty on the Island.
I wish you and safe journey home and hope too see you soon.
QSL route for VK0KEV now goes to VK4KEV home address in QLD AUSTRALIA.
Thank you for visiting my QRZ.com.
I want to show you my friend's shack first.
Please enjoy your stay for a while.
Kevin sent me this photo. 1st Dec 2011.
Thank you, Kevin and Trevor.
Hi All. Thank you for the nice QSO with Kevin VK0KEV and Trevor VK0TH. QSL direct only SASE with sufficient return postage. (Need 1 New style IRC or 2 Green Stamps for all)
VK0TH Trevor at his shack and his QSL images.
QSL VIA JE1LET DIRECT ONLY.
VK0TH QSL MANAGER JE1LET
http://www.hrdlog.net/ViewLogbook.aspx?user=vk0th
Trevor is having a huge pileup.
A big Golf Ball on Macca. Look !! a ground mounted vertical on left side.

VK0KEV went to QRT!!
Kevin is now back home. Nov 08 2011.
http://www.dxcoffee.com/eng/2011/12/26/interview-kevin-white-operator-vk0kev-macquarie-island/
VK0KEV Kevin at his shack. QSL card. and his vertical ant.
QSL VIA JE1LET DIRECT ONLY.
VK0KEV QSL MANAGER JE1LET
" Due to the sheer volume of requests received, I am unable to respond to emails. If you would like to check your entry in VK0KEV log please go to:-
http://www.hrdlog.net/ViewLogbook.aspx?user=vk0kev
Thank you Kevin for gave us many dreams.
Your activity last one year made many Hams very Happy.
Good bye Macca !! photo by Trevor VK0TH
Ground mounted vertical ant.
Hello from Sable Island, CY0/VE1AWW
My friend Al sent me a beautiful QSL card from Sable Island.
Al and I have been active on 21.365 or 28.535 at 2200Z and 14.247at 1030Z.
He has a good station on Sable Island. 100W and a Vertical and DP ant for 160m-6m.
Please call us anytime you want. Always, welcome !
CY0/VE1AWW Al at his Radio shack. TS690 100W.
ANT. HY-GAIN VERTICAL and 40m DP.
His ride on the Island.
His beautiful QSL CARD.
Al is working DX.
Now, My station JE1LET.
Big hill top l

O

cation. HF Stack side by side double Yagi.

MASA's Radios. Two HF sets. .

(Press F5 to view the most recent entries)
QRZ DX ?
JE1LET's info as follows. Usually operating on 21.365(DX net)21.412(marine net) .28.485 28.535(Caribbean net)and 14.247 at 2200Z-2300Z and 14.238-14.247 at 1100Z-1300Z and Hunting real DX!! Having a good location at the little mountain top shack. HF radio sets IC756PRO3+FINE AUDIOhttp://chugoku.me/fine-audio/ FAM-13 5band EQ+W2IHY 8band EQ+EQ Plus +Shure SM58 Mic,TS870+8band EQ+EQ Plus by W2IHY+SM58 Mic,TS570S+FAM-13 5band EQ,All 1KW operation with YAESU VL1000 or Tokyo HY-POWER HL3K-DX and Dual 6ele triband Yagis(parallel Stack 4 by 4 for 20m and 5 by 5 for 15 and 10m band)at 15mh on two separate tower. a GP ant for 75 ,80 and 40m,a DP for 160m. QSL direct only. 2GS or 1IRC NO BUREAU. NO E-QSL. All cards received direct without SASE,(Sufficient Green Stamp)for return postage, will be returned via the Bureau system.When I am in DX shack , you can send me quick e-mail toJE1LET@hotmail.com
Good DX !!! 73 and 88 from MASA JE1LET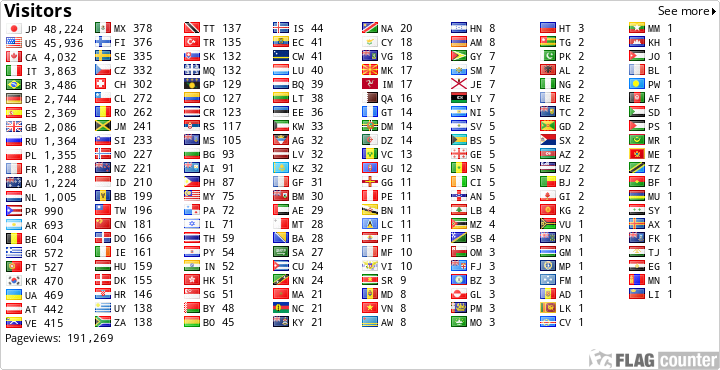 mk2