Hello! From " YOSI "  JH1OBS in Tokyo.
---
After few years of BCL/SWL age, First licensed JH1OBS in 1968 when I was juniorhighschool student. I have worked on (mainly) 15m SSB for many years. I enjoyed DXing very much. But I had to completely QRT for 10 years cause of several reasons. I came back again to amateur radio 9 years ago (Summer 2005).    I am very happy to do this wonderfull hobby again.
Now I am working on 80m to 10m Band every day. 60% SSB, 35% CW, 5% DATA. 
I am using ICOM IC-7600 radio and 1kw amplifier IC-PW1, I also have ICOM IC-7000, KENWOOD TS-480HX and ACOM 2000A amplifier.
My antenna systems were CD714XX TriBand YAGI(40-20-15m /3-5-5 Element) , CD214F DualBand YAGI(20-15m / 5-5 Element), CD78 Rotatable Dipole(80-75m / Shortend, 30m with tuner) , MINI-MULTI HX52B-SP MiniBeam(17-12-10-6m /2-2-4-4Element) and Cushcraft 55-J(2-0.7m / 5-5 Element) on HDX-5106 crank-up tower(32.3meters high + 4.5meters mast). Another broadband Virtical on top of roof(12meters at feedpoint).
Now, I installed New antenna DB42 for 40-6m at 32.5mH, CD78-5 for 80/75m at 36mH and GP for V/UHF at 36.5mH.
My location is just center of town.
The noise level is very high, so It is very difficult to copy weak signals.
Other hobbies are Computers (especially Macintosh), Car driving(I like high-speed!) , Sking, Eating, Drinking...,etc.
NISSAN PALSAR GTI-R  2.0L TURBO 250PS              I have a shop of european antiques in Tokyo.
Facebook: http://www.facebook.com/ato.yoshiki
---
I installednew antenna systemsSteppIR Dreambeam DB42on 20th September 2011.
I extended boom and and add two more elements for  6m band SSSP season.  Now, It became wide spaced 10 element Yagi on 6m ! ! !
---
Click here for Log Search JH1OBS
---
==================================================
====== My Old Antenna Systems untill 19th Sept. 2011=======
============ 5 over 5 stacked array on 20/15m============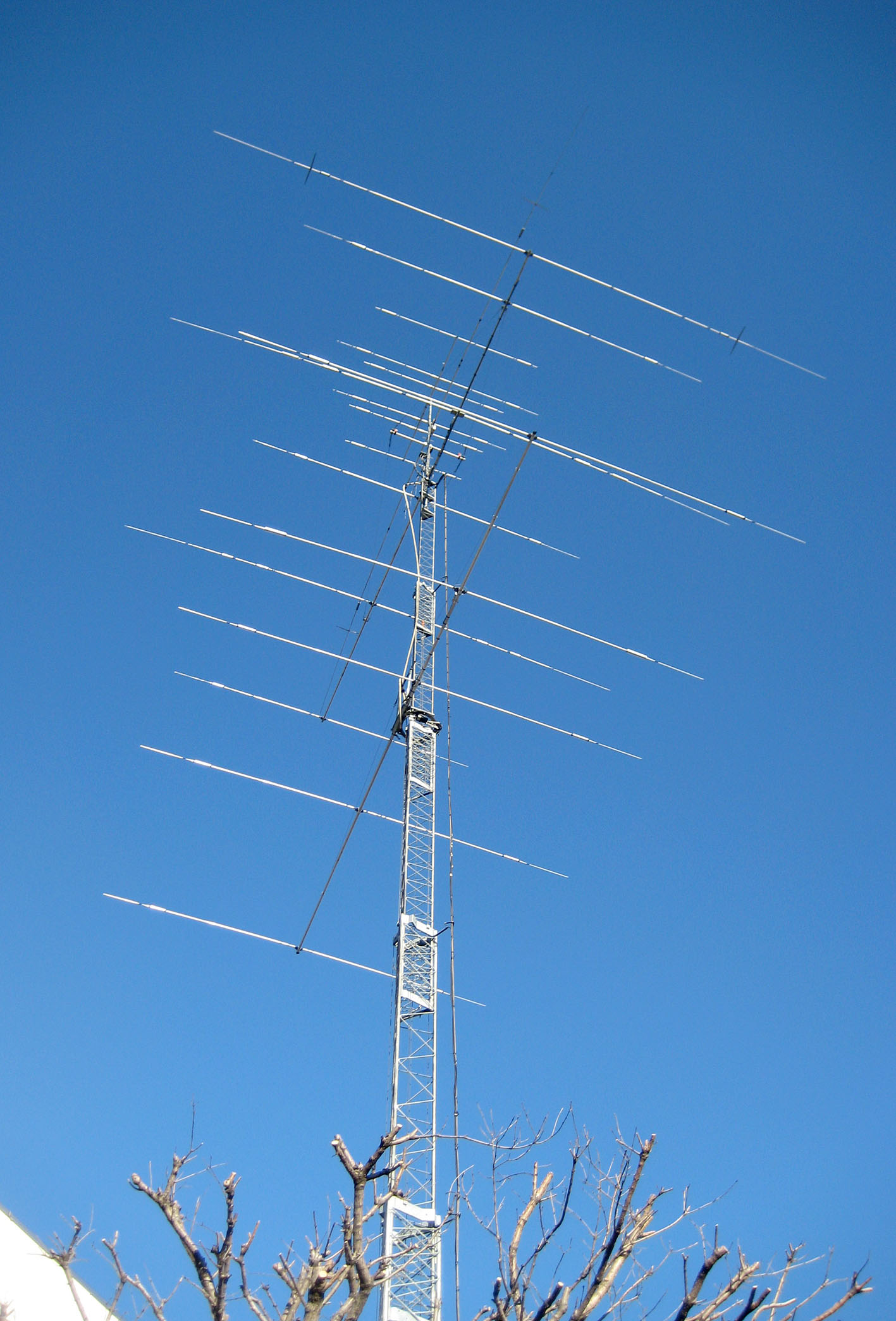 ==================================================