Thanks for looking me up!.
QTH is Katy, Texas, a booming suburb about 15 miles West of Houston.
I have returned to Ham Radio after being QRT for a "few" years (decades actually) - possibly something to do with being a 16 year old Novice; 13WPM code requirements, school, work, and subsequently other hobbies:
Race cars - SCCA HP "Spridget" - Primarily in SoCal and AZ - made the runoffs in '75 and '76

Sailboats - J24, J30 "Mabuhay" & C&C 37 "Dynomite" - raced in Dallas and on Galveston Bay TX

Airplanes - 1979 Grumman AA5B Tiger N4533P - licensed in 1993, Private Pilot SEL - Instrument
Born and raised in Tucson Arizona, I worked my way to the Houston area via the Middle East in the energy industry.
Ham Radio:
Originally licensed in 1964 as a Novice (WN7BHZ) in Tucson AZ with the help of my friends Arnie Lewin (now W7BIA) & Mark Leavitt (ex K7OLZ). In those days the license was only good for a year - attempts to break the 13 wpm barrier failed. Rekindled the interest in 2011 when I moved buildings at work and found myself with a new friend who got me going again:
Received my Tech license summer of 2011 with the help of Haskell Moore (W5HLM).

Passed General 11/8/2011.

Passed Extra on 9/11/2012 thanks to an Extra upgrade challenge organized by Matt (K5NGU).
Currently working on my CW skills but still somewhat QRS. I stumbled onto the SKCC Group "Straight Key Century Club" and learned alot while meeting many new friends. The club schedule page is wonderful. Since joining the SKCC I have developed a love affair with Morse code and encourage all to take a look at the CW mode and the fun to be had. The SKCC events are actually more rewarding than chasing DX.
Check out what the group has to offer http://www.skccgroup.com
Active on 2m repeaters in the morning drive time and HF 10m - 15m - 20m on weekends - 20m & 40m evenings. With the tuner I'm able to work more on 17m. The antenna "farm" consists of an Alpha Delta DX-EE inverted dipole - still only at 13ft hiding behind my palm trees (see pic below) and a new 31' S9 for special occasions - CCR/HOA restrictions drive me nuts.
My initial goal was to obtain WAS and DXCC in my first year on HF since 1965!
Status:
WAS - Done!! (Basic/Phone)
DXCC - Done!! (Phone) = 116/110
Goals for 2013:
WAS CW - Status: 47/42 (need AK, IA & VT)
SKCC Centurion - Done (26AUG2013)
SKCC Tribune- Done (16SEP2013)
Club Affiliation:
BVARC - Brazos Valley Amateur Radio Club

10-10 #76290

SKCC #8421T
---
Current Rig:
Yaesu FT-950

Ameritron AL811

Alpha Delta DX-EE inverted dipole at 16ft.

S9 31v (19 radials to date)

LDG AT1000Pro

Heil Pro Set Elite 6 headset/mic

HRD software for logging and rig control

Alinco DR-135TP 2m mobile

Navy Flameproof straight key

Vibroplex Standard Bug



---
73,
Harold (aka Hal)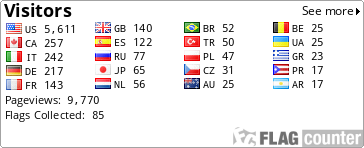 Large Visitor Globe
The Antenna "Farm" - 13ft at the top!
Ya gotta love CCRs.
N4533P - former partner in 1979 Grumman Tiger AA5B
Novice card from 1964!
My 1963 HP MG Midget - SCCA Runoffs, 1976, Road Atlanta