Photo above: Grandson, Eli, practicing CW on the Begali. He's age 4, hi!
QSL INFO:
3B8BAE, 3B8FQ / 3B7FQ / 3B6FQ operations: QSL Achmed and all of Rachid's calldirect via K5XK.
5Z4 / RW1AU QSLs: For Valery's 5Z4/RW1AU operations from Nairobi, please QSL via Val'sRW1AU home call. See his info at: www.QRZ.com/db/RW1AU.
HB0/K5XK, OE/K5XK, and DL/K5XK QSLs: Direct or via Bureau.
For all Direct requests, please include $2 to cover return postage. (Green stamps are preferred over IRCs.)
-------------------------------------------------------
K5XK was QRV from Europe for 7 weeks in May, June, and July, 2011, visiting family and friends. On 3 June, old friends Leo / DJ7PR, Klaus / DK5SF, and I activated HB0 / (appending our home calls) from Leo's camper van high up in Lichtenstein's spectacular Alps. We then operated OE /(home calls) from the nearby OE9XRV monastery club station in Bregenz, Austria, on the eastern edge of Lake Constance / Bodensee. Altogether, I had 600+ fantastic QSOs signing HB0 / OE / and DL /K5XK. Most of the QSOs were casual 'ragchew style' from our son's QTH near Landstuhl / Kaiserslautern, in SW DL. With the help of Leo, Klaus, and especially Fabian / DJ1YFK, I also had the thrill of operating from the incredible Bavarian contest station of Toffy / DJ6ZM (DL1A), on the outskirts of Munich. Unfortunately, Tof was still in the States traveling, after the Dayton Hamvention.
It was my first time in 40 years to operate from EU, since my Army Signal Corps days as DA2ER (DL5AG club station), in Goeppingen & Ansbach. We had fantastic eyeball and on-air QSOs with several old and new friends. Along with visiting the Czech Republic, the former DDR, and the Baltic seaport cities of Kiel, Copenhagen, Stockholm, Tallin and St. Petersburg, it was truly a "trip of a lifetime."
At present, I'm using a TenTec OMNI 6+ and small Hercules II solid state amp with a 2 el Quad. The quad needs rebuilding with sturdier, heavy duty fiberglass spreaders. But that will probably have to wait until Spring, 2013.
Thanks for the enjoyable QSOs, especially from Europe. QSL all K5XK QSOs direct or via bureau.
-------------------------------------------------------
I was licensed in 1962 at age 14 with callsigns WN5BQI (Novice), then WA5BQI (Amateur Extra) in Little Rock and Jonesboro, AR. Other previous calls used were DA2ER and DL5AG while in the U.S.Army Signal Corps in Germany (Goeppingen & Ansbach) during the early 1970s. Those were extremely enjoyable years, perhaps "the good old days."
I have been QRV 50+ years. My XYL Debbie (N5WEX) and I love the beautiful Ozark Mountains of Northwest Arkansas. Our QTH is on the AR / MO border, south of Joplin, MO, which sufffered a deadly F5 Tornado in May, 2011.
Admittedly, I am a CW addict, and operate 99.9% Morse. Radio interests are ragchewing, chasing DX, & some occasional contesting on CW. Former DXCC Honor Roll member. Current member ARRL, FOC, CW Ops, 1st Class Operators Club, Ozark Wireless Society, and local Bella Vista ham clubs.
73, and CU on HF.!
- Ron, K 5 X K (FOC# 1641)
It is obvious that discourteous operating during DXpeditions has taken much of the fun out of DXing. The best operators always follow the DX CODE OF CONDUCT. Let's all work together to improve our collective operating practices.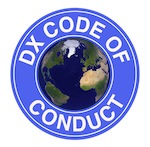 DX CODE OF CONDUCT
1.I will listen, listen and then listen some more
2.I will only call if I can copy the DX station properly
3.I will not trust the cluster and will make sure I have copied the DX callsign
4.I will not interfere with the DX station nor anyone calling him and will never tune up on the DX stations frequency or in the QSX slot.
5.I will wait for the DX station to complete a QSO before calling him
6.I will always send my full callsign
7.I will call and then listen for a reasonable interval. I will never call continuously. I
8.I will not transmit when the DX operator calls another callsign not mine.
9.I will not transmit when the DX operator questions a callsign not like mine.
10. I will not transmit when the DX operator calls a geographic area not where I am.
11.When the DX calls me I will not repeat my callsign unless I think he has copied it incorrectly.
12.I will be thankful when I make a contact with the DX
13. I will respect my fellow hams and conduct myself so as to earn their respect.
Look at www.dx-code.org for more information.