SSB, CW and Digital Voice operations on 40 Meters through 2 Meters. I also operate WSPR, WSJT-X and WSJT on a number of bands. Had this call since 1960 as a Novice.
QTH Taos County New Mexico at 7200 Feet or 2194 Meters above sea level.
Hamshack with a mighty 100 Watts from an Icom IC-746 PRO.
40 Meter Dipole around 16 Feet sloping to 12 Feet above ground.
Looking West. Post marks the spot for future tower. Ranch house about 17 miles from QTH.
KIO Hex Beam at 25 feet.
Added M2 2M12 and Mirage Preamp 9-1-2015
View from Hamshack of Taos Mountain part of the Rockies.
Taos SKI Valley is in the Mountains I see to the East of the QTH.
Taos Pueblo has been inhabited for 1000 years by the Tiwa people. About 7 miles from QTH.
Some Mountain Sheep by the Rio Grande Gorge 1-17-16
Rio Grande Gorge, 800 feet deep. It is about 5 miles behind QTH.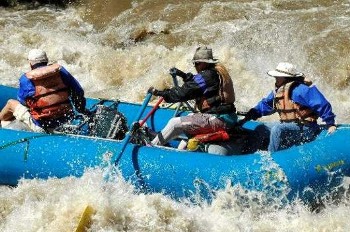 A little action on the RIO.
ME ME ME and XYL during construction of QTH.