hi guys, now live in NY My ham radio interests are skywarn and public service, hf and of course ragchewing , antennnas are 20m dipole strung outside the house and mp-1 superantenna for other bands inside the house. Looking to put up g5rv or other antenna outdoors soon. rigs are Icom 718 for home use and yaesu ft-817 for qrp portable use.
73 roy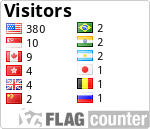 Last modified: 2012-05-19 02:19:47, 597 bytes fetched
Login Required

Login is required for additional detail.
This user has no active logs