QSL image: Vintage Vermont Postcard,"Mt. Mansfield"
I use my middle name, Nick. A longtime SWL, I discovered shortwave stations on my grandparents "tuning eye" radio as a kid. I became hooked and started saving up my paper-route money until I could buy a Hammarlund HQ-100C, which still casts it's warm glow in my shack once in awhile.
Recently retired, I fulfilled a long deferred goal of getting my ham license. I have been having a blast. A fortunate, thrilling QSO with Charles Simonyi on board the International Space Station in early April 2009, hooked me again and sparked my interest in working the OSCAR satellites. Also, thank you to Commander "Wheels" Wheelock for activating ham radio on the I.S.S. in 2010!
My portable FM satellite set-up consists of an IC-W32A downlink, and IC-V82/U82 uplinks. Started out with a homebrew 2M/70cm yagi (2 up, 5 down), based on the WA5VJB design, now use an Arrow II handheld. Back when AO-51, AO-27 and HO-68 were operational., I used a WA2ODO built 436 Mhz preamp to help me work very low elevation transatlantic passes into Europe.
My satellite base station, used primarily for the linear transponder sats, consists of a IC-910hx and ARROW II yagi set-up for indoor operation.
My HF/6M rig is a IC-706MKIIG with a Heil HM-IC mic, and AT-7000 tuner. I use various end-fed wire antennas and a 6M KU4AB loop at 35'. This combo is being used to chase HF DXCC & VUCC~6M stations. Recently, I've added a Signalink USB interface. I am occasionally active on PSK31/RTTY using cocoaModem 2.0 and Fldigi software, and on JT65-HF.
QSLing:
I enjoy the exchange of traditional paper QSLs. I always include a SASE and/or greenstamps with my requests and would appreciate the same from you when requesting mine.
On HF/6M, I routinely upload all of my logs to LoTW.
On Satellites, I will upload individual QSOs to LoTW  on a by request or case by case basis.
Awards:
ARRL VUCC~Satellite #184, Issued Oct.12,2009 (current totals:1437 Grids in 58 Fields worked, 1401 Confirmed)
AMSAT Century Award #40, Issued Nov. 9, 2010 
DXCC~Satellite Current Count, 80 worked, 79 confirmed
DXCC #40741, issued May 5, 2012.
Affiliations:
ARRL
AMSAT Member #37087 Listen for me on the birds!
European PSK Club EPC #18483
RANV -Radio Amateurs of Northern Vermont
Video of Trans-Atlantic QSOs( Vermont-Ireland) with Marc, W4MPS, using 5W HTs on FM satellites:
http://www.youtube.com/watch?v=XPUnutIQFaI&feature=youtu.be
Satellite Grid Map* (as of 22 JANUARY 2016):       RED=CONFIRMED,                                BLUE=WORKED *GcmWIN software by SM3GSJ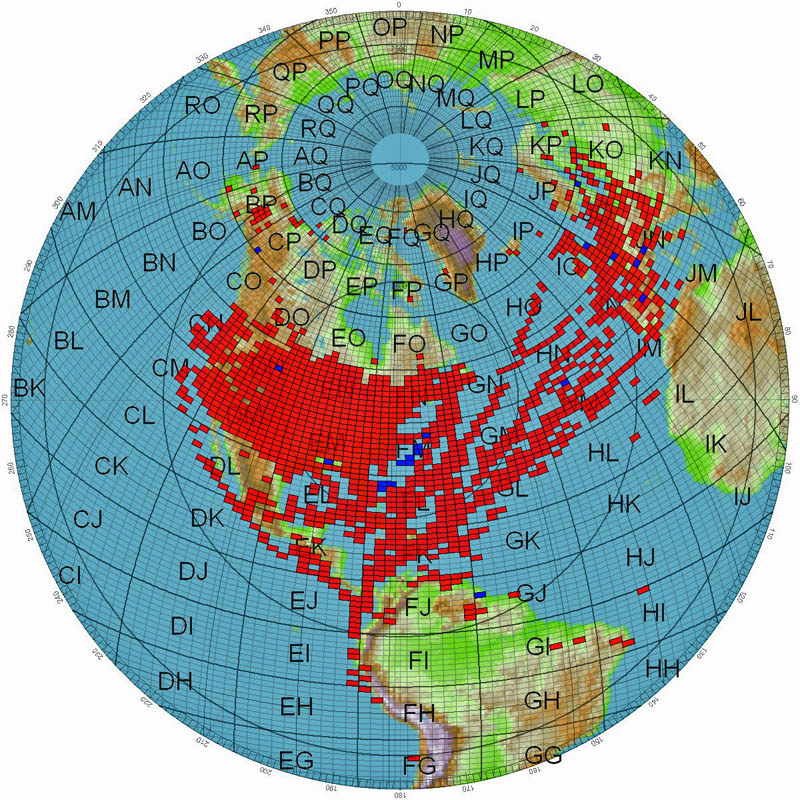 Photo Below: A summer "gridpedition" to Corea, ME in FN64.
The satellite shack with Yaesu FT-847 for sats and Kenwood TR-7950 for local repeaters: