Activated Kennesaw Mountain park (BP01) April 25th for an hour. This is a shake down of equipment and mag mount (old)spider vertical antenna.
Activated River Raisin park (BP04) on May 11th. Field trip students are marching in period uniforms in the background.
All qso's uploaded the day of operation.
NOTE FOR BURO QSL CARDS
The buro batch mailed January 9, 2015 (about 8 oz) became lost on January 13th by the USPS. Even though there was USPS tracking, it has not turned up. Please email me your qso information and I will get a card out with the next buro shipment. Two buro shipments since this time have arrived ok and qsl's for KG8P, K8P and WA8IPA have been sent out.
Started in ham radio in 1963 as WN8KBR at age 13. I remember visiting a ham my dad worked with and was amazed hearing the voices and morse code coming out of the radio. This family friend, John/WA8AWE would become my Elmer. Sadly John passed away but got my ham journey started.
My first rig included a Heathkit DX-20 an ARC-5 receiver with a dipole antenna on 40 meters and only one xtal. I held the call WA8VDC from 1966 until March 4, 2008.
After 10 years as a technician on 6 and 2 meters AM, my Elmer urged me to upgrade to General. Ok, every time I visited him, he threw the study manual at me. A chance meeting with California ham a few years later got me inspired to get the Advanced license and dx has always been the main challenge. It took 31 more years, band changes and missing a couple new ones for DXCC to push me to get the extra in Feb. 2008. It is never too late,hi.
In 1994 a heart attack put the radios on the back burner, but I slowly got back into radio after retiring from law enforcement in 2000. After returning to the DXCC Mixed Honor Roll, new challenges have my attention. This included trying 30,17 and 12 meters for the first time starting November 2007. DXCC now stands at 351/337. 8 Band DXCC and DXCC Challenge Award (2412) are in hand. Recently made it to DXCC SSB Honor Roll. 5 Band WAS is now 9 Band(Tnx Alaska). WAZ 5 band is at 186.
The picture above shows me in 1978 running all Heathkit and reminds of the good times in radio, plus I look a lot younger, hi. The current station is in transition. Using Heathkit since 1963 it was a hard choice to change. Presently I am using a Yaesu FT-950. Antennas include a Hygain Explorer 14 beam w/40 meters and a Cushcraft vertical on the roof for 160/80 meters. A Cushcraft A3WS sets above the tribander and the 30 meter add on is in the picture below. An Icom 706 is on standby and for mobile trips. Even get some of the qrp rigs out on occasion.
New Cushcraft A505S 6 meter beam is up. Have not had a 6 meter antenna in the air since 1975. If I worked you earlier in 2015, I was using the WARC beam, hi.
Ham radio and the association with other organizations including the International Police Association has allowed me to travel and visit many of the hams I have met on the air. Trips included:
M1IPA (San Marino) 1981
DL/WA8VDC 1984 and 1987
G/GW/GM/WA8VDC 1986
7J5AAD 1991
Two more trips to Japan in 1993 and 1999 rounds up the last major trips. We have a sister city program between Monroe, MI and Hofu, Japan since 1993 with high school student exchanges each summer.
This is the San Marino group atop the government building.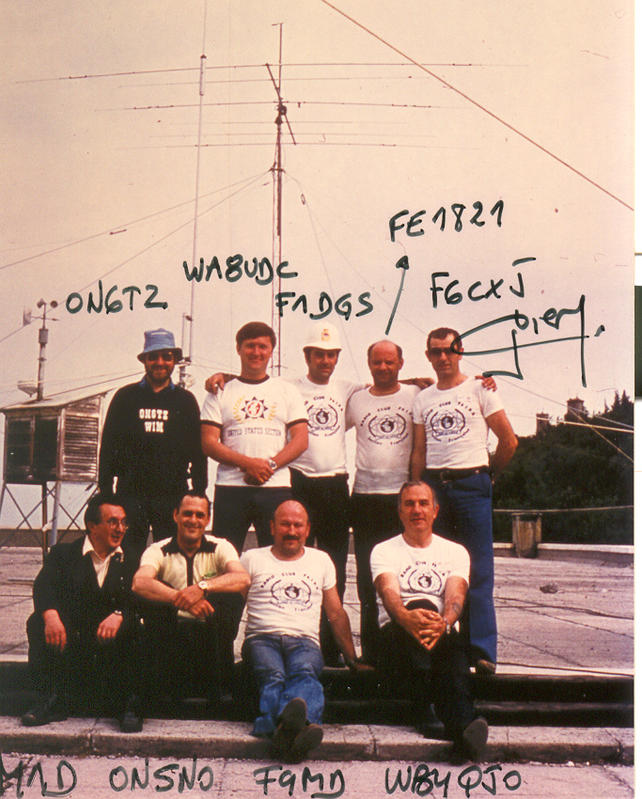 This is from one of the trips to Germany and I am in uniform.
This is the qsl from Yab and I hope to find a picture of my operating from Japan to add here. Yab liked drawing himself.hi
Also check club call sign WA8IPA in QRZ.COM and K8P in the ARRL 1X1 listing in May for several years. Contacts for both calls can go direct or LoTW.
I am really glad I got into ham radio and look forward to making many more qso's in the future. For qsl cards; direct, buro, LoTW. LoTW is updated very frequently. Ok, every few days, hi. If you don't see your call in LoTW or Clublog, email me to check it.
If you hear of any of these RARE places going to be active let me know; BV9P or P5. I am not getting any younger and sure would like to work the two I still need, hi.
2013 marked 50 years since I got into ham radio. I used special call K8P for 2 weeks starting August 1, 2013 in celebration. wu wu It has been a wonderful journey and I have ham radio to thank for many of the things I did and people I met over the years.
This is the baby of the family posing with one of our cats. Dallas is quite spoiled and we posted signs to prove it.....
This is my other baby, a 67 Mustang. The main beam tower is in the background.
Work at VE testing with the local Monroe ham club and am a member of SEMDXA.
If I am out of town, then it is probably to attend special events for child identification. Each year we attend about 40 events around the state of Michigan providing fingerprint IDs to parents for their children.
And I could not have done so many things without my xyl who puts up with my hobby;
Now what are you doing here? Go out and work some stations, hi. And, dx can be tough. If it wasn't, this would be called Ho-Hum Radio,hi.
Remember, polite is right....
73