HAM SHACK DIEGO GARCIA VQ9IO!
MY QSL MANAGER IS NP3O
***Click on the following link to make sure you worked me, you can perform a search on my log by visiting Clublog.org/logsearch/KH2RU***
My name is James E Thiessen and was first licensed in Guam. Was a Radio Operator in the Navy onboard the USS John Young DD-973, then licensed in Guam while onboard the Prepositioning Ship M/V Eric G. Gibson as a Merchant Seaman. Operated from Saipan (KH0), Guam (KH2), Hawaii (KH6) and Maritime Mobile over 30 Countries. Also operated from Diego Garcia in the Indian Ocean as (VQ9RU). After 11 years going at Sea finally decided to drop the hook for good and now is time to settle down and think about the Good Old Days! Currently a member of the "MARIANAS AMATEUR RADIO CLUB" in GUAM, member of the "CROATIAN TELEGRAPHY CLUB" member #1388, member of the TEN TEN CLUB #73897, SKCC #14366. Currently hold a ARMY MARS license.
Countries Visited and Operated from; Mexico(XE), Panama(HP), Canada(VE), England(G), Dominican Republic(HI), Italy(IT), Spain(EA), Belgium(OH),Ghana(9G), Liberia(EL), Conakry, Guinea(3X), Freetown, Sierra Leone(9L), Noaukchott, Mauritana(5T), Azores(CU), Port Elizabeth and Durban, South Africa(ZS), Bahrain(A9), Abu Dhabi, Jebel Ali, Dubai(A61), Colombo, Sri Lanka(4S7), Diego Garcia(VQ9), Australia(VK), Thailand(HS), Japan(JA), Philippines(DU), Singapore(9V), Pusan, South Korea(HL), Taiwan(BY), Fiji(3D2), Saipan(KH0), Guam(KH2), Hawaii(KH6), ST. Croix USVI(KP2).
Thank's and 73's from KP4 Land. KH2RU and also VQ9RU. KP4USN Trustee.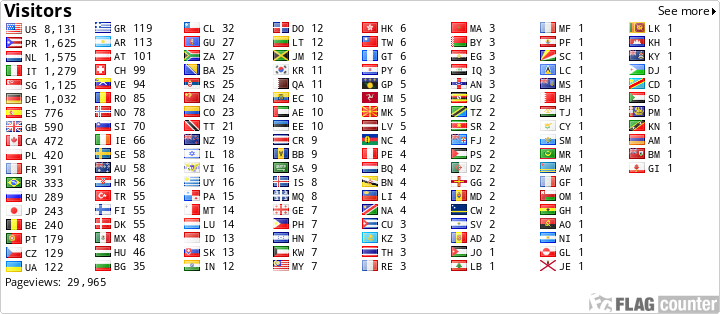 Large Visitor Globe