***QSL via LOTW or eQSL.cc ONLY***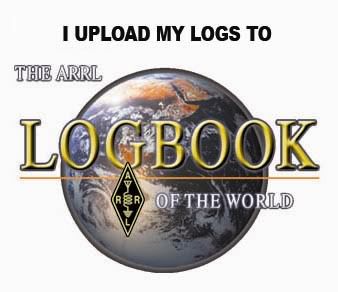 If you are interested in the digital mode JT9 - please join the discussion at the JT9digitalhams Yahoo page. We'd love to have you.
If you would want to learn more about this low power and lots of activity, click on the Yahoo link to join the Yahoo JT65digitalhams group.
Will gladly set up a sked for LoTW with you if you need PA any band or mode. I upload everything to LoTW and eQSL. I also occasionally upload to qrz.com and HRDLog. I prefer not to receive paper QSL cards.
Equipment: Kenwood TS 590S, Kenwood TS 450SAT (dedicated JT65/JT9). All QSO's 100 watts or less.

Antennas: 160 meter Inverted L (2); 80 Meter Inverted L; 40 meter Inverted V; 10 meter wire vertical.
Back in 2009 I moved from the Pittsburgh area to Lancaster County (Mount Joy). If you sent me a paper QSL and I did not send one of mine, it means your card got lost in the shuffle. Please send me an email so I can send one to you. Please be advised that I very much discourage paper QSL cards as I firmly believe in LOTW as my main way of confirming QSO's. If you send a card, please remember that it might be a while before I can send you one of mine, and please send SASE only. To find out more about LoTW go to www.arrl.org/lotw for more info.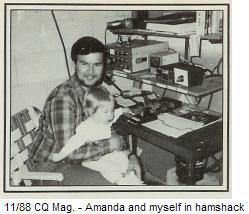 The picture above was taken in 1987, before my daughter Amanda was a year old and appeared in a 1988 CQ Magazine article by Bill Welch. Now she's all grown up and married. Also, that executive chair really adds to the hamshack.
===============================================================================
My main interests are JT65, PSK, RTTY, and CW contesting during the winter months. Come spring, the radio collects dust until the Lancaster weather turns cold again.
I look forward to hearing from some old ham friends. Please e-mail me at the callsign listed on this QRZ.COM site.
73 and God Bless.
Scott
Callsign History:
November 25, 1983 Novice Call - KA3LUW.
April 28, 1992 upgraded to Extra - WY3X.
November 4, 2003 issued KN3A
January 10, 2006, requested WY3X
December 30, 2006 reissued KN3A (better call for CW contesting.)
Achievements:
First Place 2003 ARRL November Sweepstakes Single Op. QRP SSB - Western PA (KN3A)
First Place 2004 ARRL November Sweepstakes Single Op. QRP SSB - Western PA (KN3A)
First Place 2005 ARRL November Sweepstakes Single Op. QRP SSB - Western PA (KN3A)
3rd Place 2006 CQ WW WPX Contest (Low Power) - Single Op All Band 3rd Area (WY3X)
First Place 2008 CQ WPX SSB 3rd Call Area Single Op Low Power All Band
First Place 2008 CQ WPX CW 3rd Call Area Single Op Low Power All Bands
First Place 2010 FIELD DAY 1C for MDC; 14th overall for all ARRL sections, and 2nd place in the Atlantic Division (K3MRK and I both operated).
First Place 2010 November Sweepstakes Single Op. QRP SSB - Eastern PA (KN3A)
First Place 2011 November Sweepstakes Single Op. Unlimited, Low Power EPA
�
WAS Basic (Mixed) Award: #: 51,892
WAS RTTY Award: #430
WAS CW Award: #53,580
CQ WPX Mixed Award (400 Prefixes Confirmed): #2030
Triple Play WAS Award (Digital, SSB, CW) #409
Memberships: ARRL; NAQCC: #1138; QRPARCI: #12335; 10-10: #44197; Adventure Radio Society (QRP): #2084; POBDXS 070: #441 (PSK31 Group); Flying Pigs QRP: #1240; SKCC: #595 (Centurian #530); 10-10: 44197; EPC: #6284; Feld HELL: #144
�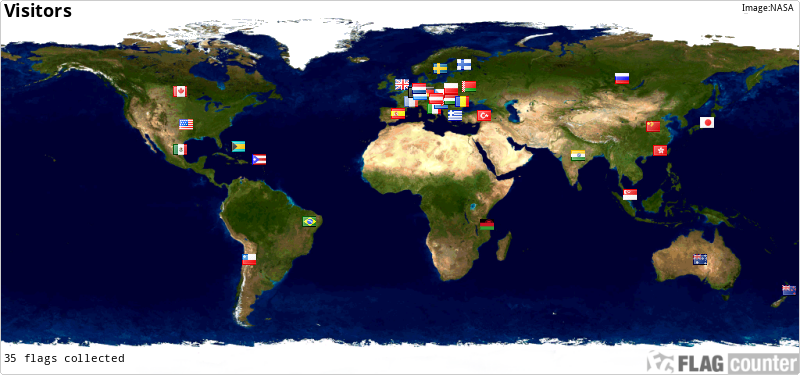 �