Thanks for visting my page on qrz.com.
I am born in 1959 and my profession is contructior and carpenter. I am married and got two adult daughters and a grandchild. My hobbies are radio and fishing .
My portable working conditions are: Yaesu FT 817 Qrp station, also Sommerkamp sla 817 ampl 150 w , teloskopic verticals for most bands above 20 metres and wire antennas for low bands like 40/80 metres. I have also a Icom Ic 706mk2g for portable /mobile operations..I am very happy to have worked long distance dx with qrp portable from a island or a mountain top.
My radio station contents following equipments: Kenwood ts 590,acom 1000 linear amplifier, and 2 old tranceivers Sommerkamp ft757gx and Sommerkamp ts 288A , a old tube equipment from 1972
I have following antennas in my home qth: 3 element moseley beam 10-15-20 metres, 4 element home made ant for 10 metres , 3 verticals for 12,17 and 40 metres, wire dipol for 40/80
Image from Haram Isl EU 036
Winter night image from my home qth
My 3rd hobby our kind dogs
My work contents production of bell towers,which I deliver for customers all over the country, that based on a old norwegian tradition.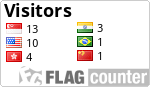 �
�
�