PLEASE READ THIS BEFORE SENDING ME DIRECT CARDS,I PREFERE CARDS VIA BURO, IF YOU WANT DIRECT CARDS, SEND 1 NEW IRC OR 3 USD ,LESS THAN 3 USD WILL NOT BE ANSWERED ,BUT RETURNED VIA BURO .SHIPPING IN NORWAY IS EXPENCIVE, I OFTEN GET 40-50 CARDS DIRECT EVERY WEEK. NO E-QSL .
LESSLLLLES
My radio Ten Tec Orion2
amplifier Alpha 91 B
Antenna tuner Drake MN-2700
Antenna 4 element Cubical Quad 10-12-15-17-20m, 10m long boom. Antenna made by Cubex in USA.
Tower 18m
Back up Station Kenwood TS-870
Amplifier Drake L7
Antenna 3 element stepp ir
tower 18m
In mobile Icom 706 mrk2g
Icom AH-4 Auto tuner
Antenna in car ,Hamsticks.
Low bands 80M full size loop.
40m ,Vertical Ground plane.
Radio qth at my summerhome/farm, 35km north of hometown Mandal south Norway.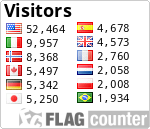 Large Visitor Globe