Hi to everyone, usually I use Mark like nick name. I'm 26 years old, I have my license since March 2003.
I was born and I live in Escobar, a city located near Buenos Aires just 50Km/31Ml North from Capital Federal. the grid square is GF05op.
I operate CW, SSB and digital modes, especially work CW and SSB.. I love DXing and Contesting!!!
I like operate contest on anycategory from everywhere, so I want to thanks to the owners of the stations that I have visited.
STATION
My station is very simple so far, I haveYaesu FT-950 with Heil Proset Elite HC-6, Kenwood TS-180S, Yaesu FT-747GX, some HT's and base for VHF.
Tower and antenna under construction, I have temporarily 4el Yagi for 10m and dipole"V" 40/80 with coil at 12 Mh.
Some time ago I had 3el Quad for 21 Mhz., 4el Quad for 28 Mhz. Dipoles for low band and arotary dipole for 40-20-15-10 Mts.
New Shack @ LU8EOT

Old Shack @ LU8EOT

The QSL card is very important for a lot people around the world, either as a pleasant memory of QSO or for diferent awards. I use diferent type the QSL`s full color, you can see below two model. (Direct, Bureau LoTW)

If you want to get my QSL card direct, please remind.

QSL received Direct with SAE and 3 USD=Direct.
QSL received Direct with SAE and WITHOUT 3 USD= Buro.
QSL's received WITHOUT SAE, reply via bureau.

QSL Bureau

You can send me a QSL by Bureau but you need to be patient...

Electronic QSL

Have updated all my logs to LOTW everyday. Anyway, never stop to send paper QSL Cards!! If you don't have my confirmation on electronic ways, please contact me.
;
;
Contest Activity
e-mail
Nextel : 54*567*140 (ID)
Phone :
Movil +54 911 58493340
Home +54 3484421331
HK Movil +57 3044566854
Visitor Globe
Member
Operator at
CLICK TO SHOWN PICTURES
October 2014: Op. HK1NA (CQ WW SSB - M/M)
July 2014: Op. ZP5AA (IARU - SO Mixed)
July 2014: Op. ZP5AA (IARU - SO)
March 2014: Op. HK1NA (ARRL DX CW - M/S)
February 2014: Op. HK1NA (CQ 160 SSB - Multi-OP)
February 2014: Op. HK1NA (ARRL DX CW - M/2)
November 2013: Op. HK1NA (CQ WW CW - M/M)
October 2013: Op. HK1NA (CQ WW SSB - M/M)
September 2013: Op. HK1NA (CQ WW RTTY - M/M)
March 2013: Op. HK1NA (ARRL DX SSB - M/M)
February 2013: Op. HK1NA (ARRL DX CW - M/M)
November 2012 Op. HK1NA (CQWW CW - M/M)
October 2012 Op. ZW5B (CQWW SSB - M/M)
May 2012 Op. HK1NA (CQWPX CW - M/M)
December 2011 Op. ZP5X (ARRL 10M Mixed- M/S)
October 2011: Op. PT5T (CQWW SSB - M/S)
July 2011: Op. LS1D (IARU - Mixed M/S)
March 2011: Op. PT5T (CQ WPXSSB - M/2)
March 2011: Op. PT5T (ARRL DX SSB - M/2)
February 2011 Op. LS1D (ARRL DX CW - M/S)
December 2010 Op. LS1D (ARRL 10M Mixed- M/S)
November 2010: Op. LS1D (CQWW CW - M/S)
October 2010: Op. LS1D (CQWW SSB - M/S)
September 2010: Op. LS1D (CQWW RTTY - M/S)
July 2010: Op. LS1D (IARU - Mixed M/S)
May 2010 Op. LS1D (CQWPX CW - M/S)
March 2010: Op. LS1D (CQWPX SSB - M/S)
May 2009: Op. LS1D (CQWPX CW - M/S)
March 2009: Op.LS1D (CQWPX SSB - M/S)
November 2008: Op. LS1D (CQWW CW - M/S)
July 2008: Op. LS1D (IARU - Mixed M/S)
March 2008: Op. LR2F (CQWPX SSB - M/S)
November 2007: Op. LU1DK (CQWW CW - M/S)
September 2007: Op. LS2D (CQWW RTTY - M/S)
October 2006: Op. LU8YE (CQWW SSB - M/S)
Active as
(LU8EOT/D Buenos Aires)
(LU8EOT/F Santa Fe)
(LU8EOT/X Calafate - Santa Cruz)
(LU8EOT/Y San Martin de los andes - Neuquen)
(PP5/LU8EOT - SA026 Florianopolis - Brazil)
(ZP5/LU8EOT Asuncion - Paraguay)
(HK/KLU8EOT Tubara - Colombia)
(PY5/LU8EOT Curitiba - Brazil)
Weather
Greyline
Solar Data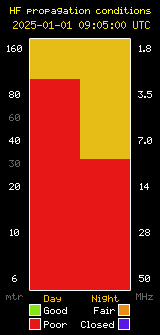 DXCluster