​First licensed in 1983 as G4RFF (a callsign which I still have). Japanese reciprocal callsign: JH1GGR. 
Radios: Yaesu FT-1000 Mark V, Yaesu FT 897D (for backpacking ops), Elecraft K3 and K3/0 and k3/0 mini (for remote operations), TS 590S (also for remote operations) and TS 480 HDX (for tooling around with a small 200W radio)
Morse keys by GHD Telegraph (Japan) and JH1JCQ
Amplifier: Expert 2K-FA
Antennas: four stack of multiband antennas designed and built by WU2X.  Each antenna has a 36 ft boom with true monoband performance. 4/4/4/4 on 20m, 6/6/6/6 on 15 m, 7/7/7/7 on 10m. All on a 150ft rotating tower by K0XG. All 4 antennas are switchable in many configurations.
On 40m I use a stack of 4/4 full size 40m antennas (JK Grand) at 176ft and 106 ft on a second 180ft K0XG Rotating tower (pics above). On that same tower I have a pair of JK 5 band Navassas, primarily used as mult antennas at 43 and 73 ft.  I also have a dipole at 143 ft for 30m on that same tower. Thanks to WU2X all of these antennas have been optimized using HFTA and NEC4 to secure maximum performance of these antennas at this location.
The station seems to work well. With his excellent operating skills, N5DX used the station at N2QV to get the highest USA score in the CQWW CW 2015 contest. A great result!   Read Kevin's story here. http://zf2dx.com/blog/cqww-cw-2015/
Kevin also operated the station entirely remotely from Arkansas in the 2016 ARRL DX CW contest, and achieved an outstanding score, coming second in the USA. Here is the write up. http://zf2dx.com/blog/arrl-dx-cw-2016/
Here is a short video of the two stack set up:
On 80m I use a 4 square antenna using 4 full length heavy duty quarter wave verticals by DX Engineering.
On 160m I use an inverted L in a T shape with 8 elevated radials.
For receive antennas I have two beverages running NE/SW and SE/NW.  We also have a dedicated vertical homebrew receive antenna deep in the woods primarily for 20/15/10 but it works on lower bands as well.  Remote operations using Green Heron Everywhere.
Here is a video of my 4 square installation:
73 de N2QV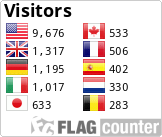 Large Visitor Globe
" />