Radio interests: Current: HF operation  ...  Primary HF mode:  CW of course !!!   Preferably QRP ...
Straight Key Century Club (SKCC)  #12377T   QRP ARCI  #10005   Ten Ten Int'l  #58286   Bellringers #43
Past radio interests: Analog and digital satellites, EME, contesting, VHF/UHF/Microwave, mobile operation, APRS, DX packet cluster, high speed meteor scatter, satellite to internet gateways, fox hunting, SSTV, FSTV, homebrew and general tinkering.
Other interests: Current: RV camping, photography, RC airplanes and helicoptors, dogs (dachshunds), firearms, internet  
Past: Boating, watersports, motorcycles, aviation ...
Employer: AT&T Labs - Senior Member of Technical Staff (RETIRED 3/31/2015)
On 03/10/2013 I put my first Elecraft QRP rig (Elecraft K1) on the air.  I upgraded to a Elecraft KX3 on 12/06/2014. All but a few of the QSOs in this log were made with either the Elecraft K1 or the KX3 using wire antennas or a mobile antenna.
If I'm operating from home, my antenna is a 88' long, 450 ohm ladder line fed doublet up 50'.  That antenna is also commonly referred to as a 20 meter extended double zepp.  If I'm operating portable from my RV, the antenna is a usually a W3EDP style end fed 84' wire slung up in a tree. If no trees are around, the end fed wire runs to the top of the RV's 28' tall fiberglass flagpole and then down to the ground ... or sometimes I use a hamstick mobile antenna mounted atop the ladder on the back of the RV.  
My last 10 logged QSOs are below. You can also search my log for your call. All of these QSOs are QRP with an Elecraft KX3 or K1 and a wire antenna.  If I'm operating portable, this log will not update until I get home and upload my log.
If you worked me while I was camping, then this is probably the station I was using in our 5th wheel RV ... 
Elecraft KX3 powered by a 9 Ah battery plus a Palm Mini Paddle and a W3EDP style Zepp antenna.
The Palm Mini Paddle is mounted for use as a straight key (SKCC) in this photo. I rotate it 90 degrees for iambic paddle operation.
This photo was taken on 12/24/2014 while camping near Kings Bay, Ga.
DXCC SATELLITE # 118 of 340 awarded - Molniya orbit satellite operation was my main radio interest from 1987-1995. I operated primarily on AO-10, AO-13 and AO-40 (P3D) ... modes B, J and S
I'm currently (4/27/2015) ranked #79 in SATELLITE DXCC countries confirmed.
That's me on the cover in the blue shirt.  I was on a black sand beach in Hawaii operating Field Day in that photo ... running a homebrew 20 meter QRP rig.  
All of the contacts (zones/countries) on this map were made on HF with QRP and a wire antenna or mobile antenna.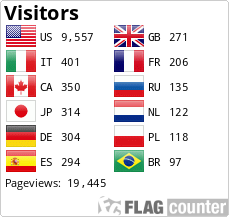 I added this flag counter on 6/14/2014 to see where the page hits come from.