Greetings fellow Amateurs,
The Guthrie Peak Arizona communications site is just one of more than a dozen mountain tops in Arizona and New Mexico that are utilized by the Jack's Peak Amateur Radio Association (JPARA, see http://jpara.net/).
These sites are home to 70 cm. repeaters and point to point linking systems, utilized in conjunction with 2 meter remotely controlled base stations.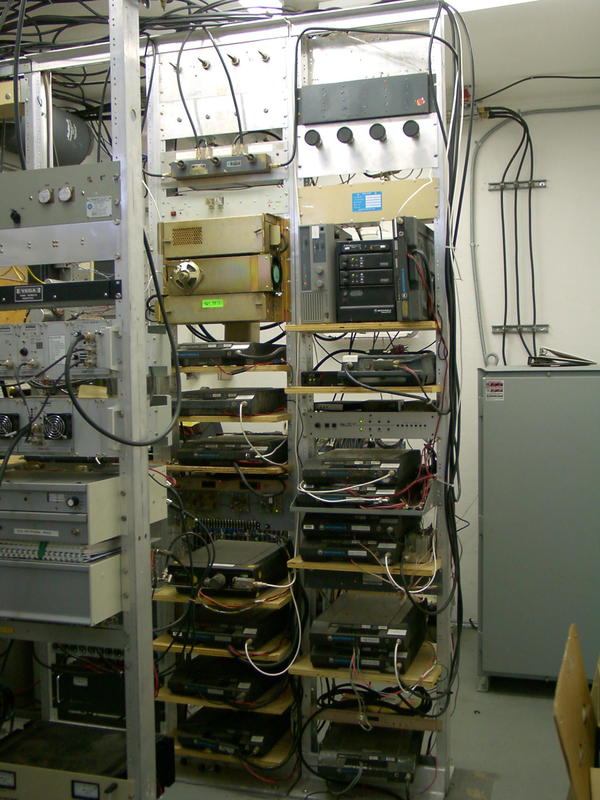 N7GP operates UHF repeaters, full duplex UHF links, 2 M repeaters, 2 M APRS, 2 M Packet, and GMRS equipment at the Guthrie Peak site.
Guthrie Peak is located in Greenlee County some 17 miles North West of Duncan, AZ. The elevation at the top of the Peak is 6,573 feet (2,003 Meters) in DM52. The site has been utilized by members of JPARA for operation of HF radios in many of the popular contests.
N7GP Tower, 160 M stinger at the top                                        A view of the top of the peak                                             N5IA gets high to install the 160 M stinger
The location boasts a HAAT of over 2,000 feet and provides excellent take off angles for the HF as well as VHF & UHF operations. Even though it is a relatively small desert mountain peak, Guthrie Peak is subject to snow storms during the winter season.
N7GP Tower, 160 M radials are slack with snow weight                          Guthrie Peak from US Hwy. 191                                         N7GP Tower with heavy snow load
Guthrie Peak is a very rough desert peak in the north end of the Peloncillo Mountain range. The primary vegetation is scrub Oak, with a sprinkling of Juniper, Cedar and Pinon Pine on the north slopes. There also exists a large variety of desert cacti and plants.
                          Barrell Cactus                                                                    Barrell Cactus Flowers                                                            Hedgehog Cactus Flower
Major fauna species are desert Mule deer, Javelina, cottontail rabbit, Gila Monsters, and both Diamondback and Blacktail (timber) rattlesnakes.
   Blacktail Rattlesnake                                                   N5IA & XZ0A 160 M tower, Burma (Myanmar)2000                                                     Gila Monster
The main tower has been determined to be 'unsafe for climbing' by the BLM.  Consequently the tower will be removed in the near future and it will become history after nearly 40 years of service.  Amateur VHF and UHF operations will remain at the mountaintop site with antennas on other towers. 
As a result of the impending removal of the tall tower, the N7GP HF operations have been moved to a station constructed by N5IA near Safford, AZ.  Currently 160 Meter operations are taking place using the recently completed, full sized 8-Circle TX array.  Low Band receiving uses a complement of 16 x 1 WL Beverage antennas
Here is a view of the recently completed 160 Meter 8-Circle TX array while looking towards the west.  10,720 foot high Mt. Graham in the Pinaleno Mtn. Range is in the background.
​Also added to the antenna arsenal at the same time as the 160 M 8-Circle is this full sized 75/80 Meter 4-Square.
We hope to work all of you during the contests. 73 de Milt, N5IA -- License Trustee